UK LENDS SUPPORT TO REHABILITATION AND REINTEGRATION OF EX-COMBATANTS THROUGH IOM AND MOJ
Posted on September 4th, 2009
Gamini Sarath Godakanda Media Sec for Minister of Justice and Law Reforms
Colombo – On Friday 4 September 2009, The British High Commissioner Dr. Peter Hayes and the Head of International Organization for Migration (IOM), Mr. Mohammed Abdiker signed an agreement for approximately Rs.17 million of UK's support towards the Rehabilitation and Reintegration of Ex-combatants in the presence of the Minister of Justice, Hon. Milinda Moragoda.
The Minister of Justice welcomed the support provided by the British High Commission to the Government of Sri Lanka. The Ministry of Justice and in particular the Commissioner General for Rehabilitation has been working closely with the International Organization for Migration to develop a community oriented demobilization, rehabilitation and reintegration programme. The programme focuses on strengthening capacity, support to receptor communities and an active involvement of the private sector to build sustainable solutions.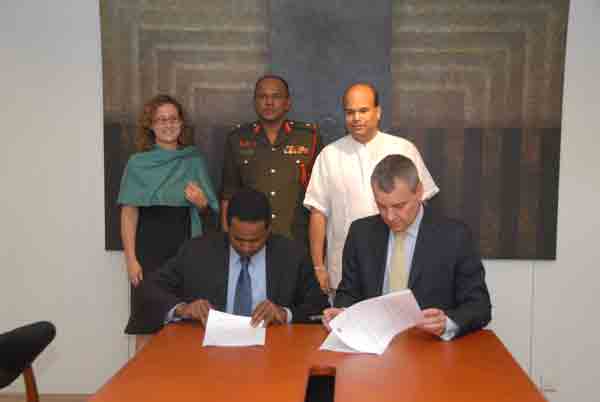 High Commissioner Hayes said, "The UK fully supports efforts to ensure sustainable rehabilitation of former combatants. This will be critical to reconciliation efforts following the end of the war and will underpin a transition to sustainable peace."
The funding is drawn from the Conflict Prevention Pool (CPP) of the UK government, which is jointly managed by the Department for International Development, the Foreign and Commonwealth Office and Ministry of Defence.
.