PRESIDENT RAJAPAKSA TO ENTER INTO SEVERAL AGREEMENTS WITH VIETNAM
Posted on October 22nd, 2009
By Walter Jayawardhana
President Mahinda Rajapaksa has arrived in the Socialist Republic of Vietnam for a three day official visit Thursday October 22.
During his visit the President will have bilateral talks with his Vietnamese counterpart Nguen Minh Triet and other high officials and enter into several new agreements.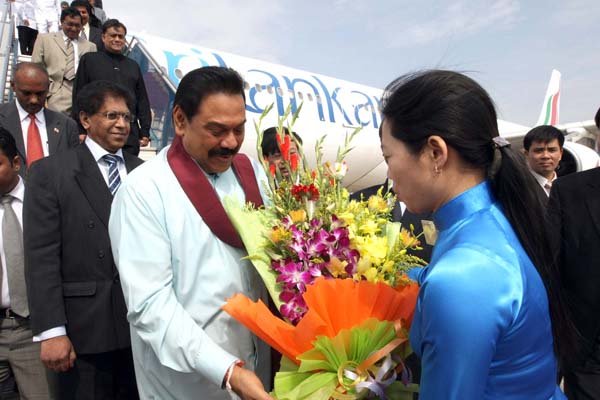 Reports from Vietnam said that the President and his entourage including Foreign Minister Rohitha Bogollagama arrived at the Noibai International Airport and was received by Nguen Van Chien , Chairman of the President's office of Vietnam , Deputy Minister of Foreign Affairs Dao Viet Trug and several other representatives of the government of Vietnam.
President Rajapaksa during his visit will enter into several agreements pertaining to investments, cultural cooperation,technical assistance and prevention of crime.
 The President's office said the Vietnamese President will host the visiting Sri Lanka leader to a banquet , October 22 followed by a cultural performance