Tamil politicians promise to help developments in North & East
Posted on November 10th, 2009
By Janaka Alahapperuma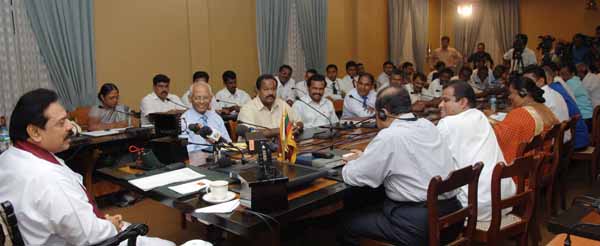 Tamil politicians promised to help and contribute to nation building programmes conducted by the government, when they met President Mahinda Rajapaksa on 9th November at Temple Trees.
 Addressing the gathering, President said after eliminating Tamil Tiger terrorism from entire country, it is the duty of all to shed caste, racial, regional and all other differences and contribute to nation building.
 Uppuveli Pradeshiya Sabha Vice Chairman V. Suresh Kumar (TNA), Trincomalee Mayor S. Gowrie Muhundan, TELO Trincomalee district leader Kadiraveli Pillai, present Jaffna leader Arumugan Sri Ranjan and Muthur Pradeshiya Sabha UNP-SLMC group chairman K.M. Thawfik represented the Tamil delegation.
 Several Cabinet Ministers including Vinayagamurthy Muralideran and Secretary to the President Lalith Weeratunga were present at the meeting.