SRI LANKA ANNOUNCES IDP FREE MOVEMENT AS OF DEC. 1 – FULL RESETTLEMENT CONTINUES AT RAPID PACE
Posted on November 24th, 2009
EMBASSY OF SRI LANKA WASHINGTON, D.C.COUNTRY INFORMATION UPDATE NOV. 23, 2009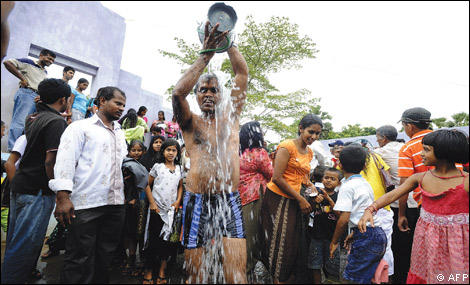 WASHINGTON ""…" The government of Sri Lanka announced last week that the approximately 127,000 displaced people now living in welfare centers in the north will enjoy complete freedom of movement as of Dec. 1, 2009.
Basil Rajapaksa, senior advisor to President Mahinda Rajapaksa, announced last week that the government is on track to resettle all displaced people back in their homes by Jan. 31, 2010. As part effort, the government lifted restrictions on the free movement of all displaced people.
He said that the welfare centers will be closed as of Jan. 31, 2010.
United Nations Secretary General Ban Ki-moon, through a spokesman, said that he, "welcomes the decision by the Government of Sri Lanka to grant increased freedom of movement to internally displaced persons (IDPs) still residing in camps in northern Sri Lanka."
The Secretary-General also welcomed the release of over half of the IDPs from the camps, and "encourages the Government to continue to prioritise the return of IDPs."
Until now, security and de-mining concerns have made the rapid return of displaced civilians in the north difficult.
Nevertheless, November has marked a month of unprecedented progress in the resettlement of the displaced, with more than 160,000 people returning to their homes since May 2009.
The pace of resettlement has picked up dramatically in recent weeks. The number of displaced people now living in government run welfare centers has dropped from about 288,000 when the conflict with the terrorist group Liberation Tigers of Tamil Eelam ended in May to about 127,000 today, according to the government.
The resettlement activity has occurred as a large-scale de-mining operation continues in northern Sri Lanka, where there are an estimated 1.5 million landmines and unexploded ordnance sites.
Sri Lanka has deployed 19 landmine removal machines purchased from Croatia and Slovenia to help accelerate safe resettlement. Seven nations are assisting the Sri Lanka Army in de-mining.
The government of Sri Lanka has also launched a massive campaign to re-develop and revitalize the north so that returning residents will have jobs, livelihoods and modernized infrastructure. Work so far in the predominantly agricultural region has focused on repairing reservoirs and irrigation systems, as well as main and secondary roads and utilities. Hospitals, schools, housing and water and sewer services are also priorities. Limits on fishing imposed as a coastal security measure during the conflict have been lifted.
The government also has plans to provide electricity to each  Northern Province household for the first time.
President Rajapaksa last week doubled the amount of money given to returning families effective Dec. 15, from Rs. 250 to Rs. 50,000 ""…" about $450. Returning residents are also given six months of dry food rations, building materials to repair homes damaged by the conflict and agricultural supplies.
During a visit to Sri Lanka last week, the United Nation's Under Secretary General for Humanitarian Affairs, Sir John Holmes, stated that that he was returning, "under more positive circumstances."
"Both UN organizations and NGOs are ready to continue to help support IDPs in camps and assist returnees with their humanitarian needs, especially in terms of food, shelter, basic services and livelihoods," Sir Holmes said. "The UN is also keen to support longer-term recovery and reconstruction."
Australia's ABC news reported that John McCarthy, Australian Prime Minister Kevin Rudd's representative to Sri Lanka, recently toured the Manek Farm welfare village along with the media.
"I think we're encouraged by what we've seen," McCarthy told ABC. "On the whole these camps are working well and the settlement, resettlement process is working well."
The Australian delegation also visited the town of Mallavi. Its residents had just returned after months at Manik Farm. They returned to homes that had been devastated by the conflict.
Though many of their houses had been destroyed, the residents were happy to be home.
In a Nov. 11, 2009 story by IRIN, the United Nations humanitarian news service, the senior Sri Lankan government official in Vavuniya expressed optimism at the faster rate of resettlement. Ms. PSM Charles, the Government Agent of Vavuniya, also said that re-development in the north was proceeding quickly.
"We are also getting roads constructed, tanks for irrigation renovated and clearing highlands and paddy lands that had belonged to the IDPs," PSM Charles said. "The government allocated Rs.1,750 million [US$15.28 million] for the Vavuniya District to build and to develop roads, infrastructure, renovate big, medium and small tanks (reservoirs), schools, hospitals, places of all religious worship, rural electrification amongst many other areas, to facilitate the resettlement of IDPs in Vavuniya. The objective of the 180 days program is to have all the necessary facilities ready and available for the IDPs by end December 2009. Around 70 percent of the work in the district has been completed."
(The full IRIN report is available at: http://www.irinnews.org/Report.aspx?ReportId=86983)
U.S. EASES SRI LANKA TRAVEL WARNING
WASHINGTON — The U.S. Department of State last week issued a "revised" travel advisory for Americans in Sri Lanka to, "reflect improving security conditions in the country," according to the U.S. Embassy in Colombo.
At the same time, Japan relaxed its, "Travel Advisory & Warning," for Sri Lanka to a "Travel Caution," also noting the improved security situation.
The United Kingdom revised its own travel warning in July 2009.
Additionally, the Government of Sri Lanka lifted restrictions on those living in the northern city of Jaffna to travel throughout Sri Lanka, a security measure that was imposed during the conflict with the LTTE terrorist group. The LTTE was headquartered in northern Sri Lanka.
The Government also lifted the requirement that lorries must register in order to transit goods between the north and south. It said that such registration was no longer necessary.
The State Department's decision comes exactly six months after Sri Lankan Government forces defeated the LTTE. No terrorist incidents have occurred in Sri Lanka since then, and tourism arrivals have jumped substantially. The Government expects to attract 2.5 million Tourists in 2010.
In its revised travel warning, the State Department states: "Stability in the southern and western areas of the country has improved with the cessation of hostilities. The Department of State urges U.S. citizens to remain vigilant while traveling in Sri Lanka."
The State Department does continue to note that landmines are buried throughout northern Sri Lanka. The Government of Sri Lanka has launched a widespread de-mining effort there.
There are an estimated 1.5 million landmines and unexploded ordnance in northern Sir Lanka, and Government forces have continued to unearth buried LTTE weapons caches. No terrorist incidents have occurred.
FINANCIAL TIMES:  Sri Lanka dares to believe in prosperity
By Joe Leahy
Published: November 11 2009 17:52 | Last updated: November 11 2009 19:04
Also: The colonial archways in Colombo's Fort business district are pasted with bills advertising a local film, The Road From Elephant Pass. The hero, a stone-faced army officer in sunglasses, stares out in front of the heroine, a Tamil Tiger fighter with whom he falls in love.
Until this year the film was as close as most Sri Lankans could have expected to get to Elephant Pass, a former army base that connected the government-controlled Jaffna peninsula at Sri Lanka's northern tip to territory once ruled by the Liberation Tigers of Tamil Eelam to the south.
With the military defeat of the rebels in May, the government is expected before long to open Sri Lanka's north-south highway, the A9, to civilian traffic in a move that will signify the country's reunification. Businessmen, at first sceptical that the war had ended, are becoming bullish and predicting an economic boom.
Rohan Fernando, managing director of HVA Lanka Exports, a large tea exporter, says: "It's been so sudden. It's like we went to sleep and we woke up and [the war was] finished."
No one underestimates the political challenges facing Sri Lanka. It needs to resettle almost 200,000 Tamil refugees living in overcrowded detention camps and to foster political reconciliation between the ethnic Sinhalese majority and the Tamil minority.
The Tigers have also bounced back before in their 26-year war for a separate homeland in Sri Lanka's north and east.
This time it seems that investors at least are convinced the war is over. Since May 19, when the army displayed on television the body of Vellupillai Prabhakaran, the Tiger leader lying beside a lagoon, the Colombo Stock Exchange's benchmark index has doubled in value.
Still dealing with the economic shadow of the conflict, the government in Colombo was forced to go to the International Monetary Fund for help. But the IMF approved a $2.6bn aid package in July and sentiment appears to have taken a decisive turn since then.
Economic indicators point to improving conditions. Inflation has dropped from a six-year high of 28.2 per cent in June 2008 to a record low of 0.7 per cent in September. The Sri Lankan rupee has strengthened and foreign reserves have doubled to $5bn (ƒÆ''¢"…¡¬3.3bn, £3bn).
Credit agencies have upgraded Sri Lanka's debt rating outlook and a $500m sovereign dollar bond issued by the government last month was 13 times subscribed by international investors.
P.B. Jayasundera, Treasury secretary, points out that, even during the conflict, gross domestic product per capita rose from $1,000 to $2,200 between 2004 and 2009. "I can see the economy easily generating 6-8 per cent growth in the medium term," he says.
Ajit D. Gunewardene, deputy chairman of John Keells Holdings, the hotels, property and ports conglomerate, goes further. Sri Lanka might now be able to realize its dream of becoming the "Hong Kong of south Asia", he says.
Colombo's port, strategically placed on shipping lanes between Europe and China, plans to expand capacity to 16m 20ft equivalent units a year over the next decade and focus on trans-shipment of goods to and from India and Pakistan. By that measure of container cargo capacity, this would become south Asia's biggest port.
Mr. Gunewardene expects tourism, the hardest-hit sector during the conflict, to rise 30 per cent year on year in 2010.
John Keells is spending $4.5m refurbishing a hotel in Trincomalee, in the once Tiger-dominated east, and plans to build a five-star resort there. "Everything's not 100 per cent, that's for sure. We are not living in a dream world," Mr. Gunewardene says. "But the fact of the matter is that people are tired of war."
Infrastructure is being built. Sri Lanka Telecom, the state-controlled fixed line group, is investing Rs3.5bn ($30.5m, ƒÆ''¢"…¡¬20.4m, £18.4m) in a fibre optic link along the A9.
Greg Young, chief executive of Sri Lanka Telecom, says: "There's obviously a lot of commerce reopening in the northern areas. We are seeing very substantial calling patterns by customers."
There remain many hurdles. With presidential and parliamentary elections expected early next year, voters are focusing on painfully high interest rates of more than 20 per cent, a legacy of last year's inflation. In response, Mahinda Rajapaksa, the president, ordered state banks last month to slash rates.
The government also needs to address western concerns about its human rights record.
The European Union is poised to remove tariff privileges, known as GSP Plus, that favour Sri Lanka's garment industry, which, as the island's biggest export earner, brought in $3.47bn last year.
Sri Lanka's long-term prosperity, though, will hinge on the issues touched on in The Road From Elephant Pass. Can the Tamils and Sinhalese coexist in peace?
Mr Gunewardene of John Keells says: "The reality is the wounds are still raw. It has been, after all, 30 years of war. We all have to work at reaching out. Ultimately, it will be the economy that will integrate us."
SRI LANKA'S AMBASSADOR, DIPLOMATS MEET WITH DIASPORA IN ATLANTA
Ambassador Jaliya Wickramasuriya, in a day-long meeting in Atlanta, expressed gratitude to the Sri Lankan expatriate community living in Georgia and nearby southern states for their support of Sri Lanka's post-conflict reconciliation and re-development efforts.
"The Sri Lankan community living in the US actively supported the government's effort of defeating the LTTE," the ambassador said, adding that, "this is indeed the first occasion an Ambassador and senior officials visited the State of Georgia to reach out to the Sri Lankan community."
In line with the Government's initiative in reaching out the Sri Lankans living abroad, the Embassy of Sri Lanka in Washington D.C., in collaboration with the Sri Lankan community in Georgia, organized a one-day "Community Outreach Program," on Nov.  14, 2009.  It was attended by a large number of Sri Lankan expatriates.
The meeting was held at a Kinderland Montessori School, where Mr. Daminda Manamendra is director. The Rev. Bhante Panamwela Wajirabudhdhi Thero, the Chief Priest of the Georgia Budhdhist Vihara, also attended.
Dr. A. Amarasinghe of the diaspora thanked the ambassador for bringing his embassy services to Georgia, noting that the visit was a "historic occasion."
During the program, embassy diplomats provided diaspora members with information on possible trade, investment and tourism opportunities, treasury bonds /bills, non-resident currency and resident foreign currency accounts, as well as passport, visa and dual citizenship issues.
Ambassador Wickramasuriya has held a series of similar outreach meetings with Sri Lankan-Americans in recent weeks, including sessions in Boston, New York, New Jersey, Chicago, Las Vegas and Los Angeles.
GOVERNMENT:  TOURIST ARRIVALS CONTINUE TO INCREASE, OMAN AIR LAUNCHES SERVICE TO SRI LANKA
Tourist arrivals increased an additional seven per cent in October, according the latest statistics from government tourism officials.
Tourism in Sri Lanka has steadily increased each month since May, when government forces defeated the LTTE.
The October numbers reflected an increase of over 2,500 arrivals compared to the same period last year.
The growth level in September this year stood at 28.6 per cent, with an increase of more than 9,000 arrivals compared to September 2008.
The total number of arrivals up to October this year was 346,717, and arrivals are expected to continue their increase with the upcoming festive season.
At the same time, Oman Air, the newest entrant to the Sri Lankan skies, began operations in Colombo with a first flight on November 14. That makes Colombo Oman Air's  32nd destination.
"We are very excited about commencing operations in Sri Lanka," said Peter Hill, Oman Air's chief executive officer. "It will open up new opportunities for people traveling between Muscat and Colombo, and also to Middle Eastern and European destinations, as well proving to be a winner with both business and leisure customers."
U.S. GOVERNMENT HELPS TO IDENTIFY ECONOMIC GROWTH OPPORTUNITIES IN THE EAST
Colombo ""…" November 16, 2009:  The U.S. Agency for International Development (USAID) has issued industry studies of dairy, horticulture, fisheries, aquaculture, tourism and logistics for growth opportunities in Eastern Sri Lanka.
The assessments were released by USAID to key stakeholders in the government, private sector, and other industries, according to the U.S. Embassy here. 
The assessments were conducted by local and international experts in specific industries to create awareness of private sector investment opportunities.  The reports highlight ways that the government action can strengthen private sector activity.  (The full reports and summaries of the six assessments will soon be available on the USAID/CORE website www.core.lk/downloads).
The dairy sector assessment shows that the Eastern Province has the largest herds of animals in Sri Lanka, but that milk production has been limited and unproductive because of the prolonged conflict.  With good nutrition, housing, breeding, and intensive management practices, dairy sector productivity can be increased significantly and the right policy environment will be a key factor to the overall development of this sector.  
The tourism industry has set a target of 2 million tourist arrivals by 2016, requiring the development of at least 15,000 new hotel rooms and major investment in large-scale resorts at new locations. The Eastern coast in particular has the potential to absorb many new investments with the right mix of tourism products and development planning. The Cultural Triangle in the North Central Province shows great potential to grow and benefit from the expected resurgence in the tourism sector.  
Sri Lanka is known the world over for its tea and spices, but has been less successful exporting fresh produce.  The growing demands from nearby markets makes Sri Lanka the preferred source for tropical fruits and other fresh produce.  The USAID supported study in this sector shows that the Eastern Province has the opportunity to re-engage in crops like cashews for the domestic and export market.
In the Fisheries sector the study shows that less than 7% of the present fish catch in Sri Lanka is exported. Using new technology, there is tremendous opportunity for the marine fisheries sector to fish along the coastal and continental shelf, which extends 200 miles off the coast.  This sector needs significant capital investment to ensure that the current opportunities can be tapped and niche export markets are developed.  The Eastern Province also has significant access to fresh, brackish, and saltwater required for aquaculture and inland fisheries sector development, with a huge potential for generating new income and employment opportunities. For example, tilapia, sea bass, sea cucumber, and seaweed are new aquaculture sectors that could be niche products in the global market.
In the Logistics sector the USAID supported study shows that the movement and storage of goods and passenger transportation is critical for the East to re-engage in mainstream economic activity.  Establishing and expanding transportation within the region, creating warehouses, and identifying collection centers, will support the resurgence expected in the other sectors.
Source: U.S. Embassy, Colombo