CANADIAN AUTHORITIES TELL IMMIGRATION AND REFUGEE BOARD THAT LTTE SHIP CONTAINED TRACES OF HIGH EXPLOSIVES LIKE RDX
Posted on November 25th, 2009
By Walter Jayawardhana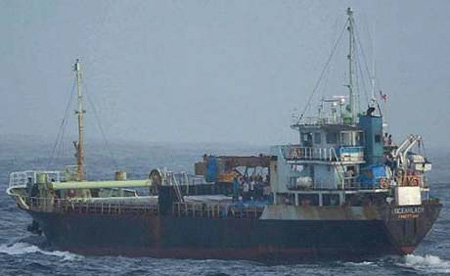 Canadian authorities found high potential traces of plastic explosives like RDX in the LTTE gun running ship Princess Easwary masquerading as Ocean Lady that brought 76 illegal immigrants to Canada , the Immigration and Refugee Board was told as evidence.
The suspected immigrant smuggling ship, which was formerly smuggling arms between North Korea and Sri Lanka for the Tamil Tigers was intercepted with 76 Tamils off the coast of Vancouver island, October 17.
A Border Service Agency officer told the Immigration and Refugee Board traces of three kinds of explosives have been found on the ship. One kind is the high explosives generally used by the military, RDX also called cyclonite or hexogen.
Two other explosives were also found on two items of clothing seized when Canadian authorities boarded the ship and took the migrants into custody. The evidence was found to be very damaging to the case of the Tamil migrants who claim they are refugees fleeing from Sri Lankan persecution.
The immigration investigation has been informed that the border officers who scoured and swabbed the ship came up with 10 positive results for traces of explosives.
It was revealed that the terrorism expert advising the Canadian government on this case has said that at least two of the men found on the ship are members of the Liberation Tigers of Tamil Eelam.
The lawyers for about 20 Tamils argued why so little amount of RDX and other explosives were found on the ship if it was an arms smuggling ship.
CBSA officer Chantal Lee who analyzed swabs from the ship was grilled by the defense lawyers. Waldman, a lawyer asked Lee whether being close to the conflict zones couldn't give the traces of explosives to the clothing. But Lee said she could not answer that question. "All I know is that I took the samples and the results were positive," she testified.
Last week Waldman cross examined Professor Rohan Gunaratne , who is advising the Canadian government on the background of the men detained.
Lee testified said she found three times of the explosive RDX from swabs taken from the ship. She said later from further tests they found out the tests proved positive for the explosive,pentaerythritol tetranitrate or Petin. Petin is also used for heart medication she said.
So far, 10 tests have found the ship Princess Easwary had residue of various explosives. Apart from RDX, the other explosive residues found on the ship were PETIN and TNT.
In other testimony, a border intelligence officer Russ McNeil said by law the ship would have declared its arrival 96 hours before. But when it failed a federal fisheries plane was sent to observe it. The ship was painted with the name Ocean lady. They found later it was a fake name and its real name is Princess Easwary.
76 of the men of the ship remain behind bars.