The Travels of a Journalist—21-CALIFORNIA ADVENTURES: WILD WEST BEYOND GREAT DIVIDE
Posted on April 10th, 2010
By Shelton A. Gunaratne © 2010
 We""'Yoke-Sim, Junius and I""'enjoyed the night of camping at Lake Lundy in the idyllic foothills of the Great Divide that we decided to hang around the vicinity of the lake area for the next couple of days. Having a campfire chat while drinking hot tea with a father-and-son team of campers, whom we had never met, with the noise of the roaring creek and the sound of raindrops literally falling on our heads creating a sort of eerie lull within us, gave us spontaneous joy. We were camping directly east of Tioga Pass at an elevation of 7,858 ft. (2, 395 m).  
The next morning (18 Aug.), our two neighbors""'Tim Carmody and his son""'left the campground before we did. Carmody, a photographer from Newport Beach, Calif., asked us to visit them on our return to Fullerton. We never had that opportunity.
We started the day with a visit to Lundy Lake Resort. Lundy (earlier known as Mill Creek) was founded as a mining camp in 1879. The town got its name from W. J. Lundy, who operated a sawmill in the area.
Gold and Ghost Towns
Going north, we reached Dog Town, associated with the gold rush of the eastern Sierra. Going further north, we stopped at Bridgeport (pop. 817) to wash our clothes at a Laundromat, purchase groceries essential for our sustenance, and fill up the tank of our gas-guzzler. While we engaged in these routine activities, Junius played in the park next to the museum. We visited the town's courthouse built in 1880.
Then we backtracked on US 395 and headed east on SR270 to see the gold-rush ghost town of Brodie, now a National Historic Landmark. Founded in 1859, it earned the reputation of being one of California's most lawless towns. At the time of our visit, only 5 percent of its original buildings were still standing.
Thereafter, we drove to the north shore of Mono Lake and headed northeast on SR167, which becomes SR359 at the Nevada border and terminates in Hawthorne (pop 3,300). We had driven more than 100 miles to reach Hawthorne since we left Lundy in the morning. We had to drive 16 miles further northwest on US 95 to set up tent for our overnight stay at Sportsmen's Beach on Walker Lake. Carson City, the capital of Nevada that we visited in July, was less than 100 miles to the northwest of Walker Lake, which has a surface area of 130 square km.  
Having set up the tent and eaten dinner, I left Junius and Yoke-Sim at the campground to do whatever they pleased, and drove back to Hawthorne to explore the neighborhood alone. I stopped at a downtown bar and sipped a beer. Then I drove further south to Mina to stop at a casino for another beer.
When I returned to the campground about 8.30 p.m., I found our tent reeling because of heavy winds. Yoke-Sim was in an agitated condition. Luckily, two good Samaritans""'an Arizona couple who identified themselves as Dee and Van [Young]""'came to our rescue and helped steady the tent with supports. Thus, we learned that camping could be dangerous, as well.
Friday (19 Aug.) morning, we said good-bye to Dee and Van Young who helped us the previous night and left Sportsmen's Beach about 10 a.m. Back in Hawthorne, we visited the Mineral County Museum and also filled up the car. The townsfolk were quite friendly. Next, past Mina, where I had been the previous evening, we left US95 heading southwest on SR360, which merged with US6 at Basalt, Nevada. Then, via the Mount Montgomery Pass, we drove past the last casino and Janie's Ranch, and crossed the Nevada border back to California. At Benton, we drove northwest on SR120 to the site of Mono Mills, where we ate lunch.
Our next stop was the south shore of Mono Lake. (We drove along its north shore the previous day.) Mono Lake is an alkaline and hypersaline lake with a surface area of 69 square miles (180 square km). First, we went to the Navy Beach; and, then, we took the scenic trail to see the strange-looking spires and knobs called the Tufa Towers, mostly calcium carbonate. Then, we climbed the nearby Panum Crater from the top of which we picked up two pieces of obsidian.
Exp[os/lor]ing the Devil
Next, we drove on the June Lake Loop (SR 158), past Grant Lake and Silver Lake, to reach the June Lake beach area, which we found to be very attractive as a holiday spot. However, we resisted the temptation to camp here and went further southeast on US395 until we turned east on Owen River Road.
We found our ideal free campground a couple of miles away at Big Springs, just by the Deadman Creek. This is where we camped for the night, which turned out to be cold. We were just 10 miles north of Mammoth Lakes.
The creek provided an abundant supply of trout for the campers to fish, cook and relish. Our neighbors offered us several freshly caught rainbow trout, which enabled us to treat ourselves to a very delicious dinner. Yoke-Sim was elated. I wondered why people would holiday in four-star hotels, when a simple tent by a creek in the foothills of the eastern Sierra could offer more joy at a fraction of the cost.
Saturday (20 Aug.) morning, we ate a bountiful breakfast of trout and set out to explore the area surrounding the Mammoth Scenic Loop (SR203), off to the west of US395. We received orientation information at the Mammoth Visitor Center/Ranger Station. Then, we went to Mammoth Mountain Ski Area to park our car and board a Quicksilver Lines shuttle bus ($3.50 per adult) to go to the Devil's Postpile National Monument because the road beyond the Minaret summit was not open to private vehicles without permits.
We arrived at the DPNM about 11 a.m. and joined a ranger-conducted tour of the monument, a fine example of columnar basalt formed nearly a million years ago. DPNM was once part of Yosemite National Park, but discovery of gold near Mammoth Lakes prompted a boundary change that left the Postpile on adjacent public land. A proposal to build a hydroelectric dam later called for blasting the Postpile into the river.
(Thus, although we left Yosemite on Wednesday, we were still hanging around the northeastern Sierra, not paying enough attention to southeastern Sierra, closer to Mount Whitney.)
We climbed to the top of the Postpile to see the polished tops. From there, we walked to see the Rainbow Falls, where the Middle Fork of the San Joaquin River drops 101 feet.
From the falls, we walked up to Red's Meadow, the last shuttle stop. After returning to the ski area about 4 p.m., we drove to see the Mammoth earthquake fault, a 50-ft deep split in hardened lava. Located off Hwy. 203 on the way to Mammoth Mountain, this sizable fissure is not an earthquake fault caused by a single quake. Then, we explored the lakes along Lake Mary Road starting with Twin Lakes. We decided to camp overnight at the Lake Mary Campground despite a drizzle.
In the evening, we drove to the visitors' center on Old Mammoth Road to see a slide show on Mount Whitney and Boundary Peak, which we expected to see Sunday. On our way back to the campground, we stopped at Baskin Robbins for an ice cream.
Final Day
Sunday (21 Aug) was the scheduled final day of our exploration of the foothills of the eastern High Sierra. By 11 p.m., we were back in Fullerton. The Whitney Portal Road was 105 miles south of Mammoth Lakes. And Fullerton was another 231 miles south. Driving 336 miles on a single day was feasible, but climbing up Mount Whitney was not feasible within the time constraints we had imposed on ourselves.
Before leaving Mammoth Lakes in the morning, we couldn't resist the temptation to stop at Horseshoe Lake to the northwest of our campground and to do a short walk on Old Mammoth Road, just to the northeast. Then, we headed southeast on US395 for Bishop (pop. 3,500), where we turned west on SR 168 to have a glimpse of Bishop Creek Canyon, a striking example of Sierra scenery""'" an alpine wonderland of pine forests, rushing streams and deep-blue lakes surrounded by mighty mountain peaks." We also stopped at Power Station No. 4 to see the dam. After filling up the gas-guzzler yet again, we entered the premises of the Paiute-Shoshone Indian Culture Center, where we ate lunch.
Past Big Pine, we arrived in Independence (pop. 600), formerly called Little Pine and Putnam's, where we tarried at the Mount Whitney Fish Hatchery, which had a Swiss Chalet-style main building, a beautiful shady place. We went to see the site of Camp Independence and also visited the Commander's House (1872) and the East California Museum. Two elderly ladies showed us around at the Commander's House. We also saw Edwards House (1865), Inyo County's Courthouse. Yoke-Sim and Junius stopped at a vacant piece of land to pick up peaches and grapes while I went to fetch the car from Dehy Park.
Our next stop was Manzanar, most widely known as the site of one of 10 camps where more than 110,000 Japanese Americans were imprisoned during World War II, less than 10 miles to the north of Lone Pine (pop. 1,700). Then, at Lone Pine, we drove west on the Whitney Portal Road to see the famous Alabama Hills, an expanse of rocks with unusual shapes used as a setting for western movies. We also saw the Cottonwood Charcoal Kilns.
One of the main objectives of our two summer trips was to see Mount Whitney, the highest peak in the Lower 48 states.  Now, we were directly facing it from the angle of the U.S. Inter-Agency Visitor Center in Lone Pine. Thanks, Big Guy. Sorry, we couldn't climb on to the top of your head!
Thus, we accomplished all our travel objectives on exploring the main features of the Sierra. This definitely called for a celebration. So, as we drove further south on US395 in the Mojave Desert, we stopped for a lavish dinner at a casino named Hi Desert Inn in Adelanto, Calif.
                    Next: West Coast Trip""'From Hearst Castle to Redwood Forests       
(The writer is a professor of mass communications emeritus, Minnesota State University Moorhead.)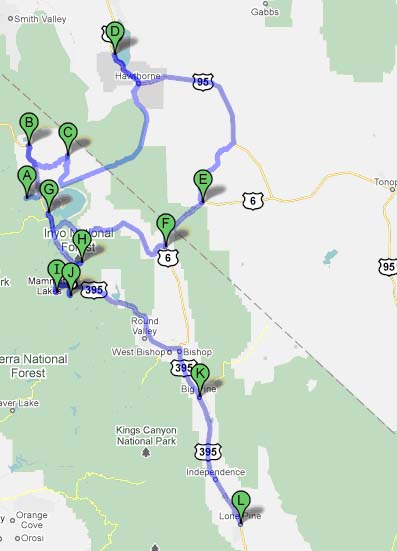 Figure 1: The Eastern High Sierra Route from A=Lundy (east of Tioga Pass) to L=Lone Pine (east of Mount Whitney).  B=Bridgeport; C=Brodie; D=Walker Lake, Nevada; E=Basalt, Nevada; F=Benton, Nevada; G=Mono Lake; H=Big Springs; I=Devil's Postpile; J=Lake Mary; K=Big Pine.
Picture 1: Van and Dee Young from Arizona helped to steady our tent on Sportsmen's Beach at Walker Lake, Nevada, on 18 Aug. 1983 evening.  Heavy winds almost unplugged the tent while I was away visiting Hawthorne.
Picture 2:  With Mount Whitney in the background, the writer stands along the Whitney Portal Road at Alabama Hills, Lone Pine  (21 Aug. 1983).