The Travels of a Journalist—33 ,HOLIDAYING IN 'THE AMERICAN RIVIERA' JUST WEST OF GREATER LOS ANGELES
Posted on June 12th, 2010
By Shelton A. Gunaratne©2010
 Don Voegele, who hailed from Santa Barbara, was an adjunct instructor at Fullerton College in 1983, the year I spent in California as an exchange instructor. Although he was not from the Division of Communications, he made it his business to get acquainted with us for the simple reason that we came from Down Under.   A card-carrying member of the Sierra Club, he was perhaps enamored by Australia's open country faƒÆ'†'§ade.
Many locals knew our alien presence on FC campus within a couple of months after our arrival because of good publicity we received from the college and local press. The 25 May edition of the (Fullerton) Daily News-Tribune, for example, carried a half-page news feature written by Mary Edwards on me and my family (illustrated with a large family photo) headlined "From Fullerton to Down Under and Vice Versa." It also carried a column written by my exchange partner Larry Taylor.
After the initial overtures of getting to know each other, Voegele joined us for dinner on a Saturday (4 June) at Richard Jones Pit BBQ (5781 Santa Ana Canyon Road) in Anaheim Hills. We ate Texas-style hickory-smoked BBQ featuring pork spare ribs, smoked beef briskets, ham and chicken""'all for just $25! Voegele visited us at our condo before the dinner and suggested that we visit Santa Barbara, where he and his brother John shared a studio apartment in Summerland, during a weekend.
By this time, Yoke-Sim and I had got into the habit of splurging money on restaurants during weekends in our quest for gustatory variety with Junius as the beneficiary. For example, two Saturdays earlier (21 May), we ate dinner at Sengoka Sushi Bar (1490 N. Kraemer) in Placentia. Yoke-Sim ate a platter of seafood""'scallops, oysters, fresh fish and shrimp tempura""'while I ate an early bird special""'vegetable tempura, chicken teriyaki, beef teriyaki, Japanese cucumber, soup and rice. We topped all that with Chawanmushi""'Japanese egg custard soup""'for just  $23!
Incidentally, the preceding Friday (20 May), I ate lunch at El Paso Cantina (on Nutwood Avenue in Fullerton) with another visiting instructor from Australia at CSU Fullerton, Peter W. Mehra, a lecturer in marketing at NSWIT in Sydney,
Let me leave this digression on dining to return to Voegele's invitation.
 En Route to Santa Barbara
After we enthusiastically accepted Voegele's invitation to visit his hometown, we agreed to schedule our tour for the last weekend of June. He volunteered to accompany us on the trip. He was willing to do some of the driving as well.
Picking Voegele on the FC campus, we left Fullerton on a Friday (24 June) morning for Santa Barbara, located 120 miles to the northwest. However, we chose to travel on the coastal scenic route (SR 1), which increased the distance by about 10 miles. We drove west on SR 91 (Artesia Fwy/Blvd) to Manhattan Beach (pop. 34,000), where we joined SR 1 heading northwest. Then, past Westchester (L.A. Airport area), we reached Santa Monica (pop.  88,000), which is known for its landmark pier and the stretch of coastal greenery called Palisades Park. Proceeding ahead, we entered the L.A. district of Pacific Palisades (pop. 27,0000); and Malibu (pop. 13,000), an elite city carved out of a 21-mile (34 km) strip of Pacific coastline to meet the whims and fancies of the filthy rich associated with the Hollywood film industry. It is a beachfront community known for its warm, sandy beaches, and for being the home of many movie stars and their sidekicks.
(We were destined to return to this area on 22 Oct. to explore the J Paul Getty Museum at its original location on SR 1. I shall keep the details of that enjoyable excursion for the grist of another installment.)
We visited the beautiful 830-acre Malibu campus of Pepperdine University, established in 1937 by the Churches of Christ. The Princeton Review ranked Pepperdine on the list of colleges with "Dorms Like Palaces" in 2004 and 2007 and No.1 under "Most Beautiful Campus" in 2006 and 2007. 
Santa Barbara 101
Santa Barbara was another 65 miles northwest from Malibu. However, Voegele began his Introduction to Santa Barbara as we moved from L.A. County to Ventura County, but still within the western territorial boundary of Greater Los Angeles. (The eastern boundary of Santa Barbara County marks the western edge of GLA.)  He determined the course of the journey from here onwards.
To show us the scenery surrounding the campus, Voegele took us on a drive along the Coral Canyon Road. Back o SR 1, he took us to Point Mugu, an unincorporated area in Ventura County. This is the location of Naval Base Ventura County Point Mugu (NBVC). The "Mugu Rock" is a landmark in the area. Our next stop was the U.S. Navy "Seabee" Museum in Port Hueneme (pop. 22,000), a 4.6 square-mile charter city almost surrounded by Oxnard (pop. 200,000), the largest city in Ventura County.
Then, via Channel Islands Boulevard and Harbor Boulevard, we entered the Channel Islands National Park Headquarters' visitor center, where we paused to relax and eat our lunch. The park consists of five of the eight Channel Islands off the Southern California coast from Point Conception near Santa Barbara to San Pedro near the port of Los Angeles. At the visitor center, we watched a movie on the Channel Islands.
Next, we moved on to the city of Ventura (pop. 107,000), the county seat and the location of Mission San Buenaventura (or Ventura for short). We visited the premises of the mission that Father JunƒÆ'†'­pero Serra founded in 1782. We saw a fascinating slide show at the adjoining small museum, which displays Chumash Indian artifacts and mission-era items.
When we reached the oceanside city of Carpinteria (pop. 15,000), Voegele treated us to a round of Thrifty ice cream, his favorite, to celebrate our arrival in Santa Barbara County. We walked to the Carpinteria State Beach. Finally, we arrived in Voegele's official residence in Santa Barbara""'2185 Lillie Ave., Summerland.
Summerland (pop. 1,600), an area encompassing two square miles, is on the coast directly east of the city of Santa Barbara and west-northwest of Carpinteria, and is almost entirely surrounded by the unincorporated community of Montecito (pop. 10,000).
Later in the evening, Voegele and I joined a Sierra Club walking tour of the San Ysidro Canyon Trail, north of Montecito. Following this rejuvenating exercise, all the hikers repaired to Rusty's Pizza Parlor to eat supper. We had a good time.
Santa Barbara bears the nickname "American Riviera." But to which Santa Barbara does it refer""'the city (pop. 93,000), the contiguous urban area (pop. 220,000), or the county (pop. 422,000)? (The SB urban area includes the cities of Goleta on the west and Carpinteria on the east, along with the unincorporated regions of Isla Vista, Montecito, Mission Canyon, Hope Ranch, Summerland, and others). I think the nickname applies to the contiguous urban area because the entire horizontal coastal stretch lies between the rising hills of Santa Ynez Mountains (in the Los Padres National Forest) and the Pacific.
 Day 2 in Santa Barbara
Yoke-Sim and I decided that we (including Junius) should self-explore the attractions of Santa Barbara so that Voegele and his brother John could attend to their respective chores. Thus, the next morning, we headed west to downtown SB along the coastal Channel Drive and Cabrillo Boulevard.
From the Stearns Wharf in the southeast, the downtown extends northwestwards for a mile along State Street, its backbone. We visited the quaint El Paseo Plaza in Old Town; El Cuartel, the remnants of a two-room soldiers' quarters in the El Presidio de Santa Barbara State Historic Park; the Historical Society Museum; the Moreton Bay Fig Tree (believed to have been shipped from Australia and planted in 1877) on Chapala Street; the County Courthouse; the Museum of Art; and the Alice Keck Park. We also had a good look at Piccadilly Square, Lobero Theatre, and Victoria Court.
In the afternoon, we visited Mission Santa Barbara ("Queen of the Alta California Missions") founded in 1786 by Father Fermin Lasuen for the religious conversion of the Chumash tribe.  Just north of the mission, we explored the Museum of Natural History before our final destination for the day""'the Botanic Gardens on Mission Canyon Road, where we walked on the trails. Finally, we drove back to Summerland on the hilly scenic drive admiring some of the magnificent homes in Montecito along the way.  We celebrated the day with a family-style dinner at the nearby Big Yellow House.
 Day 3 in Santa Barbara
Sunday morning, the Voegele brothers""'Don and John""'joined us for breakfast at the Omelet Parlor in Summerland. Then, we took off again for self""…"exploration. We drove west on East Cabrillo Boulevard to see the Andree Clark Bird Refuge, adjoining the SB Zoological Gardens; the Stearns Wharf, south of downtown; the Sunday Market, east of State Street on Cabrillo Boulevard; and the nearby Santa Barbara City College.
Because we were curious to know more about how the wealthy folks splurged their greenbacks on prime property, we proceeded further west to the unincorporated area called Hope Ranch (pop. 2,200), one of the wealthiest areas in California. (The median home price in Hope Ranch was $2.61 million in 2006.) We drove on hilly streets (like Via Laguna and Lago Drive) feasting our eyes on homes we could only dream about, when we saw a cricket game in full swing at the park on Via Rosita""'an oddity in America! However, the players were mostly East and West Indians.
Being homesick for cricket, we watched the game for quite a while before going further west to Goleta (pop. 55,200; it became a city in 2002) to visit the University of California Santa Barbara""'our last stop on this excursion. We read the Weekend Australian in the library and then walked along the north shore of the campus lagoon.
We were back in Summerland by 5 p.m. ready for the return journey to Fullerton. With Don Voegele as driver, we left Summerland an hour later. He started the journey with a five-mile trip north to show us the Vedanta Temple in Montecito (927 Ladera Lane). The temple was established in 1956 on a 30-acre property (later expanded to 45 acres) donated in 1944 by Spencer Kellogg to the Vedanta Society of Southern California. 
Run by a convent of seven nuns, the temple's activities include daily worship, meditation and vesper services, Sunday lectures and pujas (special worship services).
After leaving the temple, via Toro Canyon Road, Voegele got on to the freeway US 101and drove all the way east to Sherman Oaks, where we ate a late dinner at Carl's Jr. We reached Fullerton about 11 p.m.
 (To be continued)
(The writer is professor of mass communications emeritus, Minnesota State University Moorhead)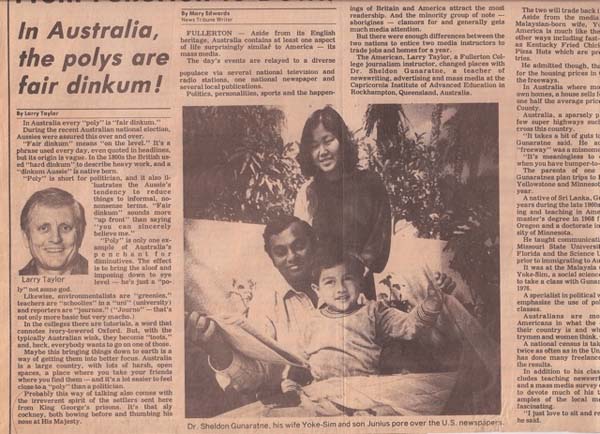 Figure 1: The (Fullerton) News-Tribune (25 May 1983) published a feature story on the Gunaratne family.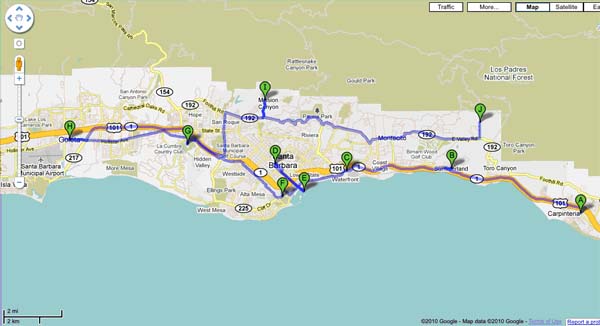 Figure 2: Places of Interest Santa Barbara:  A=Carpinteria; B=Summerland; C=Bird Refuge and Zoo; D=Downtown Santa Barbara; E= Stearns Wharf; F=SB City College; G=Hope Ranch; H= Goleta and UCSB; I= SB Botanic Gardens; J=Vedanta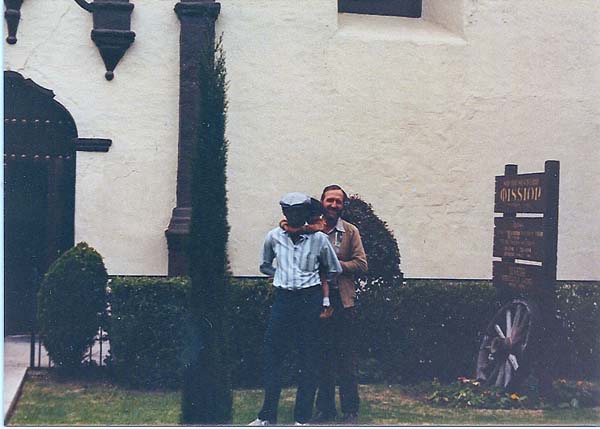 Picture 1: Don Voegele plays with Junius who hangs on to the author's back at Mission San Buenaventura in Ventura (24 June 1983)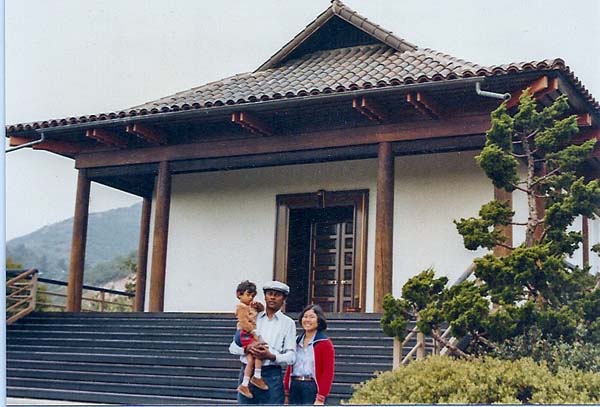 Picture 2: Junius with his father and mother at the Vedanta Temple at 927 Ladera Lane, Santa Barbara (26 June 1983)