The Travels of a Journalist—35 ,PALM SPRINGS: THE CITY OF CELEBRITIES KEEPS ITS COOL IN RIVERSIDE COUNTY
Posted on June 19th, 2010
By Shelton A. Gunaratne©2010
We""'Junius, Yoke-Sim and I""'spent a Saturday (26 Nov. 1983) in Palm Springs, the fashionable resort in the Upper Colorado Desert on the eastern foothills of San Jacinto Peak (elev. 10,804 ft.). The city of Palm Springs (pop. 48,000), which occupies an area of 95 square miles in the Coachella Valley in Riverside County, is well known for its 125 golf courses and its connections with numerous celebrities. 
 Celebrity Connections
Let me illustrate these connections with the following examples gleaned from Wikipedia:
Entertainer Sonny Bono (1935-1998) ran a restaurant in downtown Palm Springs. Frustrated by the lack of cooperation he faced from the city council over a new sign for the restaurant, he took matters into his own hands and ran for mayor. With Marshall Gilbert, the conservative talk radio host on KNWQ, as his campaign manager, Bono won the mayoral election in 1988. Having put himself back in the public eye, Bono won a seat in the U.S. House of Representatives in 1994, a position he held until his death in a skiing accident in 1998. His widow, Mary, filled the vacancy.

The legendary animation genius Walt Disney (1901-1966), who owned the Smoke Tree Ranch in Palm Springs, was so proud of his property that he had the ranch's brand embroidered on all of his neckties. Disney reluctantly sold the property to help finance the construction of Disneyland. The Partners, bronze sculptures of Disney standing next to Mickey Mouse in each of the Disney theme parks clearly show the brand on Disney's tie.

Since the 1930s, Palm Springs has been a magnet for many Hollywood stars. Bing Crosby (1903-1977); Charles Farrell (1901-1990), who was elected mayor of Palm Springs in 1953 and held that office for seven years; and Ralph Bellamy (1904-1991) founded the first tennis club in Palm Springs. Crosby also started the Blue Skies Trailer Park in Rancho Mirage. Other 1930s/1940s celebrities who frequented Palm Springs included Humphrey Bogart (1899-1957), John Barrymore (1882-1942), Douglas Fairbanks Jr. (1909-2000), Mary Pickford (1882-1979) and Judy Garland (1922-1967).

Elvis Presley (1935-1977), who frequently visited Coachella Valley, honeymooned in Palm Springs in 1967. Frank Sinatra (1915-1998), Bob Hope (1903-2003) and Dinah Shore (1916-1994), who resided in the valley, helped create three major golf tournaments.

President Gerald Ford (1913-2006), who was a longtime Rancho Mirage resident, became a benefactor of the substance abuse center that bears his wife's name, the Betty Ford Center. Lucille Ball (1911-1989) and Desi Arnaz (1917-1986) were instrumental in forming the exclusive Thunderbird Heights gated hillside in Rancho Mirage, where some of the rich and famous live in homes valued at between $1 million and $10 million.
 Location and Population
We travelled 90 miles east of Fullerton to reach Palm Springs. Riverside (pop. 316,000), the county seat of the eponymous county, is located 56 miles west of Palm Springs.
Between the 25-mile north-south geographical stretch between Palm Springs and La Quinta (pop. 43,200) lie four other resort cities: Cathedral City (pop. 54,200), Rancho Mirage (pop. 13,300), Palm Desert  (pop. 50,800) and Indian Wells (pop. 5,200). The community of Bermuda Dunes (pop. 7,000), and the cities of Indio (pop. 83,000) and Coachella (pop. 33,800) lie further to the east. People use the name Palm Springs to connote all the contiguous cities listed in this paragraph.
More than 2 million people live in Riverside County, which is part of Greater Los Angeles. The county's population has increased by more than 200 percent since I visited its most famous city (Palm Springs) and its county seat (Riverside) in 1983. Over the same time span, the population of Palm Springs has increased by 48 percent while that of Riverside city by 85 percent.
The reason for the expansion of Riverside population is the exodus of people from Metropolitan Los Angeles to the outskirts for cheaper housing. The cities of Murrieta (pop. 100,200; established in 1991) and its neighbor Temecula (pop. 105,000; established in 1989) accounted for 20 percent of the county's population growth since 2000.
 Palm Springs 1983
Our first stop in Palm Springs was the Valley Station (elev. 2,643 ft./806 m) in Chino Canyon from where we took the Palm Springs Aerial Tramway to Mountain Station (elev. 8,516 ft./2,596 m) on the eastern edge of Long Valley in the San Jacinto Wilderness. Opened in 1963, this tramway claims to be the largest of the three rotating aerial tramway in the world. (The other two "Rotair" aerial trams are in Cape Town, South Africa, and Titlis, Switzerland.) The 2.5-mile ride "passes up North America's sheerest mountain face through several life zones on its way" providing breathtaking views, which amply compensated the $9 we each paid for the ride.
A freezing temperature (22 degrees F) greeted us at the top. Mountain Station area was covered with snow. Although we were not prepared for freezing weather conditions, we tried to walk on the Dessert View Trail. Junius hung on to me and cried most of the way because of the intense cold.  We returned to the Valley Station before 2 p.m.
Our next stop was Palm Canyon on the Agua Caliente Indian Reservation. (Admission cost us $2.50 per adult.) Founded in 1896 to accommodate the Cahuilla Indians, the reservation occupies 31,610 acres, of which 6,700 come within the Palm Springs city limits. I walked about a mile along the beautiful canyon through the numerous Washingtonian palms, about 1,500 to 2,000 years old.
We also drove to Andreas Canyon and walked along the terrain past unusual rock formations.
We returned to downtown Palm Springs via Murray Canyon Drive and Sunrise Way. We stopped by at the Village Green Heritage Center and walked up Palm Canyon Drive to window shop. Then, we stopped at Louise's Pantry to eat a home-style-cooked dinner.
On this trip to Palm Springs, we did not run into any of the celebrities who inhabit this city of conspicuous consumption. Nor did we go looking for them.
 Visiting Riverside City
The next day (Sunday, 27 Nov. 1983), we made an exploratory tour of the city of Riverside.  Our starting point was Mount Rubidoux (elev. 1,329 ft./405 m) in the San Bernardino Mountains. This 161-acre park is a Riverside landmark, which provides numerous dirt hiking-trails""'a delight for those addicted to self-propulsion.  The Santa Ana River winds its way at the foothills of the peak. Junius was highly thrilled to travel the very narrow, winding road up and down the peak, where a cross dedicated to Father JunƒÆ'†'­pero Serra stands. An outstanding feature of Mount Rubidoux is the World Peace Tower and Bridge. Riverside celebrated the 100th anniversary of the Easter Sunrise service at the summit of Mount Rubidoux on 12 April 2009.
Mission Inn (3649 Mission Inn Ave.) was the second Riverside landmark we chose to visit. Christopher Columbus Miller built a two-story, 12-room adobe building called "Glenwood Cottage" in 1876. In 1902, Miller's son Frank changed its name to "Mission Inn" and started expanding it in a wild variety of shapes, until he died in 1935. Our guide Barbara showed us the St Francis Chapel, Santa Cecelia Chapel, International Shrine of Aviators, President Taft's Chair and other antiques. She said that President Nixon married his wife Pat at one of the two wedding chapels; that President Reagan and his wife Nancy honeymooned there; and that several other presidents (e.g., Harrison, McKinley, Roosevelt, Taft, Hoover, Kennedy and Ford) had visited the inn. We climbed up to see the rooms where famous writers stayed. Overall, we were very much impressed with what we saw.
Then, we crossed over to spend some time at the Riverside Municipal Museum (3720 Orange St.), which was getting ready to celebrate the city's centenary. Next, we stopped at the 40-acre Botanic Gardens of the University of California, Riverside. Located in the eastern foothills of Box Spring Mountain, the gardens contain more than 3,500 plant species from around the world. It has seven collections organized by species and six organized by geographical origin.
Then, via the Riverside International Raceway, we drove to March Air Force Base, but its museum display of some 70 aircraft was closed. Thus, we decided to spend the rest of the day at the Riverside Plaza Mall.
 Back to Orange County
The previous Friday (25 Nov. 1983), we visited two offbeat attractions in Orange County that we wanted to see before the end of my Fullerton Year:
Bowers Museum in Santa Ana (2002 N. Main St), a cultural art repository, was founded in 1936 with the guiding philosophy of helping people learn about other cultures through their arts, and offering "a greater understanding of ourselves and appreciation of the world in which we live." Since our visit to the museum in 1983, it has gone through two renovations and expansions in 1992 and 2007 respectively. Its permanent collection comprises more than 100,000 items focusing on several areas, such as African, South Pacific, Asian, Native American, Pre-Columbian art, and California plein-air painting. It balances Getty Villa's European bias.

Crystal Cathedral in Garden Grove (12141 Louis St.), a mega church of the Reformed Church in America, was designed by architect Philip Johnson to seat 2,736 people in the main sanctuary. The builder used a silicone-based glue to tie together more than 10,000 rectangular panes of glass. The Rev. Robert H. Schuler founded the church in 1955. The high quality of its music program and the eclectic variety of its musical guests has contributed to its success.
Next: Watts, Downtown L.A. and Vicinity
 (The writer is professor of mass communications emeritus, Minnesota State University Moorhead.)

Figure 1:  [In Orange County] A=Bowers Museum, Santa Ana; B=Crystal Cathedral, Garden Grove. [In Riverside city area, Riverside County] C=Mount Rubidoux Park; D=Mission Inn; E=UCR Botanic Gardens; F=March AFB. [In Palm Springs area, Riverside County] G=Palm Springs Aerial Tramway; H=Agua Caliente Indian Reservation; I=Cathedral City; J=Rancho Mirage; K=Palm Desert; L=La Quinta.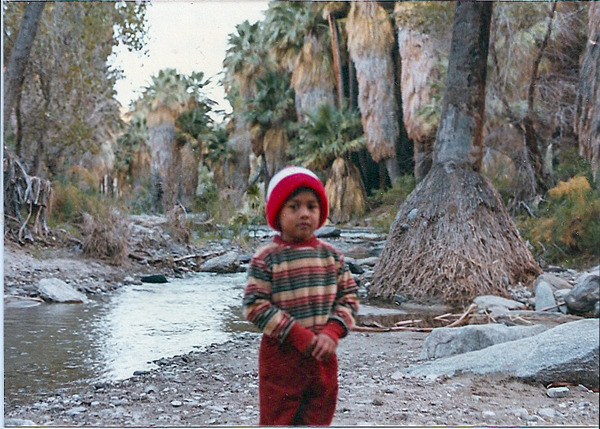 Picture 1:  Junius A.  Gunaratne in the company of a cluster of Washingtonian palms at the Agua Caliente Indian Reservation in Palm Springs. (26 Nov 1983)
Picture 2: Junius was not inclined to use his energy for self-propulsion on the day we visited the World Peace Tower and Bridge at Mount Rubidoux Park in Riverside. Yoke-Sim had to carry Junius.  (27 Nov. 1983)