The Travels of a Journalist—36-LATINOS REPLACE BLACKS AS WATTS' MAJORITY BUT IT REMAINS ONE OF L.A'S POOREST AREAS
Posted on June 26th, 2010
By Shelton A. Gunaratne ©2010
 The Watts Riots of 1965 were fresh in my memory when I first visited Los Angeles in December 1966 as a World Press Institute fellow. The WPI journalists visited the home of author Budd Schulberg (1914-2009) in Beverly Hills (1666 Beverly Drive) for a conversation with the man who wrote the 1941 novel "What makes Sammy run?" and other literary works; and was also instrumental in forming the Watts Writers Workshop intended as an artistic outlet for promising black youth who were frustrated because of alleged "police brutality."
The five days of Watts Riots (11-15 Aug. 1965) followed the arrest of black youth Marquette Frye by white highway patrolman Lee Minikus for alleged drunk driving. The toll: 34 people killed; 2,032 people injured; 3,952 people arrested; and $40 million in damage to property.
Our conversation with Schulberg and several members of the Watts Writers Workshop on 26 Dec. 1966, more than one year after the riots, enabled us to assess the extent of racial tension afflicting Los Angeles in the mid-"ƒ"¹…"60s in the stories we wrote for our home country media. The story I wrote, "Schulberg on Watts," appeared in the 13 Jan. 1967 edition of CDN.
During my Fullerton Year (1983), we""'Junius, Yoke-Sim and I""'decided to explore the Watts area and the vicinity one Saturday (17 Sept.) so we could see the changes 18 years after the riots.  We reached Watts, 34 miles northwest of Fullerton, via Norwalk, Downey and South Gate.
 Watts (current population 35,000) is a mostly residential neighborhood of the city of Los Angeles, located about 12 miles south of downtown. From 1907 to 1926, Watts Station was a separate city, where the Mexican railroad workers had settled down. Watts became predominantly black only in the 1940s when thousands of blacks left the segregated Deep South to settle down in Southern California. The black influx resulted in a white flight out of areas like Watts in the 1960s. 
The city set up three public housing schemes to help the working class residents of Watts:
Nickerson Gardens (estbd. 1955), a 1,054-unit apartment complex (in 156 buildings) at 1590 E. 114th St.
Jordan Downs (estbd. 1955), a 700-unit apartment complex (in 103 buildings) in a block bounded by Grape, 97th, Alameda and 103rd streets.
Imperial Courts (estbd. 1944), a 498-unit complex at 11541 Croesus Ave. on Imperial Highway between Grape Street and Mona Boulevard.
By the mid-1960s, these housing schemes had turned into almost 100 percent black ghettos.
The 2000 census showed that 61 percent of Watts' residents were Latino (mostly Mexican, Guatemalan, Honduran, and Salvadoran immigrants) and only 38 percent black (mostly African-American). However, with almost one-half of its residents living below the poverty line, Watts remain one of the poorest neighborhoods of Los Angeles.
During our 1983 visit, we sensed the increasing tension between the blacks and the Latinos. We heard about the emergence of gang violence in the wake of Watts Riots.
Today, the percentage of African American residents in South Los Angeles is about half of what it was in the 1970s.
Impact of Workshop
I was curious to know whether Schulberg's Watts Writers Workshop, a creative writing group composed primarily of young African Americans in Watts and the surrounding neighborhoods, had made a noticeable impact on the community. Rockefeller Foundation had helped the group expand its facilities and activities over the ensuing years. Investigative reporting later revealed that the FBI had targeted the Workshop for covert operations. However, several well-known writers emerged from the Workshop: Poet Quincy Troupe (b. 1939), music and cultural critic Stanley Crouch (b. 1945) and Herbert Simmons, as well as the poetry group Watts Prophets (a group formed in 1967 comprising Richard Dedeaux, Father Amde Hamilton and Otis O'Solomon). FBI informant Darthard Perry burned down the Workshop in 1975 after spending his own money to keep the facility going following the cut-off of federal funding.
In 1983, I was unable to contact any of the Workshop participants""'Leumas Sirran, Harry Doland and James Jackson""'whom we interviewed at Schulberg's home in 1966. Their view then was that things were getting better although they complained about unemployment and poor transportation.
Although the Workshop was intended to redress the frustrations of the black youth in South Los Angeles, methinks it was not an adequate solution to divert their attention to positive community building. Instead, the black frustrations fostered a fertile ground for increased gang activity and crime. Following four years of peace negotiations, four of Watts' influential gangs""' Watts Cirkle City Piru Bloods, Grape Street Watts Crips, Bounty Hunter Watts Bloods, and PJ Watts Crips""'formed a Peace Treaty agreement in 1992.
However, these developments could not prevent the eruption of the 1992 Los Angeles Riots sparked by the decision of a jury to acquit four LAPD officers accused of beating Rodney King, a black motorist. The toll of the six-day riot that began on 29 April: 53 people killed, thousands injured and arrested, and US$1 billion in property damage.
Blacks still form the largest ethnic group in the southwestern portion of South Los Angeles. Violent crime in this region, although still high, has been decreasing since 1992. In recent years, there has been an influx of white and Asian families to some communities of South Los Angeles because of gentrification and revitalization, particularly around the West Adams and Jefferson Park districts (Wikipedia). Gentrification is a process that engenders socio-cultural changes in a neighborhood following the purchase of property in depressed areas by the wealthy or by the exodus of residents with rising incomes to settle down in more affluent areas.
 Watts Towers
We stopped to see the Watts Towers (Towers of Simon Rodia at 1765 E. 10th St.), a collection of 17 interconnected structures, two of which reach heights exceeding 97 feet/30 m. An Italian immigrant construction worker, Sabato ("Sam" or "Simon") Rodia, built them in his spare time over a period of 33 years, from 1921 to 1954. The towers, which exemplify non-traditional vernacular architecture, became a National Historic Mark in 1990. The documentary "Build the Tower" unfolds the story of Rodia.
 Exposition Park
We spent the rest of the day at the Exposition Park, 10 miles northwest of Watts and just southwest of downtown L.A.  It was our pleasure to explore the park's best two attractions:
Museum of Science and Industry (renovated and renamed the California Science Center in 1998); it consists of the IMAX Theater, the Sketch Foundation Gallery – Air and Space Exhibits (formerly Aerospace Hall) and the Science Center itself – including the March 2010 opening of the Ecosystems exhibition wing.

Natural History Museum of Los Angeles County, the largest of its kind in the western United States. Its collections include nearly 33 million specimens and artifacts and cover 4.5 billion years of history.
There was so much to do at these two sites that we had to hurry through many of the exhibits. "Excellent value for the time spent," I wrote in my diary. The 160-acre park also contained several other attractions:
Los Angeles Memorial Coliseum;

Los Angeles Memorial Sports Arena;

Exposition Park Rose Garden; and

EXPO Center.
Finally, we crossed the park to visit the University of Southern California, where we stopped at the Annenberg School of Communication. I also paid a visit to the office of the School of Journalism. Then, we walked around the nearby Shrine Auditorium after a quick stop at the Fisher Art Gallery.
Before returning to Fullerton, we decided to splurge on a Japanese style dinner. So we repaired to Little Tokyo village in downtown Los Angeles to eat dinner at Mitsuru CafƒÆ'†'© although Yoke-Sim was worried about "the riff-raff" on Main Street.
 Next: Touring Downtown Los Angeles
(The writer is professor of mass communications emeritus, Minnesota State University Moorhead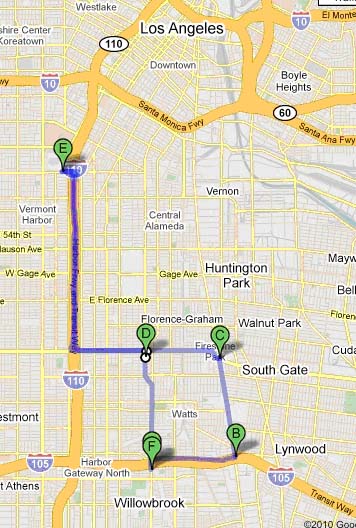 Figure 1: The boundaries of Watts: Imperial Highway (A/F-B); Alameda Street (B-C); Firestone Boulevard (C-D); and Central Avenue (D-F).  E=Exposition Park is five miles north  of D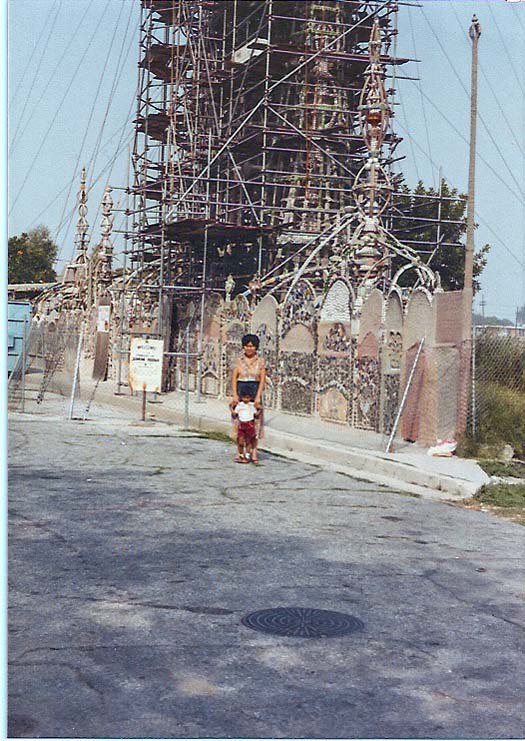 Picture 1: Junius and Yoke-Sim at the Watts Towers, a National Historic Landmark (17 Sept. 1983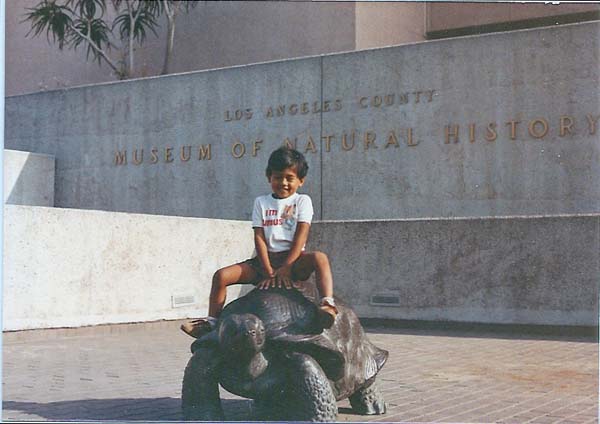 Picture 2:  Junius "rides" the giant tortoise/turtle/terrapin outside the L A. County Museum of Natural History (17 Sept. 1983)