The Travels of a Journalist—53-Family explores offbeat attractions during break in state of Washington
Posted on January 28th, 2011
By Shelton A. Gunaratne ©2011

Professor of mass communications [email protected] Minnesota State University Moorhead
 On the first Saturday (22 July 1989) after our arrival in Longview, Junius, 9, and I went to the adjoining city of Kelso, where I purchased a Timberline-4 tent for $151 (including sales tax) at the Outdoors Store (110 S. Pacific Ave.). On previous camping trips, I used tents rented from the outdoors facility of the Moorhead State University (as my university was known then) Students' Union. Now that I had become the proud owner of a high-quality tent, I could use it on our return trip to Minnesota at the end of August for nifty camping at exotic and enchanting sites. Such was my reasoning.
Moreover, Carmel, 5, was also a gung-ho camping enthusiast. Our family of four clicked together. I often marveled whether the fact that all for of us were born between 19 Jan. and 31 Jan. had anything to do with our penchant for camping.  When we adopted a fox terrier as our family pet, the breeder who sold Cosmo to us for $625 intimated that the lovable creature was born 13 Jan. 2007. My father was a strong believer in astrology. I too have a degree of faith in the potential influence of star clusters on all sentient beings.  
Apart from our excursion to Mount St Helen's National Volcano Monument (see Travels-51), we visited several other offbeat attractions during our stay in Washington:
Thursday (27 July 1989):  All of us visited St Helens, Ore. (pop. 2,000), the county seat of Columbia, 24 miles south of Longview, Wash., on Columbia River Highway (U.S. 30). Cathy Zimmerman, features editor of the Daily News, had assigned me to write a profile of Agnes Petersen, a well-known attorney in St Helens.  The purpose of this visit was to gather background information on Petersen so I would be adequately prepared before I met with her for a journalistic chitchat.
Having gone through all the past clippings related to Petersen in the "morgue," I wanted to sound a couple of sources who knew her well""'Robert P. Van Natta, Petersen's law partner; and Greg Cohen, editor of The Chronicle, the local rag. After interviewing these two sources, I stopped by at the People's Utility District, where Petersen was a director. PUD's Betty Lang gave me an article that Petersen had written. [Exactly a week later, I returned to St. Helens to meet with Petersen, then 53, for a journalistic conversation that enabled me to write the feature titled "'Life is a Banquet': Attorney relishes motherhood and public office," published in the Daily News on Friday, 11 Aug. I have already described my newspaper internship with the Longview daily in the series titled The Journey of a Journalist (Part 9A). See Archives.]
On the way to St. Helens, we stopped at the Trojan Visitors Information Center in Rainier, Ore. (pop. 1,687), and the waterfront Pixie Park, across the Cables House Museum, in Columbia City, Ore. (pop. 1,955).
Rainier (earlier known as Eminence and Fox's Landing) was home to Trojan Nuclear Power Plant, the only commercial nuclear reactor in Oregon. It supplied electricity to Portland and its suburbs starting in March 1976. Because of structural problems, this reactor was closed periodically. In January 1993, it was decommissioned after cracks developed in the steam tubes. On May 21, 2006, the cooling tower was demolished. The Cables House Museum is a two-storey structure built in 1870 by Charles Green Cables.
Saturday (29 July): We spent the entire day exploring the MSHNVM. I have already reported this excursion in detail in Travels-51.
Figure 1:  Offbeat places along Columbia River, south of Longview, WA.
27 July 1989 Trip: A=Longview, WA; B=Rainier, OR; C=Columbia City, OR; D=St Helens, OR.
30 July 1989 Trip: E=Log Pond, WA; F=Kalama, WA; G=Woodland, WA; H=Ridgefield National Wildlife Refuge, WA.
Sunday  (30 July): All of us spent the afternoon exploring the neighboring communities to the south of Longview along the Washington side of the Columbia River. Whereas we drove on the Oregon side of the river on our way to St Helens on 27 July, we were driving on this occasion on I-5 that runs parallel to U.S. 30.
Our first stop was a spot south of the Log Pond (in Cowlitz County) on the east bank of the Columbia River, about four miles from Longview. From there, we had a good view of the iconic 499-ft.-tall cooling tower of the controversial $500 million Trojan Nuclear Plant in Rainier, Ore., on the opposite side of the river. Portland General Electric (PGE), which operated the plant, shut it down almost 20 years before the end of its design lifetime.
In 2005, PGE removed the reactor vessel and other radioactive equipment from the Trojan plant, "encased in concrete foam, shrink-wrapped, and transported intact by barge along the Columbia River to Hanford Nuclear Reservation [near the Tri Cities], where it was buried in a 45-foot-deep (14 m) pit and covered with six inches (150 mm) of gravel, which made it the first commercial reactor to be moved and buried whole" (Wikipedia). The PGE stored the spent fuel onsite in 34 dry casks, awaiting transport to the Yucca Mountain Repository.
I distinctly remembered the fierce public debates on nuclear energy in the late "ƒ"¹…"70s and the "ƒ"¹…"80s when I served as a freelance public affairs reporter for The (Rockhampton, Qld.) Morning Bulletin. Therefore, I was very much interested in learning about the Trojan project while I was back as a journalist in Longview.
Moving further south, we stopped at Kalama  (pop. 1,783), named after the Kalama River in Cowlitz County. We visited the city's Riverside Park, which has the "world's tallest [105 ft.] single-strand totem pole." Kalama was the northern terminus of a railroad ferry operated by the Northern Pacific Railway from Goble, Ore.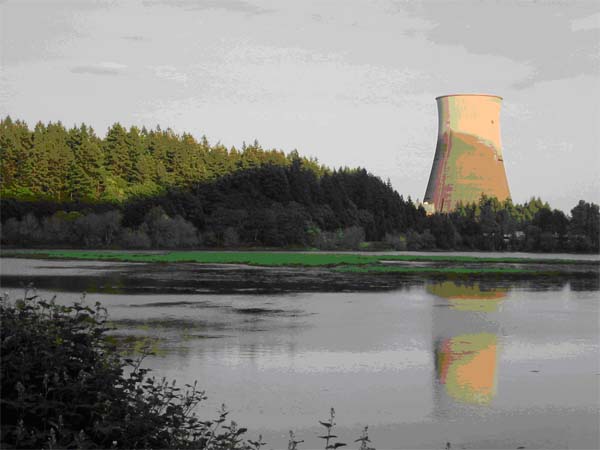 Picture 1: Cooling Tower of the Trojan Nuclear Plant in Rainier, Ore. (20 May 2006). The Trojan Decommissioning Alliance organized several direct action protests in the "ƒ"¹…"70s. Dynamite implosion demolished the tower on 21 May 2006, the day after the photographer took this picture.(Source: Wikimedia Commons)
 Then, we drove to Woodland (pop. 4,843), a city incorporated in 1906 by Finnish settlers. Straddling Clark and Cowlitz counties in Washington, Woodland is the home of the seven-acre Hulda Klager Lilac Gardens (115 S. Perkin Road). Klager (1863″"…"1960) eventually hybridized more than 250 varieties of lilacs. The Lilac Society, which saved Klager's house and gardens from turning into an industrial site in 1964, administers the property as a state and National Historic Landmark. We also made a short stop at the Horse Shoe Lake Park. The Cedar Creek Grist Mill, another National Historic Landmark, is located near Woodland.
Our final stop was Ridgefield (pop. 4,314), originally called Union Ridge, a trading post inhabited by Chinook Indians and associated with the Lewis and Clark Expedition of 1804-1806. Incorporated in 1909 as Ridgefield, it is the gateway to the 5,150-acre Ridgefield National Wildlife Refuge, a primary reserve for migrating waterfowl on the Pacific Flyway.
While visiting the refuge, Carmel, Junius, Yoke-Sim and I decided to hike the two-mile-long Oaks to Wetlands Wildlife Foot Trail. Leaving my mother and my sister "Rani" in the car at the parking lot, the four of us started to walk. On the way, I started jogging leaving the other three behind until I lost sight of them.  When I returned to the parking lot, I was surprised to find that Yoke-Sim and the two kids had not returned. Jitters went through my system just like in mid-August 1983 when Junius and Yoke-Sim got lost I Hetch Hetchy (see Travels-20). In panic, I drove to the city and sought police assistance to find the trio.
Yoke-Sim and the kids reappeared in the parking lot just before the cops arrived. I could not fathom how they managed to duck me when I backtracked the foot trail. 
 (To be continued)