Recognition Awards for Helplanka at UK Parliament
Posted on November 22nd, 2011
PRESS RELEASE
UKandSri Lankabased charity Helplanka and its Directors and Volunteers were hosted by Tom Brake MP ( Patron of Helpanka) at a Reception at The House of Commons inLondon. Messages of congratulations  from  both HE Mahinda Rajapakse and Rt Hon Nick Clegg were read at the event which was attended by several UK MPs and Mr P Hamza Deputy High Commissioner forSri Lankain theUK.
 Among the winners of awards for outstanding achievement were several Sri Lankan Nationals whose contribution to the charity has been exemplary including :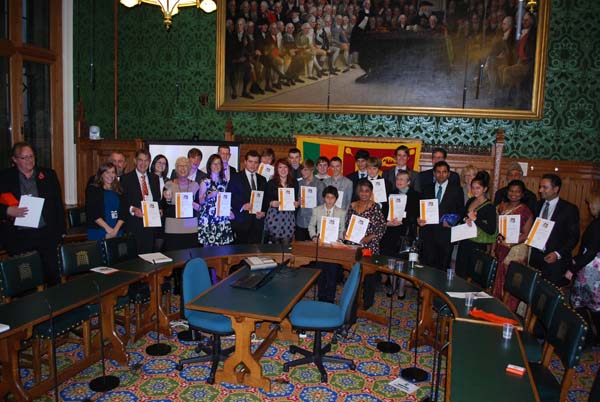 Mr Rushan Pathirana, Mrs Inoka Sirimanna, Mr Indika Goonetillake, Mr Prabath Dissanayake, and Mrs Florence Goonetillake.
 A group of students and teachers from Barry Comprehensive Wales who visited Helplanka's projects in July gave a very heart rendering account of their experiences working with Special needs children , rural schools in Gampaha and Ragama and Deaf and Blind schools inSri Lanka.
 A framed  painting by a 14 year old Deaf girl from Sri Lanka was also donated St Helier NHS Trust as a thank you for the hospital's donation of 55 analogue hearing aids which Helplanka donated to the Nuffield School for Deaf in Jaffna last December.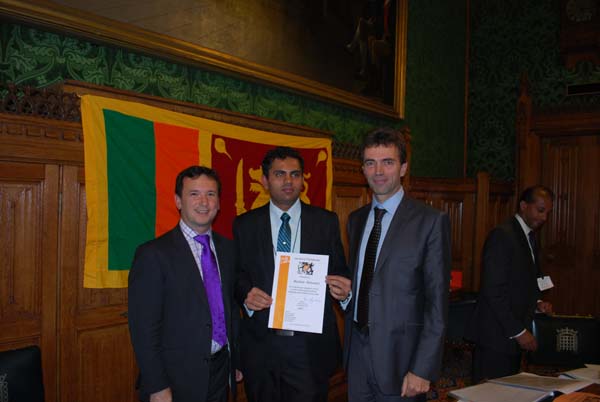 Sam Goonetillake, Chief Executive, who organised the event said : " This awards evening is a way of remembering the efforts of so many in donating, volunteering, visiting projects, teaching and making children smile again in Sri Lanka- I am particularly proud  of the fact that ,in the last 6 years, Helplanka has managed to help over 30,000 children from all ethnicities in Sri Lanka. I am extremely grateful to Tom Brake MP and all our Helplanka Team for their support and I am humbled by the contribution of so many selfless people in helping disadvantaged children inSri Lankato a better life through education. "
 Press Enquiries
Sam Goonetillake
Chief Executive
Helplanka
07963 331138
E mail [email protected]