HIS EXCELLENCY DR. CHRIS NONIS APPOINTED TO THE ADVISORY PANEL OF "THE QUEENS DIAMOND JUBILEE TRUST"
Posted on May 31st, 2012
Media Release  High Commission of the Democratic Socialist Republic of Sri Lanka
The Sri Lankan High Commissioner for the U.K., H.E. Dr. Chris Nonis has been appointed to the Commonwealth Advisory Panel of the Queens Diamond Jubilee Trust. The establishment of the Trust was announced at the Commonwealth Heads of Government Meeting in Perth, Australia in 2011, but was launched officially on 6th February 2012 ""…" the 60th Anniversary of Her Majesty's Accession. Former British Prime Minister the Rt Hon Sir John Major is Chairman of its Board of Trustees, which includes the Commonwealth Secretary General. The Commonwealth Advisory Panel consists of five High Commissioners chosen from the 54 Commonwealth High Commissioners.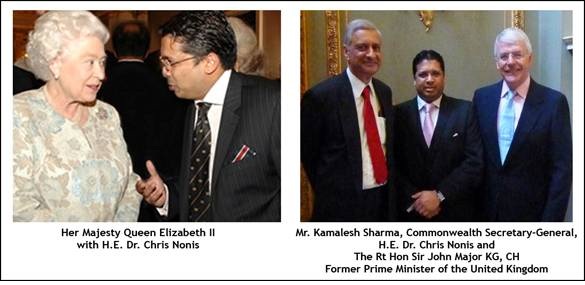 Her Majesty the Queen is Head of the Commonwealth of two billion people, in fifty-four nations over five Continents. As Her Majesty the Queen celebrates her Diamond Jubilee she does so as the second longest serving Monarch in a thousand years of British history.
The establishment of the Queen Elizabeth Diamond Jubilee Trust, is to honour Her Majesty's lifetime of duty over the years. The investments in the Trust aim to make a real and enduring impact on the lives of those who live within the Commonwealth, across all generations and geographical boundaries. The Trust will work with carefully chosen partner charities and organisations to deliver iconic projects within its five year life span. that are a fitting and enduring tribute to Her Majesty the Queen.
On his appointment Dr. Chris Nonis said, "I feel privileged to have been appointed, and  His Excellency the President and people of Sri Lanka look forward to welcoming Her Majesty Queen Elizabeth II and the Heads of Government of all Commonwealth Nations for the Commonwealth Heads of Government meeting in 2013 in Sri Lanka. The Queen Elizabeth Diamond Jubilee Trust will be a lasting legacy for Her Majesty's sixty years of service, and is a reflection of her devotion to duty, dedication and commitment to all Commonwealth Nations including Sri Lanka."
High Commission of Sri Lanka
London
31 May 2012