USA's First Buddhist Senator
Posted on November 9th, 2012
Mazie Keiko Hirono (ƒÆ''£ƒ" -â"¢¡ƒÆ''£"…¡¤ƒÆ''£"…¡¸ƒÆ''£ƒ" -â"¢¼ƒÆ''£ƒ" -â"¢»ƒÆ''£ƒ" -â"¢"'ƒÆ''£ƒ" -â"¢­ƒÆ''£ƒ" -â"¢ƒ…'½ MeijƒÆ'-¾« Hirono?, Japanese name: ƒÆ''¥ºƒ" -™锂¡ƒ…'½ ƒÆ''¦"'¦¶ƒÆ''¥­ Hirono Keiko,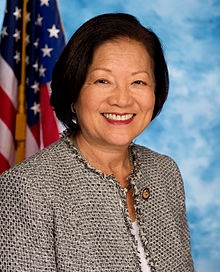 Mazie Hirono
United States Senator-elect from Hawaii
Taking office –  January 3, 2013
Mazie Keiko Hirono (ƒÆ''£ƒ" -â"¢¡ƒÆ''£"…¡¤ƒÆ''£"…¡¸ƒÆ''£ƒ" -â"¢¼ƒÆ''£ƒ" -â"¢»ƒÆ''£ƒ" -â"¢"'ƒÆ''£ƒ" -â"¢­ƒÆ''£ƒ" -â"¢ƒ…'½ MeijƒÆ'-¾« Hirono?, Japanese name: ƒÆ''¥ºƒ" -™锂¡ƒ…'½ ƒÆ''¦"'¦¶ƒÆ''¥­ Hirono Keiko, born November 3, 1947) is the U.S. Representative for Hawaii's 2nd congressional district, serving since 2007. She is a member of the Democratic Party. She is currently Senator-elect for Hawaii, filling the seat being vacated by Daniel Akaka. Hirono will be the first female Senator from Hawaii, the first Asian-American woman elected to the Senate, the first U.S. Senator born in Japan, and the nation's first Buddhist Senator.
She was the second Asian immigrant elected lieutenant governor of a state of the United States. She ran against Linda Lingle for governor of Hawaii in 2002, one of the few gubernatorial races in United States history where two major parties nominated women to challenge each other. She considers herself a non-practicing Buddhist,[1][2] and is often cited with Hank Johnson (D-Georgia), as the first Buddhist to serve in the United States Congress.[3] She is the third woman to be elected to Congress from the state of Hawaii (after Patsy Mink and Pat Saiki). Hirono was the Democratic nominee for the U.S. Senate seat being vacated by the upcoming retirement of Daniel Akaka.
Source:  Wikipedia