Photographic Exhibition held at the UN on the side lines of the Sri Lanka UPR
Posted on November 12th, 2012
Media Release

Sri Lanka Mission

Geneva
A photographic exhibition titled "Sri Lanka; Facets of Post Conflict Development" was held in the entrance hall to the Human Rights Council Chamber at the Palais des Nations in Geneva from 1 ""…" 5 November 2012. It portrays the rapid political, economic and socio-cultural developments that have taken place in the Northern and the Eastern Provinces of Sri Lanka since the ending of the terrorist conflict in May 2009.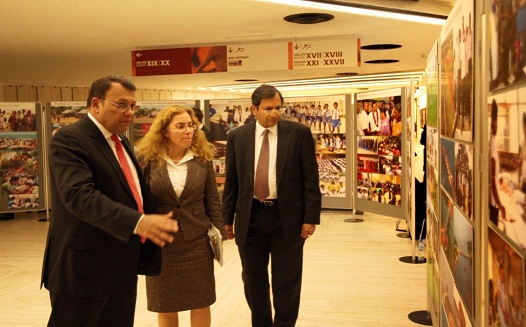 The display was visited by a large number of diplomats, representatives of Non-Governmental Organizations as well as journalists from many countries, during the period between the discussion on Sri Lanka's Universal Periodic Review and the adoption of its report. The President of the Human Rights Council, Uruguay Ambassador Laura Dupuy Lasserre viewed the exhibition in the company of Minister of Plantation Industries and Special Envoy of the President on Human Rights Mahinda Samarasinghe and Sri Lanka's Permanent Representative to the UN in Geneva Ravinatha Aryasinha.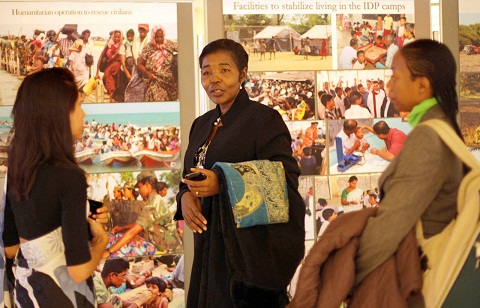 The exhibition conceptualized and organized by the Sri Lanka Permanent Mission in Geneva, had on display a collection of photographs by Mr. Sudath de Silva, Media Director to the President, under the following thematic headings; Humanitarian operation to rescue civilians, Facilities to stabilize living in the IDP Camps, Securing the land through de-mining, Phased resettlement, Children back to school, Rehabilitation and re-integration of ex-combatants into society, Resumption of public services & utilities, Securing livelihoods to the local population, Infrastructure development, Empowerment of women, Revival of tourism in the Eastern and Northern provinces, Renewal of inter-ethnic harmony, The Lessons Learnt and Reconciliation Commission ""…" the blue print for restorative justice and reconciliation in Sri Lanka, Implementation of Trilingual Policy, Restoration of Democracy, Cooperation with international partners, and Towards a lasting peace.