Ambassador Jayatilleka speaks at French National Centre for Scientific Research (CNRS)
Posted on November 14th, 2012
Embassy of Sri Lanka Paris
Ambassador Dayan Jayatilleka participated as a panellist at a conference entitled "Sri Lanka & South Asia: New challenges for a regional policy" organized on November 7th, 2012, at the CNRS, the prestigious French National Centre for Scientific Research. The conference gathered intellectuals and scholars from various fields. The event was organized in partnership with the Foundation for Human Sciences (FMSH – Fondation Maison des Sciences de l'Homme) and the Asia Pacific Network.
 Founded in 1939 by governmental decree, the CNRS is the largest fundamental research organization in Europe. Its stated mission is to evaluate and carry out all research capable of advancing knowledge and bringing social, cultural and economic benefits for society. The Centre also participates in the analysis of the national and international scientific climate and its potential for evolution in order to develop a national policy.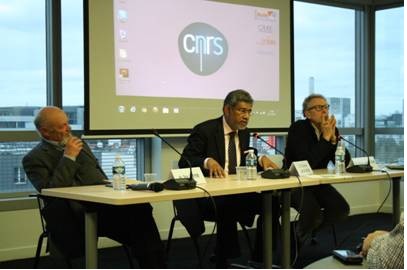 During his presentation, Dr. Jayatilleka addressed problems clustered on two "ƒ"¹…"axial routes': the contentious issues of war and peace embedded in a comparative regional context, and the foreign policy of Sri Lanka in relation to South Asia and the world by focusing on both its structural and conjunctional factors.
 Emeritus Prof. Eric Meyer, France's leading scholar on Sri Lanka who participated as a panellist, spoke on the degree of novelty in the challenges faced by Sri Lanka in the current post-war situation. He further insisted on the importance of history and also on the full implementation of the LLRC Report as a starting point for reconciliation. Prof. Meyer emphasised that "the main issue is how to address pluri-ethnicity and pluri-lingualism". Emeritus professor of Indian history at INALCO, the National Institute for Oriental Languages and Civilizations, Paris, Prof. Meyer is also a former fellow of the CNRS.
The conference was moderated by Dr. Max-Jean Zins, former lecturer at the Jawaharlal Nehru University, New Delhi, and currently Scientific Director of the cooperation programme on Social Sciences between France and South Asia, at the Foundation for Human Sciences (FMSH). Also present on the occasion were Jean-Luc Racine (Director of Research at the CNRS and Political scientist specialized in South Asia) and Ambassador Michel Lummaux (former Ambassador of France to Sri Lanka).
 The presentations were followed by a debate with the audience, during which various issues were raised including those pertaining to the reconciliation process and the role of the Sri Lankan Diaspora in France, especially its intelligentsia and youth element.