DR. CHRIS NONIS ADDRESSES THE DEFENCE AND SECURITY FORUM, UK
Posted on December 25th, 2012
The High Commission of Sri Lanka London
Dr. Chris  Nonis, Sri Lankan High Commissioner to the UK addressed the Defence and Security Forum, UK,  the Foreign and Defence affairs "think tank" which is chaired by  Major General Patrick Cordingley, DSO, who commanded the ground forces in the First Gulf War. Its Deputy Chairman is Rt Hon Sir John Wheeler, former Minister of State for Northern Ireland, and  Lady Olga Maitland, former Member of Parliament, serves DSF as its President. DSF serves to inform and brief members of the City, the professions, diplomats and servicemen on current events in the field of defence and foreign affairs, and bearing in mind the impact that the economies of the world have on international relations, DSF also keeps a monitoring eye on trade relations and economic issues.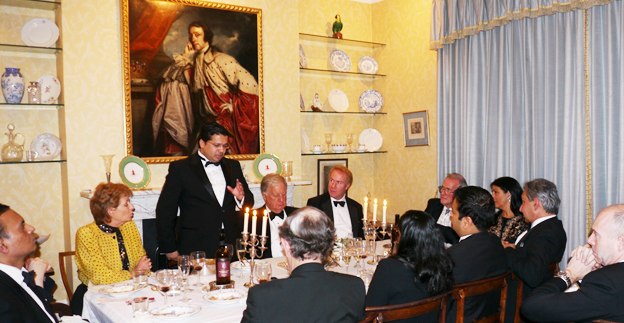 Dr. Nonis spoke about the challenges Sri Lanka faced, and the progress it had made in the post-conflict era. He articulated the comprehensive demining programmes and welfare programmes  that had been carried out to enable subsequent  rehabilitation and resettlement; the rehabilitation and reintegration of ex-combatants and LTTE Cadres; the infrastructure development programmes  and  the substantial role played by the military in reconstruction and resettlement activities. He highlighted the comprehensive ongoing reconciliation programme, and the imperative of addressing the dichotomy in perception between the previous anachronistic view of Sri Lanka and contemporary Sri Lanka.
Previous speakers at the Defence and Security Forum include HRH Prince El Hassan of Jordan; Major General James Cowan, DSO, OBE Head of Counter Terrorism and UK Operations; Lord Robertson of Port Ellen, previous Secretary-General of NATO; late Prime Minister of Pakistan Benazir Bhutto; HRH Prince Michael of Kent; General Sir Jeremy Mackenzie, GCB, OBE; and  Admiral Sir Michael Boyce, GCB, OBE, ADC.
The High Commission of Sri Lanka
London
24 December 2012