Ambassador Sison and Asath Sali
Posted on May 5th, 2013
C. Wijeyawickrema
Breach of diplomatic protocol
Is US Ambassador Sison trying to make SL the next "ƒ"¹…"hotspot'?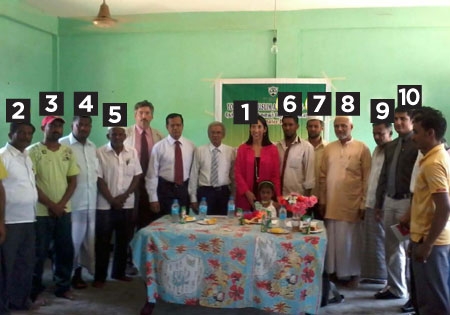 1. Michele J Sison (US Ambassador), 2. "ƒ"¹…"Farisz Master' (Head, YMMA), 3. Jazeer (Member, YMMA), 4. Nawaz (Member, YMMA), 5. Kamudeen (Treasurer, YMMA), 6. Amir (Mosque Representative), 7. Maharoof (Mosque Representative), 8. Registrar of births, deaths and marriages, Kinniya, 9. Bizer (Member, YMMA), 10. Naushad Abdul (translator)
 Source: The Nation, Sunday, 28 April 2013 02:18
Sison Damanaya (taming Ms. Sison)
Ms. Sison who came to Colombo with the job description of getting NP elections under 13-A has got an unexpected new job with the halal issue. So she went from picking up garbage on the Galle face beach to conduct a grievance hearing of Muslims in Trinco.  Does she know if they are Wahabis or Talibans or traditional Muslims?  The government is in such bad shape that I doubt it will censure her for this high handed act by a diplomat.  This is colonial time white man's (woman's) humiliation coming back now in 2013.
                Ms. Sison knows that there are groups in Sri Lanka who will support her behavior. Otherwise she will not embark on this kind of dangerous path.  It is unfortunate that UNP and other entities now rely on foreign people to do rescue work for them to help grab power if possible.  In this bad political climate Bodu Bala Sena (BBS) can help the country and tame the likes of Sison. I hope it will start creating committees of retired talent in Sri Lanka, people retired with lots of experience in various subject areas who can be used as resource pools in the face of incompetent, inefficient yes men and stooge officers in public service.
                BBS never advocated attacking shops. Throwing eggs at somebody on the other hand is a democratic right because the person wearing a face mask covering her face with only two holes for the two eyes knows in advance the risk she is taking.  Most these women have face masks like goni billas but often their buttocks are provocatively exposed as if almost naked, a conflict between a halal head  and a haram buttocks! (I quote from a recent e-mail in circulation).
                BBS invited and challenged others to come for discussions to thrash out issues and arrive at truth and reasonableness. To place facts before people is not provoking them to attack Muslim shops. There are crooks and conspirators in any society who will create trouble with various motives. Because such people are there BBS cannot stop its work.  But take this argument to what Ms. Sison did.  Did She provoke Asath Sali to make violence-generating speeches? There is no doubt that Ms. Sison gave a boost to unruly elements. If a Muslim youth group with wahabi training attacks a Buddhist temple because of Asath Sali's stupid encouragement then Ms. Sison can blame the government for creating Sinhala-Muslim clashes, no matter how it originated.
                May be unlike in Bolivia, Sri Lanka government cannot question Ms. Sison's naked abuse of her country's power. But the government can question Asath Sali and send him to jail if he is found guilty. Ms. Sison cannot do anything to help Asath Sali who ate a dead-rope. Sadam Hussein once ate a dead-rope like that. The American ambassador told him clearly that if Sadam invades Kuwait USA would not get involved. Sadam stupidly gave his enemies an opportunity to use Muslim world against him!
                There is also another lesson for Ms. Sison coming from the retired S.C. Judge Wigneswaran. He is clear in letting the cat out of the bag that Tamils do not want 13-A but self-determination of the Kosovo or Scotland type.  So USA will be openly working to break Sri Lanka into two by its demand in asking to hold NP elections. The election is the first step of a Sri Lankan Kosovo, that SJV Chelvanayagam  wansted as far back as in 1952.
                Asath Sali was playing a double game: he said publicly on TV that he is against halal certification project. But he sent secrent SMS to a mosque asking it to support halal certification project. Asath was also trying to use Geneva vote or international adverse opinion to keep the illegal hut used as a mosque at Dambulla ancient temple. Thanks to Ms. Sison, Asath got courage to show his true colors by promoting violence and got caught red handed.  No matter what Ms. Sison tells Asath must follow the Lichchavi principle of Buddhist India: Come and discuss, not take guns and bombs. Since BBS is following the Lichchavi principle, all kinds of mud ball thrown at BBS will not stick.