Lord Soulbury and stupid Sinhala politicians
Posted on May 17th, 2013
C. Wijeyawickrema
The Colombo Telegraph website printed a letter from Lord Soulbury to Sutheralingam as if everybody in this world is a born-again Christian who forget history.  Colombo T has a responsibility to give the whole story, the other side to the Soulbury story (letter).  Printing stories by the likes of Dayan Jayatileka who twists facts or hide facts mostly to blow his own triumphant must be balanced by writings of others with different views and facts.
The purpose of this note, therefore, is to show specifically that Lord Soulbury as well as Sunderalingam was stupid, and that the Colombo crowd of Sinhala, Tamil and Muslim politicians of Soulbury's time or later times were also stupid black-whites. Perhaps, Soulbury was correct in one sense because he gave adequate warning to stupid Sinhala politicians to be careful in handing the Tamil separatist tendencies. Of all the people, from a historical context, Dudley Senanayake and Mrs. B (and her officer N.Q Dias) had failed miserably in this regard to protect Sri Lanka from the threat of disintegration.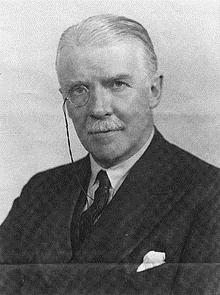 Lord Soulbury
*Herwald Ramsbotham, 1st Viscount Soulbury GCMG, GCVO, OBE, MC, PC (6 March 1887 ""…" 30 January 1971) was aBritish Conservative politician. He was a government minister between 1931 and 1941 and served as Governor-General of Ceylon between 1949 and 1954.
Scotland and Jaffna Tamils
Whenever I see the names of Soulbury or Ivor Jennings, what comes to my mind is how DS Senanayaka and Oliver Goonatilaka, the fox, allegedly agreed to use Ivor's wife's birth day as the date for independence (I wish somebody living in London check if this is correct by examining official records of her birthdate).  March 10th (Kandyan Convention-1815) could have been a better selection instead of Feb 4th. These black-whites thought they were whiter than the white-whites. It was not Ivor but DSS who said there is no Fourth Refuge in Buddhism called, I take refuge in government! With the Clause 29 (4) these black-whites thought they can have a nice time until in 1956 common people's power threw them out of control temporarily.
Lord Soulbury's comparison of Scottish people's abilities has two sides. The rugged land and climate in Scotland can be compared with the arid climate and limestone-based, no surface river people in Jaffna. They had to work hard taking water out from deep wells (almost always by a hand-pulled bucket) or come to Sinhala areas in the south for work and create a money order economy (sending money home by postal money orders from Colombo). So Soulbury was correct on the hard working part. But Soulbury was either ignorant or stupid in thinking Tamils were so smart because they were Tamils.  As soon as Kandy was captured by trick the British allowed American missionaries to settle down in Jaffna and Batticaloa and start mission schools as far back as in 1820s. This was how Arunachalams and Ramanathans became bright-smart cookies while the types of DS Senanayakas became jungle Johns. It was after 1880, that Sinhala Buddhists had a program to develop English medium schools. The first white Buddhist Col. Olcott played a key role in this regard.
But Soulbury has also forgotten at least three other matters. The Irish people were treated like pigs in England as he would have seen from the book written by the American, Jack London, "The People of the Abyss" (1903) who did research for the book as an undercover detective living in East London in 1902. Jack London asked the question, how could the glorious British Empire with Victorian ethics and mansions have such abject poverty and degradation of life to the level of people living like cattle and swine, and labeled it as "mismanagement."  For Soulbury this must be stupidity of his English people.
Soulbury also forgot that math professor Sundaralingam was a believer in caste pollution and that after stupid SWRD passed the Prevention of Social Disabilities Act in 1958, Sundaralingam staged a militant fight to prevent low caste people entering Hindu Kovils.  Even Churches in Jaffna had caste system enforced with no seats or low benches for the low castes coming to church.  Soulbury Christians had no problem with caste system
Soulbury also ignored the semi-slavery conditions prevailed in Indian estate workers lives because profit was more important than wiser human qualities. It is amazing that no Soulbury was there to raise this question of miserable lives of the Indian laborers until the tea estates were nationalized and British planters got compensated for destroying the island's environment. Then only an English newspaper in London wrote about the plight of the Indian laborers. If not for the fact that Sri Pada Mountains has Sri Pada, these profit-seeking planters could have cleared that area also, thus killing the source regions of island's major rivers.
But the greatest tragedy of this Soulbury letter to Sundaralingam is that if alive, Soulbury would be forced to eat his wise treatment of the Scottish people. Because now in 2013 after so many wise treatments, what Dayan Jayatilaka identified as the soft path, the separate country of Scotland is only one or two elections away.  When did English people became stupid and mistreated Scottish people making them to demand for a separate country?
To his credit we must say that Soulbury informed Sundaralingam that a separate Tamil country is not viable in the island. He suggested Sundaralingam to work with the Sinhala leaders. This is the Kadiragamar path or Col. Karuna Path or the latest Arun Tambimuttu path.  These people rejected the 13-A death trap. But separatist Tamil leaders branded any Tamil working with Sinhala leaders as Tamil traitors. Even GG Ponnambalam was branded as a Tamil traitor!! He got all government factories to Tamil areas when he was minister of Industries!
Unlike the Scottish mothers teaching English to their children, in Ceylon/Sri Lanka something different happened. Separatist Christian Tamil leaders living in Colombo got private tuition in Sinhala to their children while Jaffna Tamils were forced to not learn Sinhala! The government provided all the opportunities for Tamils officers and children to learn Sinhala as part of replacing English but Tamil separatists sabotaged it. With that approach no government could ask Sinhala children to learn Tamil. Both the Sinahala and Tamil masses faced discrimination by not knowing English and Sinhala official language and Tamil reasonable use laws were passed to rescue both Tamil and Sinhala people from Colombo ruling classes grip over them. Scottish people did not face the threat that Sinhala language faced of domination from Tamil Nad Tamil invasion. This was the big threat Sinhala language faced in the early 1900s.
So I would like to change the title of Soulbury's letter as "the stupidity of Christian Colombo Tamil separatist politicians and Sinhala black-whites in Colombo."
See Soulbury's letter copied below.
=======================================
May 13, 2013 | Colombo Telegraph
Sinhala Stupidity; I Feel Sorry For The Tamil Community
By Soulbury –
Dear Mr. Suntharalingham,
I have read the dozen documents in the folder which I now return to you ""…" with much interest and also much sorrow.
During my tenure of the office as Governor-General of Ceylon I never expected that there would be such a bitter cleavage between the Sinhalese and Tamil communities ""…" and you are quite right when you say that the cause must be laid at the door of Sir John Kotalawala and his government. But if he chastised the Tamils with the whips, the late Mr. Bandaranaike chastised them with scorpions. The Sinhalese behaviour to the Tamils has been excessively short-sighted and foolish. When as Chairman of the Commission on the reform of the Constitution of Ceylon in 1945 I studied the relations of the two communities. I was much impressed by the important contribution  that the Tamils had made and were making to the economy of Ceylon ""…" and I was aware that the Ceylon Tamils were better educated and more industrious than the Sinhalese ""…" in many ways they were playing the part of the Scots had played and still play in the economy of England. In fact during 18th and part of 19th century ""…" the English were rather jealous of the Scots ""…" who were getting a greater share of the jobs going in England than their population warranted. The reason, I Think, was that the Scots were better educated and more industrious ""…" Northern folk often work harder than Southerners; the climate and soil compel them to do so. But the English were never so stupid as to antagonise the Scots.  Had they behaved like Sinhalese to the Tamils, Britain would never have achieved a tittle of her prosperity at home or overseas in the Empire.
If at this time of the act of Union between England and Scotland at the beginning of the 18th century the English had insisted on "English only" as the language of the two nations, every Scot would have hung on to Gaelic, but the English had more sense and every Scottish Mother had her children taught English because it was England that offered the greatest opportunity of employment.
If the Sinhalese had been as sensible, every Tamil Mother would have been anxious for her children to learn Sinhalese-for the same reason. I do not know what is now the best solution, or if there is any solution.
In constitution which I recommended-there seemed to me at the time to be ample safeguard for minorities ""…" but section 29 has not as efficacious as I had hoped  – and I now wish that that I had recommended a human rights clause as in the constitution of India ""…" and elsewhere. But I do not believe that other federation or an autonomous Tamil State will work. Federation is cumbersome and difficult to operate ""…" and an autonomous Tamil State would not be viable.
I am afraid that I can only counsel patience ""…" and vigorous participation in the work of the House of Representatives. You might imitate the Irish party in our House of Commons before Ireland was separated from us. Incidently the Tamil Members of Parliament were, in my opinion, very unwise not support Dudley Senanayake. They could, I believe, have kept him in power.
The position of the Tamil workers on the estates is also very disquieting ""…" it is deplorable that such a larger body of men and women should be voteless.
I can understand the reluctance of the Sinhalese in the area of Kandy to an enfranchisement of numbers large enough to swamp the electorate. But a reasonable solution would be to create four or five seats available to Tamil voters only ""…" no matter what part of the island they live in; outside of course ""…" northern and Eastern provinces.
Well ""…" I feel sorry for you and your community and I wish I could provide some acceptable solution.
Were I in your shoes I would do all I could to support the U.N.P. and secure the defeat of the present Government.
Soulbury
30.04.1964
==================