AMBASSADOR HANGAWATTE ELECTED AS CHAIRPERSON OF WORLD HERITAGE GENERAL ASSEMBLY: Sri Lanka's first such endeavour
Posted on November 21st, 2013
Embassy of Sri Lanka

Paris
Sri Lanka-â"¢s Ambassador to France and Permanent Delegate to UNESCO, Professor Karunaratne Hangwatte was unanimously elected to chair the 19th session of the General Assembly of States Parties to the World Heritage Convention at the opening of the sessions yesterday (19.11.2013)
'  This is the first occasion on which Sri Lanka has been elected to chair the General Assembly of the World Heritage Convention, having accepted the Convention and becoming a States Party in 1980.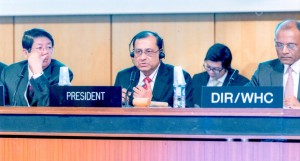 The proposal was made by the Chairperson of the Asia Pacific Group, Ambassador Mohammed Reza Majidi of Iran and was seconded by the Chairperson of the Group of 77 and China, Ambassador Mauricio Lautaro Sandino Montes of Nicaragua. The former Chairperson of the World Heritage Committee and Chairperson of the Executive Board of UNESCO, Ambassador Eleonara Mitrafanova of the Russian Federation also supported the nomination of Ambassador Hangawatte as did the Permanent Delegate of Madagascar, Ny Toky Andriamanjato.
'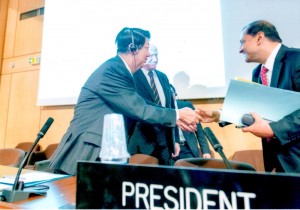 Dr. Sok An, Deputy Prime Minister of Cambodia, Ambassador Karunaratne Hangawatte, Mr. Kishore Rao, Director of the World Heritage Centre of UNESCO. The 19th session of the General Assembly which is being held from 19th to 21st November 2013 brings together both cultural and natural world heritage experts, dignitaries and diplomats from all 190 Member States who are signatories to the 1972 World Heritage Convention.
' Embassy of Sri Lanka
' Paris
'  20th November 2013