ANANTHI SASITHARAN – how humanitarian is she?
Posted on February 21st, 2014
By Shenali D Waduge
 Her husband a terrorist leader was responsible for the most number of child conscription for the LTTE and her own role is questioned past and present.
(a child innocently asked 'If Vegetarians eat Vegetables ….. what do Humanitarians" eat!)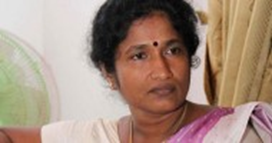 Ananthi Sasitharan
Date of Birth: September 1971
NIC: 717541693V
Address: Vadakkampalai, Chullipuram
Caste: Vellalan
Last employed at: Kilinochchi District Secretariat
Spouse: LTTE leader Elilan
Children : 3 daughters
Ananthi Sasitharan has a job being cut out for her. She is the new face of charity and accountability and is taking pains to project life of Sri Lankan Tamils in post-conflict Sri Lanka. Her efforts is such that foreign embassy officials, foreign delegates and even the UNHRC head has personally had meetings with her to appraise them of the situation in Sri Lanka. So we ask who is this humanitarian and on what grounds is the West flocking towards her.
The West was hunting for a man or woman to fill a void. Politically Wigneswaran has become their choice but he is still practicing his chords. The West is losing patience so now their focus has turned to choosing from the LTTE itself. Their objective is to stop Tamils from placing the zigsaw pieces to discover how LTTE have fooled them and the LTTE foreign wings continue to fool them.
The West's choice has been Ananthi Sasitharan " a woman whose association with a terrorist organization is being questioned, married to a terrorist, her resume is just perfect.
Who exactly is Ananthi Sasitharan the new-found darling of the West?
She is wife of the LTTE Trincomalee District Political Wing leader " Elilan whom she married on 6 June 1998 in Mulliyaweli.
Ananthi's fatal attraction to the LTTE is said to have begun while schooling at Chullipuram Victoria School. Regular visits by LTTE to schools to indoctrinate the youth resulted in Ananthi not only falling for LTTE lies but also ending up involved with LTTE leader Elilan. Having completed school Ananthi undertook an accountancy course. She stopped her course after obtaining employment as a clerk in the Kilinochchi district secretariat on 10 June 1992. She was located at the Valikamam West Provincial Secretariat office from 1993 to 1996. In 1997 she was working at the Mullaitivu District Secretariat. Elilan had to move to Vavuniya as he had been appointed political leader of the area.
Following her marriage Ananthi is alleged to have closely worked with LTTE female leaders compiling monthly promotional literature on behalf of the LTTE.
Elilan was head of LTTE's Vavuniya political unit from 2003/2004. He was appointed LTTE political leader in Trincomalee from 2004-to 2006. Elilan transferred Ananthi where she was working for the State District Secretariate in Mulliativu to the Kilinochchi Secretariat in 2003 and even promoted her as Assistant Manager. That LTTE was able to influence transfers in State sector appointments and even secure her promotions goes to show the extent of fear psychosis that prevailed in the areas LTTE controlled.
Ellilan's role as leader of the Policy Progressing unit included disseminating terrorist recruitment material amongst the Tamil public, indoctrinating Tamil youth, running bookshops (Arivamuthu), using music to make Tamils hate Sinhalese, organizing street dramas, recruiting children who were camped at Anbu base, Wattakachchi in Kilinochchi. Ananthi was working at the Government Agents office in Kilinochchi.
Ananthi's younger sister Wasandhi was a member of the EPRLF slain by the LTTE in 1989 while Ananthi's other sister who had also been a member of the LTTE had died in a confrontation with the Sri Lankan army.
She contested under the TNA at the Northern Provincial Elections held on 21 September 2013.
Her election campaign reiterated calls to fight for freedom (2 Sept 2013) when she addressed a gathering. Her promise was to campaign for the missing during the war " what about the missing Tamils taken from their homes and turned into LTTE combatants? How many Tamils were taken forcibly by the LTTE over 3 decades? Can Ananthi answer this question and someone needs to ask this question repeatedly until it is answered.
Ananthi's election promise needs to make more Tamils come out and demand from her where their children are today, what happened to their children plucked from their homes or from school or while playing and turned into child combatants.  
A woman whose husband transported Tamil civilians and allowed them to cross over to Government controlled areas for money (Iraittaivaikkal) but shot a Tamil woman at point blank range in the head while she begged to be allowed to cross to the Government side to provide her 2 children milk has no remorse. The crocodile tears for missing Tamils as she canvasses for them in Geneva are just a PR stunt likely to win a slot in Channel 4's next paid documentary.
These documentaries never included how Ananthi's husband Elilan kidnapped 300 children from Valainpadam and killed 4 children who refused to go with the LTTE? ANANTHI'S HUSBAND ELILAN IS RESPONSIBLE FOR ABDUCTING AND RECRUITNG THE MOST NUMBER OF TAMIL CHILDREN AS CHILD SOLDIERS.
Ask Ananthi what happened to these 300 children, where are they all, what are their names, what happened to them, where did they bury the 4 children they shot dead " ask these questions until she answers. A mother of 3 daughters should be ashamed to be party to kidnapping other people's children while her own enjoys life and continue to do so " if these are mere allegations being made by different quarters the onus is on her to prove the allegations wrong. Tamil mothers must be encouraged to come out and file more cases against LTTE, Ananthi and all LTTE supporters even if they be politicians for that is the true rule of law that must prevail.
Vagaries of democracy has meant even terrorists can contest elections and Ananthi Sasitharan standing for election under an unregistered alliance at the Provincial Council elections held on 21 September 2013 and within a month she finds herself air bound travelling to America, Canada, Germany, Norway and Denmark. Her campaign cries revolve around the very crimes her terrorist entity committed in an attempt to divert them to the State.
The instructions are clear. Ananthi is being tasked to spearhead a campaign against Sri Lanka. That she is free to spew venom depicts the tolerance and freedom of speech and opinion which she alleges she is denied. Would a terrorist have such freedoms in the US or UK when even Edward Snowden and Julian Assange are hounded? We are well aware of the dangers 'white widow's are capable of committing as seen in the Nigerian mall massacre.
The Tamils themselves are beginning to now wonder. Every time Ananthi speaks of children, Tamil mothers remember their children kidnapped and missing. The West seems to be oblivious to the accountability factor here. Yet, we must insist on asking this question of the West " what about the children LTTE kidnapped. How many were taken over 3 decades, how many are alive and how many are dead and how many are injured and how many does the LTTE kitty take accountability for to compensate these families? Ask this question repeatedly until answered.
Ananthi's accusations of rape prompts any to ask why she or her 3 daughters were never victims themselves if such mass rape is taking place as alleged? This question needs to be directly placed before her and she must be forced to answer. Question her repeatedly until she answers. We want numbers, even the Human Rights Watch could come up with only 75 numbers of which the majority were rapes by Tamils upon Tamils and had nothing whatsoever to do with the military. Sri Lanka needs to come out with the facts and embarrass those making allegations.
Ananthi Sasitharan weeps for children post-conflict while her husband was in charge of recruiting thousands of children to be made into child soldiers. There is a silver lining somewhere and these families are now filing cases on their missing children and these court cases will lead to Ananthi who will need to accept accountability for her own involvement if so but the allegations are strong.
Ananthi Sasitharan weeps for children post-conflict ignoring that the children her LTTE outfit kidnapped not only lost their childhood years, but many died as suicide bombers and some of these boys and girls have even been used as 'comfort boys' and 'comfort girls' " how many of these young girls would have ended up pregnant and within 30 years of a conflict were they churned into child soldiers through the orphanages that the LTTE ran?
Can Ananthi be trusted with such examples of abuses in the public sector, using terrorist influence to get transfers and promotions and then functioning as an embedded LTTE intelligence providing details of the movement of State officials to the LTTE for assassination and other terror activities?
The woman who the British and the Americans find the darling of democracy was taking a Government salary but is alleged to have been working for the LTTE " so what type of morals and good governance is the West promoting by patting her on the back in support?
What kind of woman would work in Government but is now being accused of providing intelligence information to the LTTE, well aware that the GA vehicles were used to carry explosives for the LTTE. Is this a woman with morals sufficient enough for the public to claim as a leader even though these ingredients make her the perfect candidate for the West to groom?
Despite the allegations of associating a terrorist outfit and being married to a terrorist leader the UNHRC head Navi Pillay on her visit to Sri Lanka had all the time to meet her but could not spare a minute to visit any of the families of civilians killed by LTTE outside the war zone over 30 years who constitute the real civilians?
It is time the Tamils now start asking questions from Ananthi Sasistharan and these questions should be
While you and your children enjoy comforts of being a politician, foreign support that entails foreign travel and VIP treatment, do you want our children to return to the jungles to fight a pretentious cause?

Do you want to deny our children another 30 years of NO education, NO social development, NO rights and freedoms that a child is entitled to enjoy?

Do you know that we too have dreams for our children and these dreams do not include them functioning as combatants.

We may be poor but we do not want our children to be herded and turned into child soldiers.

Do you want to take our children to be trained as armed combatants while your children are sent overseas obtaining green cards and eventually getting permanent residency in foreign nations? How is the daughter of Nalini the woman accomplice in the assassination of Rajiv Gandhi living and studying in the UK? Who is spending for her education? Will our children ever enjoy such comforts?

What have these children whom you and your organization kidnapped from our homes, or schools and turned into killers ever got apart from a weapon and a cyanide capsule?

What has the LTTE provided these young children forcibly taken and turned into killers except to be called 'martyrs" and what is the use when that child is dead and our families are mourning?

What have you and the LTTE actually given the Tamil people other than broken promises for 30 odd years? Have you and the LTTE developed a single road, improved a single hospital, provided even a school other than create orphanages from whom you plucked out children to be made into killers?

You and your Organization made USD300million a year in profit and what did you do with that money? Did you give a dollar to the ordinary Tamils? Were you and the Tamils overseas not enjoying this money buying mansions, going in 1st class travel and having a whale of a time while we foolishly struggled in the jungles with barely one meal a day?

Do you, Ananthi Sasistharan realize what it is like to lose a child, a child that mothers carried in their womb for 9 months and lovingly brought into this world? Did we give birth to have our children turned into killers? Who has given you and others like you the right to take only our children?

We also notice that from the children kidnapped why is it only the low caste and poor children that have been taken? Why have no children of Tamils in Colombo been taken, why have Tamil Diaspora calling for the struggle to continue not handed over any of their children to return to Sri Lanka and go into the jungles and fight in the battles (not sit in AC rooms doing propaganda work and enjoying the money being raised by fooling foreigners through the LTTE run charities operating globally?

We are not fools, we are beginning to realize that you, the TNA, the LTTE, the LTTE Diaspora have made fools out of us and we have had enough. We want no more part in this bogus charade of yours. We would rather listen to the Vice Chancellors of the Jaffna and Eastern Universities who are now calling on the Tamil people to move forward and rebuild their lives " Ananthi Sasistharan you and your LTTE have much to answer for and we are now going to take you all to court and charge you for the crimes you have committed against our own people.
THIS IS WHAT THE SRI LANKAN TAMIL PEOPLE MUST TOGETHER NOW SAY….