Security threat to Sri Lanka! Is it's a US Plot or being Hatched? The missing Malaysian flight search entering Indian ocean.
Posted on March 14th, 2014
mahinda – 
With the latest outcome as a result of search efforts being extended to Indian ocean where Sri Lanka and its ocean is fully within the circle of the suspected Aircraft path demarcated by the CIA / Pentagon and other experts.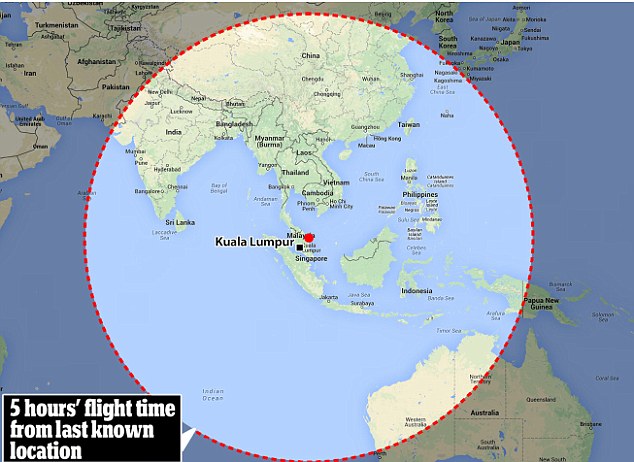 At a time Sri Lanka is facing HR and War Crimes threat at the instigation of USA and West and amidst the news on USA a seeking a Military base in (S.E.A.) Sri Lanka, it is worth being inquisitive and alerted as to what is taking place in the Indian ocean around Sri Lanka!
This could be used as a plot to place and hatch catalysts useful for USA a West to manipulate the region to torment Sri Lanka which may include from planting surveillance equipment, deep ground explosive materials to create disasters, monitoring equipment of Naval and Military movements, Possible culturing of materials detrimental to ocean and life in long terms and incursion of military and combat Naval vessels in the name of search of missing flight in short term. Such manipulations may be intended to create fear psychosis on Chinese presence here and we now have to suspect how India will share any such opportunity with USA.
The disappearance of the Malaysian flight itself is a mystery that could be looked at in various angles in the nature of the events being unfolded daily basis with different comments of what happened to the flight?
The Flight comprised of over 150 pax of Chinese / Taiwan BUDDHISTS as per our understanding and the suspicion of Turkmenistan Muslim Terror threats cannot be left behind, but the same time we should be vigilant to be careful of what is going to happen in our backyard where giant conspirators of CIA, FBI and other notorious monsters who are going to come in.
It is extremely difficult to explain and write in length of all possibilities, but this a matter to the security heads and establishments in particular and Govt. of Sri Lanka in general to attend immediately, efficiently and swiftly with preventive means and optimum vigilance, simply because this could be another Trojan horse!