Wilpattu Plunder – Elephants and Leopards Replaced by Muslims?
Posted on April 19th, 2014
Kumar Moses
In one of the worst plunders this nation has seen after the British left, Wilpattu National Reserve is being destroyed by unscrupulous extremist elements. What is most surprising is this happens without anyone protesting against it! Wilpattu National Reserve is a national treasure. Forest cover of the island has reduced drastically from 25% four decades ago to just 15% today. With the plunder of Wilpattu, it will worsen dramatically. Led by a UPFA MP and minister, Muslim colonization of Wilpattu happens unabated. Interestingly the same is happening in Yala " the only other large National Reserve. The culprits are the same. The reason for this massive plunder is uncontrolled humongous population growth of the Muslim community. Government attention must be drawn to this time bomb which can have huge adverse ecological, sociological, economic and security implications. The root cause must be addressed, not the symptoms.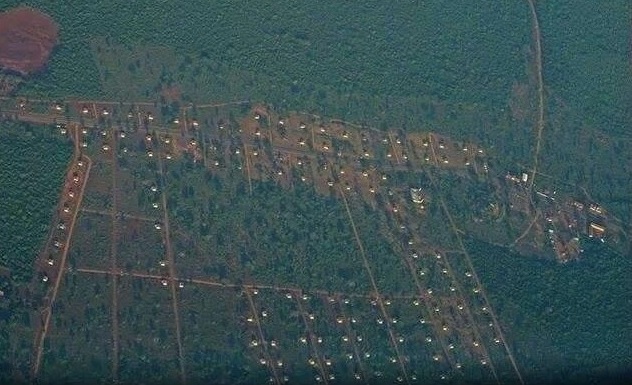 Astronomical population growth
Astronomical population growth of the community is at the heart of the problem. Since 1881 to 2012 the Muslim population increased 10 times compared to just 7 times for the others. At this tremendous population growth rate, Muslims have run out of land in their original places of abode. Hence expansion into national reserves and forests. Special laws apply to Muslims in the country including legal polygamy and ease of divorce. A Muslim man can be concurrently married to four women but if a non-Muslim concurrently marries two men, he commits a criminal offence! A Muslim may simply and quickly divorce his wife using the Islamic 'Thalaak' system but a non-Muslim has to undergo a gruelling and lengthy divorce process that may take up to 7 years for him to marry again. Contraception is not practiced widely in the Muslim community. Saudi Arabian financing reaches Sri Lankan Muslims to populate the island. These four reasons are the main driving forces of their unsustainable population growth.
Unless the government addresses these issues of legal discrimination in marriage and divorce, Arabic financing of population growth and lack of contraception in the Muslim community, this problem will worsen. Not just people of other creeds but also the flora and fauna will be pushed out to create room for them.                                                       
Over 100,000 Maldivian Muslims have illegally migrated to the island. This too adds to the burden. Had the Sri Lankan government entered into a legal agreement to accept Maldivians in return for area gains adjacent to the Exclusive Economic Zone it would have benefitted the nation. In the absence of such reciprocal gains, the influx of Maldivians into the island is a large burden.

Jaffna Muslims must be resettled in Jaffna                                                            
LTTE achieved two goals by the genocide of Muslims in Jaffna District in Black August 1990. Firstly it created a Tamil-only Jaffna District as desired by Tamil nationalists. Secondly, it caused a burden to Puttlam Sinhalese as these displaced Muslims (80,000 in number) settled in Puttlam District. The demographics of Puttlam District changed dramatically and a new Tamil speaking community was artificially established in Puttlam.

The war ended in May 2009 with the annihilation of Tamil Terrorists. All displaced Muslims from Jaffna District must be resettled in Jaffna. They should not be allowed to remain in Puttlam (unless they have their own land). Fear of Tamil reprisals and Tamil racist politics keep the government from resettling Muslims in Jaffna. This is a self defeating approach to a genuine problem. If all Jaffna displaced Muslims and their families are resettled in their original places of abode, the ruling party would have created a loyal vote base in otherwise barren TNA territory.                                                    
There are no designated ethnically exclusive homelands in this island. Displaced Muslims must be resettled back in Jaffna where they lived for centuries. They have the same right to live in Jaffna as Colombo Tamils have the right to live in Colombo.