Life Abroad – Part 81-ERA OF MAYHEM, SMOULDERING & LOSS OF LIFE
Posted on June 2nd, 2014
Dr.Tilak Fernando


(Nicky Karunarathna exposures " continued from 80)
First and foremost an apology is due on an inadvertent error in Para 4 (Part 80) under the sub-heading Slave Trade which would have given the reader the impression of history being distorted. In fact 4th paragraph should have read as follows:
"If one were to talk about the emergence of the slave trade in the world, it has to be Vikings who first started this game of selling human beings to Turkey. Turkey, its capital known as Constantinople (now Istanbul) then was richest and the glorious city of the world. When Vikings first arrived at Constantinople, (which was founded by Roman emperor Constantine to establish Christianity) they were astounded to see such a large city with opulent living with glittering buildings. So they captured the Europeans especially from Britain and Germany and sold to the Turkish as slaves for their silk and six pieces of silver in the era of 900AD. Hence the illiterate Christian Europeans with their low grade religious practices were seen by Vikings as barbarians, captured and sold as slaves to Turkey".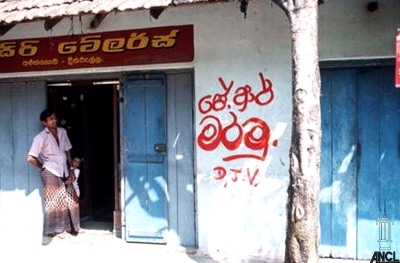 …. Followed by the signing of the Indo-Lanka Pact, People in Sri Lanka witnessed the most unprecedented killing fields in the country's history under JRJ/Premadasa regime. Youth were burnt on tyre pyres while fetid white liquid in the form of body oil were oozing out from the smouldering bodies and unidentified carcasses were floating in rivers and canals on a daily basis. These were the most unpalatable scenes people were forced to set eyes on while travelling to work in the morning.
TELESCOPING PAST INCIDENT
Telescoping incidents of the past to the present, Nicky Karunarathna states that "during J R Jayewardene/Premadasa era no one in the country was safe. They used to take anyone into custody on the slightest suspicion; out of that 98 per cent (minimum) met with violent deaths at the hands of security forces. In the police force, an officer named Udugampola became notorious for majority of the brutalities and organising death squads".
He continues: "I can remember the Commissioner for Archaeology, M.H. Sirisoma, taking me to Anuradhapura Archaeological Circuit Bungalow once, which was used by Udugampola as his Torture Chamber and showed me inside the premises where all the walls were splattered with human blood stains to such an extent that the building had become dilapidated".
'Likewise, most of the country's Government circuit bungalows and guest houses used for this purpose were not in a serviceable condition. Whenever the most senior Security Forces Chain of Command consulted the JR Jayawardene/Premadasa combo for advice, they were answered with only a single sentence …………………! So, once the victims were taken into custody, irrespective of their social standing, there was no mercy for anyone! During the fracas, and following the aftermath of signing of the Indo-Lanka Pact, some hand-grenades were lobbed, from time to time, at Colvin, Vasudeva Nanayakkara and Vijay Kumaratunga's premises who supported the JRJ/Premadasa combo which hit the national and international news at the time".
NICKY LEAVES SRI LANKA
It was during this period Nicky Karunarathna left Sri Lanka on a scholarship. When he was in Singapore a Sri Lankan Buddhist monk had followed him on the street with enthusiasm and whispered in his ear that the monk was in hiding there to avoid the Sri Lankan authorities taking him as a captive.
On the contrary, the fate of his chief lieutenant Leelananda had not been so lucky. Leelananda who hailed from a family in Hasalaka and graduated at the Peradeniya University worked at People's Bank for some time. He later became Gamini Dissanayke's private secretary. His marriage to the only daughter of one of the richest businessmen in Sri Lanka, Punchibanda Dissanayake, gave him a life of abundance.
However, Leelananda after working with Nicky in his Sangha Sabha project had insisted Nicky to hand over the reins of his campaign to the JVP, but when some young monks approached Nicky in that regard he had managed to convince the young monks that the implementation of the Sangha Sabha was completely his brainchild and there was 'NO ORGANISATION' as such!
With the passage of time, Leelananda had been tempted to hold some meetings at his Norris Canal Road house. The bad news about him reached Nicky in Australia later how Leelananda was entertaining the JVP second in command Gamanayaka at his house for secret meetings at night time.
Gamanayaka used to live in Bandaragama. Once, while during an en route to Colombo to have discussions with Leelananda, coincidently he had come into contact with the brother of Wijeweera's brother-in-law (President of the Teachers' Union at the time) right in front of the Bake House at Maradana.
This was a time when 'Deshi Premi Viyaparaya' (Patriotic Movement) and 'Hartal' came into effect with JVP making compulsory demands intermittently from the people (to close shops, offices, switch off lights in the nights, refrain from going to work etc). The government authorities were baffled and didn't know what to do about it !
Seemingly, the security forces broadened the net wide across to catch the agitators which made the down fall of the JVP imminent whilst many leaders of the rebel organisation were taken into custody one by one. In the midst, the news about Gamanayaka visiting Leelananda's residence too had leaked out!
Nicky heard about this bad news in Australia. The national newspapers had given different twists to the story about Gamanayaka's arrest. Suddenly the JVP started to collapse like a house of cards. The mystery still remains whether Leelananda was the first link that gave way to the downfall of the JVP at the time!
OMINOUS EVENING
'On an ominous day, at around 2.00 am, Leelananda's mother-in-law ( Punchibanda Dissanayke's wife) telephoned Nicky's friend SP Kotakadeniya (at Police Headquarters ) to inform how Leelananda had been removed by some people in two Pajero jeeps (which had been parked in front of his Norris Canal road house in Colombo)' .
A poor tradesman was eking out a living from a small boutique, known as Petty Kade, right opposite Leelananda's gate. During those ill-omened early hours of the morning, the Mudalali had been awake, yet he pretended to be fast asleep and witnessed all the mayhem that occurred. As an eye witness, he had later reported how howling and weeping was heard, followed by blood oozing out from Leelananda "from head to toe – until he was thrown into a jeep and both vehicles disappeared at rocket speed. Superintendant of Police, Kotakadeniya, had informed Leelananda's mother-in-law that "nothing could be done at that hour but he would attend to the matter first thing in the morning".
As promised SP Kotakadeniya had telephoned several Police stations in Colombo to get to the bottom of the story. Finally the OIC at Sapugaskanda Anti-Subversive unit had informed him that "it was too late and Leelananda's remains had already been burned down and his car keys too had been handed over" (A brand new 505GTI Peugeot, one and the only car at the time in the country)! Further reports had revealed how Leelananda was subjected to a severe beating where both his legs were smashed up and the tortured body reduced to ashes at the Kanatta crematorium first thing in the morning.
Taking such circumstances into account Nicky Karunarathna explicates the situation of the country during that period as "taking people from their beds at dead of the night and early morning. Once arrested, no mother's son could question or dared to enquire from the authorities about such disappearances"!
The irony in this case is that Leelananda was not an ordinary person but an affluent man in the society; there was no death certificate; no post-mortems; no judicial inquiry either! Nicky states that "all these took place in Ranil Wickremasinghe's electorate, in Kelaniya, where the Sapugaskanda anti-subversive unit was located and he was in and out of the place on a daily basis. But today Ranil Wickremasinghe is demanding an International inquiry for war crimes where both parties, security forces and terrorists, were involved in a fanatic and a protracted war while the ruthless terrorist gang was armed to their teeth with sophisticated machinery, equipment and firearms" .
Nicky Karunarathna places on record this as a period in the history of Sri Lanka when the anti-subversive unit used to despatch tortured people, half alive, to the General Cemetery at Kanatta crematorium in truck loads on a daily basis before dawn, including that of the remains of Rohana Wijeweera.
"Rohana Wijeweera's case was identical to Leelananda's. Both of his legs were smashed up , the worst being when his body was pushed inside the crematorium, he had tried to jump out of it screaming with fear, but then he was forcibly pushed inside and burned alive in the presence of the then Minister of Defence", says Nicky!