Persons who supped and shook hands with Prabakaran have no right to talk on removing military governors in Sri Lanka
Posted on June 9th, 2014
Shenali D Waduge
Close to 27,000 men sacrificed their lives while scores of soldiers have become injured to deliver peace to Sri Lanka. We call them our ranaviruwos. Handful of others wined, dined and shook hands with the enemy gleefully signing a bogus ceasefire agreement infront of an eelam flag. We should call them traitors.This political party leader is known for his infamous handshake agreeing to represent the Ranil Wickremasinghe government despite the explicit knowledge that the LTTE evicted the entire Muslim community from the North, successively attacked Muslim villages and massacred villagers including over 100 praying at the Kattankudy mosque. This single gesture showed his lack of care and empathy for his own people. Calling such people opportunists and traitors is not suffiicent enough. Nevertheless the irony of political correctness is such that people of no integrity are kept enjoying ministerial portfolios at the expense of the tax payer on the logic that they are easy to manipulate, yet the demerits are obviously piling against any merit. We now have this same person calling for the removal of military governors and brings the question to the political leadership of how much more are we to tolerate?
http://colombogazette.com/2014/06/08/hakeem-slams-ex-military-governors/ ( 8 June 2014)
Hakeem slams ex-military Governors in an event in Yatinuwara/Kandy in 2014 while in 2002 he shook hands with Prabakaran infront of the eelam flag.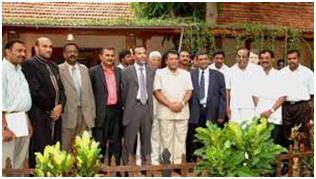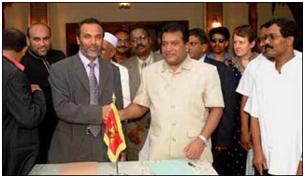 Politicians in government or opposition kangarooing from one side to the other purely on the basis of remaining in power to enjoy perks and privileges need to realize that their track record is such that they have no moral ground to be 'slamming appointments' of others when their own is being publicly questioned by people burdened economically because of their maintenance bills.
If such politicians 'fail to understand why retired military officers have been appointed as Governors to the North and East', such people must empathize with the public who also FAIL TO UNDERSTAND why the person who shook hands with Prabakaran a direct affront to our ranawiruvo's should be given a cabinet rank Ministerial portfolio and one as important as Justice, while not giving him clear instructions on what grounds he can keep his position!
Going on to say that 'what I feel is happening is that while on the one hand we allow the minorities to enjoy their powers in the provinces on the other hand we are taking that away".
It is no better a time to remind him of the irregularities taking place not just now but in the past as well. We are reminded how the former leader Ashroff flooded the ports authority with his supporters taking payroll from the port while living in the East. Not much has changed with the present leader doing the same with the Justice Ministry while also influencing student intakes to the law college and calls for investigations kept swept under the carpet.
If the minorities are enjoying their powers we need to wonder what the majority is actually enjoying and have been enjoying since independence.
It is no better a time than now for the majority to realize that the Buddhist civilization and heritage of the country is being subtly diluted and the majority remains a namesake majority only and this situation will reach shocking proportions if the Buddhists do not seek redress and demand their own rights as well. Politicians have shown by their actions that they do not represent the majority.
We have seen how under the multicultural banner it has become political correct for the majority to 'share' their heritage sites, pooja bhoomi, historical sacred sites etc every time the minorities demand using the argument of 'peaceful co-existence' but whole villages and towns taken over by minorities for that minority only denies right of purchase for a member of the majority and not a single politician comes forward to protest. Such is the state in some villages in Sri Lanka. Madawala in Kandy district is one such example.
We have seen how food, banking systems and dress has been totally influenced by the rights of one minority, an element that did not prevail before questioning the simple logic of how these minorities ate, banked or dressed decades previously when these new 'cultural' laws were not known or practiced. The other minority repeatedly gets away by calling for separatism and chanting separatist slogans when constitutional provisions are in place to take action against them.
The crux of the argument is the manner in which handfuls of people who had been throughout the conflict working for the enemy are now coming to preach on the right things Sri Lanka must do. We have people who have been on the dole of foreign governments using every argument they can muster with their academic background to argue why Sri Lanka should give 13tha in full and the Government pays for their expert opinion too! We have others similarly holding high ranking profile who went round the world preaching the wonderful merits of the ceasefire agreement and now because the color of the hat has changed praises the soldiers. Not out of conviction but simply because they might lose their position if they do not. There are others too who think that generousness in giving a portfolio entails their right to introduce their ideologies which the public have repeatedly rejected via elections. There are others too who enjoy dictating what the Government should and should not do but feared to open their mouths when LTTE prevailed. The public are exposed to only their voices because the media has an agenda of itself. As another example we can recall how many of our politicians stood up to defend the nation when David Cameron arrived and humiliated our country and only the President and Defense Secretary were left to defend the nation.
What needs to be said is that our soldiers braved their lives to give us a hard won victory. The army commander made a serious fault in falling prey to calculation errors thinking that minority votes could give him power, other parties continue to falter at elections purely because of this miscalculation.
People may enjoy portfolios because they have no integrity to debase but people know who really loves the nation and who would not compromise the integrity of the nation.
Our lessons cover far more than terrorism alone. The realpolitics of terrorism is hidden behind a greater agenda, one that involves power and profit shared amongst a handful. Politicians are simply pawns used to facilitate the bigger agendas. It is for the alert public to ensure that politicians are made to realize that dazed by power and profit they cannot take away or dilute the historical and cultural ethos of the country.
Let us remind everyone that the present ranaviruwo's and the ancient heroes who came forward to save our nation from the colonial invaders came from the same blood. It is they who came forward to defend the nations. Those who not only did not come to defend the nation but sided with the enemy have no rights whatsoever to tell how the country should be run or have rights to put forward any template for how the country should be run for their past records have shown that their actions are dependent only on the money and remunerations that are given to them. This is applicable to most of the politicians in our midst and advisors who have been themselves jumping from one side to the other for profit. Only those who have a proven track record of working towards safeguarding the nation and its people can come forward to make their views public.