Aluthgama incidents-Thugs doomed – PM
Posted on June 17th, 2014
Sandasen Marasinghe and Irangika Range Courtesy The Daily News
Persons responsible for the crisis in Aluthgama will be arrested and dealt by law no sooner than the investigations by the Criminal Investigation Department (CID) and the Colombo Crime Division (CCD) were over, Prime Minister D. M. Jayaratne said yesterday.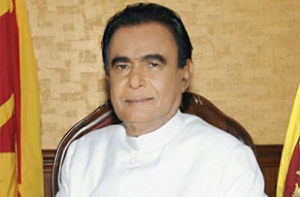 He said politicians should stand for all the people and not for a particular group.
The Prime Minister said he visited Aluthgama on June 18 and met Sinhala and Muslim people and it seems the tragic situation had been created due to the acts of short-sighted fringe groups.
He made these observations in response to the special statement made by Opposition Leader Ranil Wickremesinghe under Standing Order 23 (2) in Parliament.
The Prime Minister said the Kalutara District Secretary and Kalutara Superintendent of Police have informed him that the situation in the area was calm. He added the Police took all measures to deescalate the situation and the CID and the CCD have already commenced investigations. The Prime Minister emphasised that the Police was bound to protect the lives and property of the people and to implement the law