Champika Ranawaka should be prosecuted for deceiving the public using a photo shopped image of President with KP
Posted on January 4th, 2015
Nimal Rajakaruna
From two of my previous articles I pointed out how the true nature of Champika Ranawaka has been exposed as a pseudo nationalist and a traitor. From the news item on Lanka C news (link below), it is shown how a photo of President Mahinda Rajapakse taken with Veteran artist Dr Lester James Peries has been photo shopped by Champika to show that it was a photo taken with Kumaran Pthmanathan alias KP.
http://lankacnews.com/sinhala/main-news/126870/
Most of us cannot believe that a man who posed himself as a nationalist to save Sri Lanka and got elected to parliament twice using the vote of Sri Lankan patriots could go down to such a low level and deceive the ordinary public to please his new masters (NGOs funded by LTTE and anti nationalist elements).
An article was published on 08th of December 2009 in Lanka E News exposing Champika Ranawaka's past crimes but none of us wanted to believe them as it was a website which used to sling mud on true nationalists and patriots as well.  Now, for Lanka E News Champika has become a hero but we got to rethink whether some of the contents in that article are true specially after studying the characters of some of his close associates in Australia.
Athureliye Rathana too is in the photo when Champika was showing his photo shopped image to deceive the public at the meeting and we have to ask this monk whether he is now observing at least the five precepts.
Deceiving the public using photo shopped images is a crime and we appeal to the law authorities in Sri Lanka to prosecute Champika Ranawaka immediately.
Nimal Rajakaruna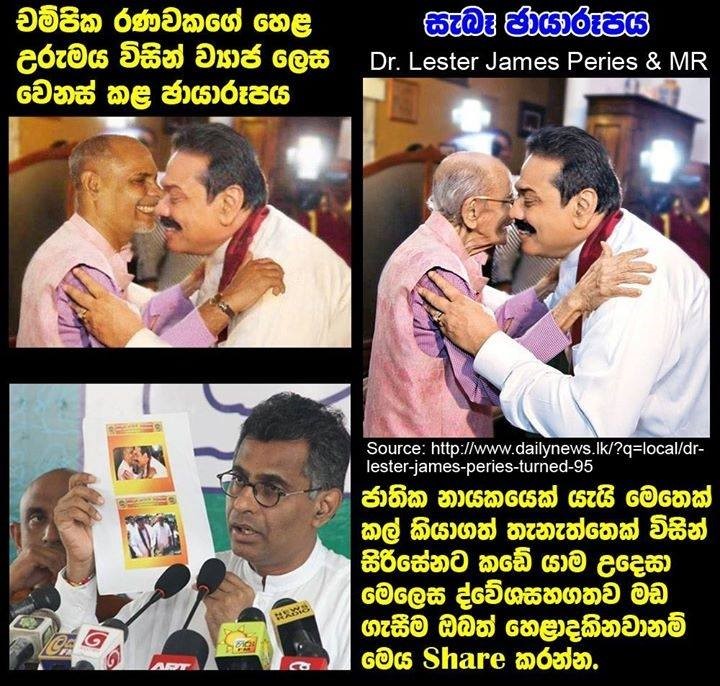 Article was published on 08th of December 2009 in Lanka E News
https://www.facebook.com/permalink.php?story_fbid=842574275805032&id=686607318068396&substory_index=0
https://www.facebook.com/sandeshayasl/posts/884965558210033:0
https://www.facebook.com/ukussa/posts/793284450737594:0
http://www.newsofcolombo.com/exclusive/item/1097-2014-12-29-22-36-54
https://maruwaxx.wordpress.com/2015/01/04/%E0%B6%9A%E0%B6%BB%E0%B7%94%E0%B6%AB%E0%B7%8F%E0%B6%BB%E0%B6%AD%E0%B7%8A%E0%B6%B1-%E0%B6%B4%E0%B6%BB%E0%B6%AB%E0%B7%80%E0%B7%92%E0%B6%AD%E0%B7%8F%E0%B6%9C%E0%B7%9A-%E0%B6%A0%E0%B6%B8%E0%B7%8A%E0%B6%B4/
එක්නැලිගොඩට මරු කැඳවූ චම්පික ගැන ලියූ ලිපිය…
මෙහි දැක්වෙන්නේ 2009 දෙසැම්බර් 08 දින ලංකාඊනිවුස් වෙබ් අඩවිය මගින් පාඨලී චම්පික රණවක මහතා පිලිබද පලකල ලිපියකි. මේ ලිපිය අද දෙවියකු මෙන් සලකන පාඨලී මහතාට අදාල වේද? නැතිනම් එදා කීවේ බොරුද? අද කියන්නේ බොරුද? නැතිනම් ඇත්ත බොරු කෙසේ වෙතත් ලාබය සදහා කට්ටිය කඩේ යනවාද? රට බෙදන්නට සැරසෙනවාද? ලංකා ඊනිවුස්ට අද පාඨලී චම්පික රණවක මහතා මහත්මයකු වී ඇත. මේ වෙනස ඇයි?
ඔබත් ලිපිය කියවා තීරණය කරන්න.
මෙම ලිපියෙහි කිසිම ස්ථානයක කිසිම වෙනසක් සිදුකර නොමැති බව කරුණාවෙන් සලකන්න. එය ඒ ආකාරයෙන්ම ඇත. ලිපිය මෙතැන් සිට.
පාඨලී චම්පික රණවක නම් දේෂප්‍රේමීයා " නිර්මලා වෙත ළං විය.
මේ ලිපිය ලියා මාස කිහිපක ඇතුලත ඊ නිවුස් මාධ්යවේදී ප්‍රගීත් එක්නැලිගොඩ මහතා සුදුවෑන් කල්ලිය විසින් පැහැරගෙන ගොස් මරා දමන ලද අතර ඊ නිවුස් කාර්යාලයද ආණ්ඩුවේ මැරයින් අතින් ගිනිබත් විය..
ඒ සැදැහැවත් රණකාමී තරුණ උපාසක ඇමැති තැන වූ කලී.. හොරණ තක්ෂිලා විදුහලේ දී නිර්මලා හා අරවින්ද අතර වූ ආදරය විදුහල්පතිට දන්වා අරවින්ද පාසලෙන් ඉවත් කිරීමට කේලම කීවේ අප මේ කියන්නට යන කථා නායකයා ය.
ඒ අරවින්ද අද ක්‍රිඩා අමාත්‍යාංශයේ උසස් නිළදරුවකි. එදා අරවින්ද පාසලෙන් ඉවත් කළ පසු අප කථා නායකයා නොහොත් පාඨලී චම්පික රණවක නම් දේෂප්‍රේමීයා" නිර්මලා වෙත ළං විය. නිර්මලා රැඩිකල් තරුණියක් සේ පෙනුනා ය. පසුව නිර්මලා 89 කැරැල්ලට හසුව සිරගතව සිටිනවා යැයි චම්පිකට ආරංචි විය. චම්පික වහා ඇය සොයා ගියේය. හමුවීම සිදුවූයේ කොල්ලූපිටියේ යටාරෝ කැෆිටේරියාවේ පවත්වාගෙන ගිය රැඳවුම් කඳවුරේදී ය. ඇය එ වන විට එක් විවාහයකින් වෙන්ව සිටියා ය. ඔහු ඇයට එදිනම බදින්නට යෝජනා කළේය. පසුව ඇය කෙරෙහි උපන් මහත් අනුකම්පාවෙන් කියා චම්පික රණවක නිර්මලාව විවාහ කර ගත්තේ ය. ඔහුගේ මහත් වූ අනුකම්පාවට ඇය රැවටුණායැයි ඇය එදා දැන සිටියේ නැත.
ක්ෂණික විවාහයක් වූ එදින මංගල රත්‍රියේදීම නිර්මලාව නිරුවත් කරමින් චම්පික රණවක නම් "දේෂප්‍රේමීයා" දිගට හරහට ඡායාරූප ගත්තේය………………
ඉතින් පින්වත්නි ධර්මරාජ්යික එක් පියවරක් එසේ අවසන් වූ වගයි..
මෙම ලිපිය 2009 දෙසැම්බර් 08 වන දින —ලංකාඊනිවුස්˜වෙබ් අඩවියේ නම් පමනක් වෙනස් කොට පලවී තිබුන අතර මේ වනතුරුත් මෙහි කථානායකයා එහි කිසිවක් ප්‍රතික්ෂේප කර නොමැත. මෙම ලිපිය වෙනුවෙන් දක්වා තිබූ පාඨක ප්‍රතිචාර බොහොමයක මෙම සිද්ධිය සත්වූ බව සනාථ කර තිබුනු අතර ඒ අතර ඔහුගේ විශ්වවිද්‍යාල සම කාලීනයන් සහ පෞද්ගලික දැන හැඳුනුම් ඇති අයද විය. මෙම ලිපිය පලවීමෙන් අනතුරුව උරනවූ මොහු සිය බිරිඳට සහ දරුවාට නඩත්තු මුදල් ගෙවීම නතර කර දමා ඇති බවද වාර්තාවේ.