MAITHRI-PRABHA MUGS APPEAR IN LONDON, TORONTO
Posted on January 5th, 2015
Photographs appear side by side in key Tamil Tiger haunts
Sirisena, Ranil in Jaffna today to herald this 'pact with Tamil Tigers'
With the TNA announcement yesterday that the Alliance has decided to support common candidate Maithripala Sirisena, photographs of Prabhakaran and Sirisena side by side appeared in key Tamil Tiger haunts in both Toronto and London, our sources say.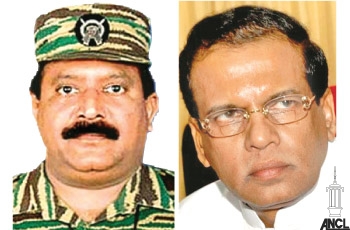 To many observers in both capitals, this did not come as a surprise given that Suren Surenthiran of the TGTF, the hilariously named Transnational Government of Tamil Eelam, had stated in an Al Jazeera interview earlier this month that the 'defeat of President Rajapaksa' would enable them to take him before war crimes tribunals.'Based particularly upon the performance of the President Mahinda Rajapaksa in the past – we decided that we would rather repose our faith in the joint opposition candidate Mr. Maithripala Sirisena rather than expect what has not happened in the past 10 years to happen hereafter," TNA leader R. Sambandan told the media at a press conference yesterday in Colombo.
Observers stated that this is code for stating that Mahinda Rajapaksa is the enemy — and that the sentiment follows closely the Tamil diaspora and Tamil Tiger rump line that the President, if defeated, could be taken before war crimes tribunals.
The instant reaction of jubilation in London and Toronto was predictable, and our photographers who were physically prevented from taking the pictures that had come up in Tamil Tiger shops and restaurants, stated that there were some poster-like pictures hung up on walls, of SLMC leader Rauff Hakeem with Prabhakarantaken in the Wanni, when the latter was alive.
TNA Parliamentarians Mavai Senathirajah, M.A. Sumanthiran, Selvam Adaikalanathan and Sivasakthi Ananthan were seen with Mr. R.Sampanthan at the head table when Mr. Sambandan and Mr. Sumanthiran made the statement about their show of support at a meeting held at Hotel Janaki in Colombo. Some of these individuals have been very flagrantly in cahoots with the Tamil Tiger front groups in Europe, and there was no doubt therefore that the Tamil Tigers were behind this declaration of fealty to Sirisena.
Meanwhile, hot on the heels of this announcement and the photographs of Prabhakaran and Maithripala Sirisena together appearing in Toronto and London, Mr. Sirisena and UNP leader Ranil Wickremesinghe are scheduled to be in Jaffna today to herald this 'pact with the Tamil Tigers'.