JHU CRUMBLING UNDER PRESSURE AND WILL IT BE DECIMATED?
Posted on July 5th, 2015
BY M D P DISSANAYAKE
The decision of President Maithreepala Sirisena  to grant nomination from the SLFP and UPFA  to President Mahinda Rajapakse has further marginalised the Sinhala minor political parties in Sri Lanka, specifically the JHU.  The JHU strongman  Mr Patali Champaka Ranawaka has suddenly got a high voltage electrical shock.
The crisis within the JHU is continuing.  Originally formed as "Sinhala Urumaya" and contested as a single unit in 2005 general election, securing 5.97% of the votes or securing 9 seats out of 225 in the house of representatives. Subsequently it contested under UPFA.
At the initial stage of the formation of Sinhala Urumaya, there was a key factor for winning 5.97% at the election.  It was the sudden death of Gangodawila Soma Thero, one of most respected, religious Buddhist Monks in Sri Lanka in modern history.  Venerable Soma Thero made an emotional speech in Kandy few days before his untimely death.  He said "There is a conspiracy to murder me. If my murder can awake Sinhalaya, I am happy to die. After my death, there will be another team of monks to contest the elections. Please help them on my behalf".
The death of Venerable  Soma Thero was a blessing in disguise for Sinhala Urumaya which had a team of colourful clergy in the island, viz. Kolonnawe Sumangala Thero, Uduwe Dhammaloka Thero, Ellawela Medhananda Thero, Dr. Omalpe Sobhitha Thero, and Athuraliye Ratana Thero.  Patali Champaka was an unknown quantity ( yet to complete requirements for the full professional  membership of the Institute of Electrical Engineers in Sri Lanka) was a potential future leader.  He started his career in politics with the JVP, and then formed Jathika Chinthana Foundation which created political uprising in the country to some extent.  Excited by the emergence of a new boy in the Town, the UNP government arrested Patali  and detained  him.   After the release he then formed Janatha Mithuro, before joining Sinhala Urumaya.
The JHU capitalised the death of Ven Soma Thero and emotional Buddhist masses to its advantage. The Sihala Urumaya was opportunistic and used the rumours surrounding the death of Soma Thero on an anti-Christian political platform.   Largely based on allegations of unethical conversions into Christianity, the Sinhala Urumaya carried out a massive poster campaign exploiting the death of Soma Thero, we publish one of the popular posters below: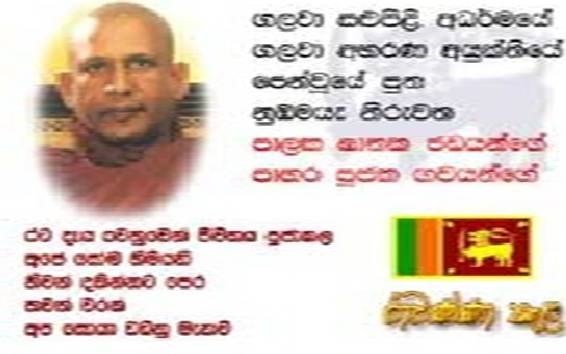 Now there is no more Soma Thero factor.  President Mahinda Rajapakse removed Patali Champaka Ranawaka from the cabinet, mainly based on unfavourable reports received from the management and the  workers of the Ceylon Electricity Board against the Minster Patali.  It is alleged that he is a  big headed man with a big mouth unable to work with others and a very poor listener. During last Presidential Election he went behind the Cocktail Prime Minister Mr Ranil Wickremasinghe.  He did promise a new formula for Fuel Pricing within 30 days, now reduced to a level of a caretaker Minister his promised formula has still not been made public.
Mr Rauf Hakeen recently complained of a certain Minister of UPFA aspiring to be future President, constantly obstructing the minority views.  He was referring to none other than Patali.
JHU has lost one of potential leaders, viz. Mr Udaya Gammanpila.  JHU has now changed its name to United Governance National Front and had left the UPFA.  Ven. Athuraliya Rathna Thero is on the fence right at this moment.
We challenge the   JHU or the new UGNF to contest alone at the upcoming general election as they did in 2005.  Can they secure 5.97% of votes  now in 2015?