How the UNP gave birth to underworld – Rapist Gonawala Sunil dies under a hail of bullets.
Posted on August 15th, 2015
By Dharman Wickremaratne.
Village thugs were in Sri Lanka since ancient times. They however threw their weight around only when others challenged them.  That was how these men showed their powers to the rest of villagers.Later towards the end of the 1960s these thugs were overtaken by urban hoodlums like Cheena of Dompe, Choppay of Maradana, Harbour Martin, Aggona Chandare and Diga Piyadasa.  Instead of brandishing swords and clubs like village thugs these urban gangsters were armed with galkatas (locally-made crude firearms) and 'duppi'- crude, hand bombs which were packed in small Marmite bottles.
There were also other gangsters who emerged in the Provinces.  The notorious among them were Podi Wije of Polonnarwa, Ukkuwa of Tangalle, Maradankadawala Yakadaya and Siripala of Anuradhapura alias Maru Sira.  But hardly any of them committed large scale robberies, inhuman crimes including rape. This writer was present at the funeral of Saanchi Aarachichige Jinadasa alias Maradankadawala Yakadaya, who lived up to a ripe old age, at the Nelligama Cemetery, Kekirawa on October 29, 2011.  Maradankadawala Postmaster at the time Jayawardena told the writer that the death of Thambayiya, postmaster of Maradankadawala in 1955 at the hands of Yakadaya (iron man) was an accident.  He had actually robbed only Rs.365 from the post office and not Rs.5000 as alleged.  Yakadaya earned his nickname after his jail break by bending the iron bars of his cell.

From Left:Podi Wije of Polonnaruwa, Siripala of Anuradhapura, Maradankadawala Yakadaya, Aggona Chandare and Choppe of Maradana, all of whom were notorious thugs over four decades ago.
The most despicable underworld characters emerged parallel to the evolution of the lowest form of political culture hitherto unseen in Sri Lankan society.  It happened with the landslide victory of the UNP Government on July 22, 1977.   After the election the rulers allowed hoodlums attack political rivals both in towns and villages. UNP leaders openly stated that they were sending the police on vacation.
In addition to state repression, thuggery was also used for suppressing strikes and opposition demonstrations.  Ruling party thugs openly attacked meetings of the JVP and other opposition parties.These hoodlums were provided with firearms and allowed to engage in narcotic drug peddling, extortion  and armed robbery. They also killed on contract.  Their main source of income was narcotic drugs.In order to suppress the JVP's second insurgency the Government deployed – in addition to security forces – paramilitary groups. These groups often comprised underworld criminals.  The Government provided them with vehicles, identity cards, weapons and ample funds.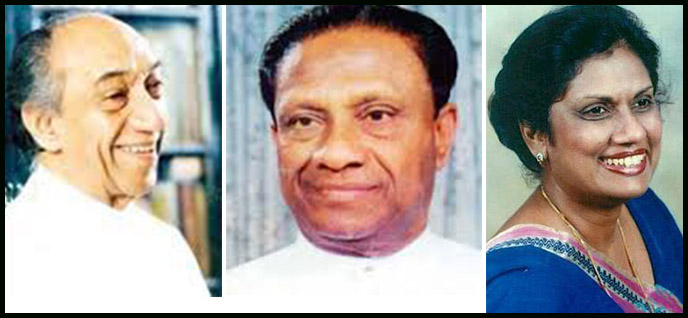 President JR Jayewardene who paved the way for the emergence of the underworld and Presidents Ranasinghe Premadasa and Chandrika Kumaratunga who used these criminals for their own ends.
Underworld characters such as Gonawala Sunil, Soththi Upali, Kaduwela Wasantha, Nawala Nihal and Noel Amarasinghe under the protection of ruling party politicians terrorized people.  While President Jayewardene gave birth to the politicized underworld its power reached the zenith during President Premadasa's rule, when the JVP's second insurgency was plaguing the country. Under President Kumaratunga too thugs continued to enjoy state patronage, committing most despicable and atrocious deeds.
During the Premadasa regime the unseen hand behind the Colombo underworld was Minister Sirisena Cooray. It was President Premadasa who appointed leading underworld figure Arambawela Don Ranjit alias Soththi Upali alias Pidali Upali a UNP Working Committee Member. By the time Upali was killed on December 18, 1998 he had killed dozens of people. Although complaint after complaint was made against him to the police towards the end of the 1980s no police station accepted the complaints. There were even allegations that he had sat on the office chair of the OIC, Borella Police.

From left: Minister Sirisena Cooray who was the unseen hand behind the Colombo underworld during the Premadasa regime, Underworld leader and UNP Working Committee Member Arambawela Don Ranjit alias Soththi Upali, when he was killed on December 18, 1998 and Minister Paul Perera who was the unseen underworld leader of Gampaha.
There were cartoons in the Communist Sinhala daily 'Eththa'(Truth) drawn by Yunus on the Premadasa regime's killing of young people in 1989 during the seond JVP insurgency.  Reacting to this Soththi Upali went to the home of Yunus at Gothami Road, Borella and cut one side of his mouth with a razor after brandishing a pistol, threatening him with death.  Even in the Lalith Athulathmudali asssasination case Soththi Upali and UNP Provincial Councilor U.L. Seneviratne came under suspicion.
The UNP Government crushed a countrywide strike with the help of underworld thugs.  It began when nearly 400,000 public and private sector employees staged a lunch-hour demonstration on July 5, 1980 demanding a monthly pay increase of Rs. 300. Two armed gangs which emerged from the direction of the Government Supplies Department at Chittampalam Gardiner Mawatha, and Lake House started attacking the protesters with stones. The thugs included underworld gangster Aluthkade Paala.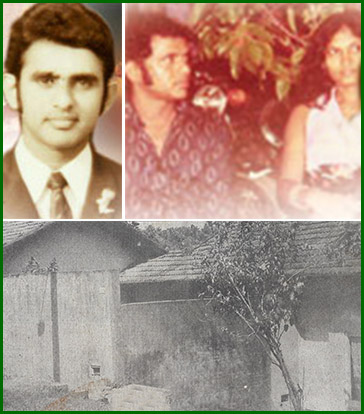 (1)Sunil Perera alias Gonawala Sunil of Kelaniya, the most powerful underworld leader during the reign of terror (2) Sunil and his wife and (3) a house Sunil and his wife illegally occupied at the infamous Batalanda Housing Complex until his death in 1988.
At this time a group in jeep No.31 Sri 1111 which came from the direction of Slave Island started throwing sticks and stones at those who were picketing.  It was followed by the sound of an explosion.   Six injured persons were hospitalized.  Agalawatte MP Merril Kariyawasam was seen seated on the front seat of the jeep which moved away from the scene before going past Lake House. One person – Dedduwage Somapala who was a Supplies Department Employee – died in the bomb throwing incident.
The thugs who regularly attacked Kelaniya University's leftwing and other anti-UNP students from 1978 onwards were Gonawala Sunil's men led by UNP Minister Cyril Mathew.  The assailants were backed by the pro-UNP Eksath Samawadee Students Front which was first set up in the Kelaniya University in 1973.  These students unofficially resorted to thuggery in the Kelaniya and Moratuwa Universities from 1978 to 1984.  The majority of those recruited as university security personnel by Jayewardenepura University Vice Chancellor Karunasena Kodithuwakku were underworld criminals.  They regularly attacked university students who were opposed to the Government.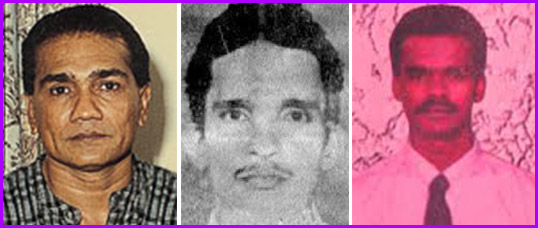 From Left: Underworld leaders Nawala Nihal and Kaduwela Wasantha who helped the UNP to suppress the JVP and Baddegane Sanjeewa, notorious gangster who worked for President Chandrika.
On March 16, 1978 about 40 underworld gang members who arrived armed with clubs at the Kelaniya University attacked students who were demonstrating.  The attackers were instigated by the pro-UNP Samawadee Students Front. In the process one of the leading attackers Christopher Jayatilleke was killed.  Among those who attended his funeral held on March 18, 1978, was President Jayewardene.
Up to the end of 1986 thugs armed with bicycle chains were seen together with the police outside the Colombo University during student demonstrations.  Samawadee Students Front leaders Gayakantha Wannigama and Wimal Ranjit Wickremarachchi were charged with the murder of Jayaratne Rajapaksa who was stabbed to death at the Moratuwa University on July 20, 1983.Witnesses to the murder Amarasiri Gurusinghe and M. Gunadasa testified at the murder trial.They were later abducted by underworld thugs in 1988, during the JVP insurgency. The two victims were never heard of again.
Police officers who worked together with the underworld during the JVP's second insurgency: DIGs Ronnie Gunasinghe and Premadasa Udugampola and Colombo South SSP Abdul Gafoor.
At the end of the Rajapaksa murder trial the Panadura High Court sentenced Gayakantha to seven years rigorous imprisonment in 1995.  The Appeal Court however reduced the sentence to two years on March 26, 1996 following an appeal which led to the seven year-sentence being suspended for 10 years.
Leading the underworld linked to the UNP regime included Gonawala Sunil, Nawala Nihal and Kaduwela Wasantha.  At one time when there were serious threats against Kaduwela Wasantha he was given protection by Major Padmasiri Udugampola in a comfortable room next to the torture chamber at the Race Course, Cinnamon Gardens Colombo.Soththi Upali, Anil of Rajagiriya and Koholwala Denzil very often stayed at UNP Minister Paul Perera's home, according to Shelton Perera, a brother of Gonawala Sunil.  Paul Perera was also the invisible leader of the Gampaha underworld.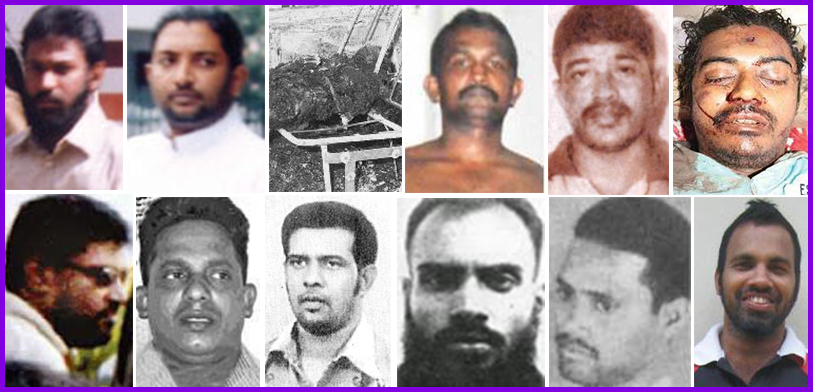 Upper from left: Dhammika Amarasinghe, Mahinda Godage alias Bada Mahinda, Kalu Ajith all of whom powerful underworld figures later killed (Kalu Ajith was burnt to death), Karate Dhammika, Vambotta and Olcott.Bottom row from left: Potta Nowfer, Army Roshan, Mamasmi, Faji, Nadaraj and Navy Asanka.
Sunil Perera alias Gonawala Sunil of Kelaniya was the right hand man of the most powerful politician of Batalanda, Sapugaskanda in the Gampaha District.  Sunil illegally occupied a house next to the torture chamber in the Batalanda Housing complex until he died in 1988.  Vincent Perera, caretaker of the Batalanda Tourist bungalow told the Batalanda Commission that among those who came to see the powerful politician regularly was Gonawala Sunil.  After Perera gave evidence at the commission's inquiry, he mysteriously disappeared.
The underworld thugs in the paramilitary groups based at Batalanda undertook the task of burning the bodies of detainees at the garbage incinerator at Mattakkuliya, after killing them.  The bodies were put into  polythene bags before being burnt. The same thugs killed 27 detainees at the playground of a school at Naiwala, Minuwangoda after they were arrested at Kalutara.  The young women at the detention camps too were treated brutally.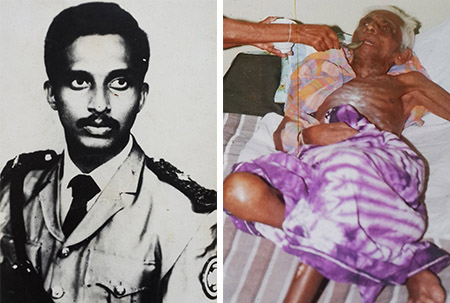 Sub-Inspector Rohitha Priyadarshana, OIC (Crime Branch) Sapugaskanda Police whose body was found on February 23, 1990 after being abducted on February 20  and his father S.M. Amarasena who died on December 9, 2007 after being an invalid for 17 years following the shock he suffered as result of his son's murder.
Gonawala Sunil had seven brothers – Piyadasa, Sammy, Harold, Vincent, Cyril, Shelton and Tudor.  The Gonawala Perera family is well-known for its active support to the UNP.  Their father was known as Rende Mudalalali. Gunawala Sunil worked as a UNP provincial leading activist and associated with a number of UNP leaders for a long time. He used to welcome UNP bigwigs at the Katunayake airport whenever they returned to Sri Lanka.  His house was regularly used for the party's small group meetings.  Sometime back Sunil ran a sports cub together with a friend Rohana Tillekeratne at the River Valleys Development Board, Ampara.
There were allegations agaist Sunil that he stole ballot boxes on the UNP's behalf at the Katana by-election and that he gave orders to the police while sitting on the OIC's chair.  The Government's leading thug at the Mulkirigala by-election was Gunawala Sunil. Although he attempted to attack Rohana Wijeweera and other JVP members and douse Wijeweera with green paint when they came to address a meeting at Delgoda, Gampaha it was foiled when the JVP counter attacked.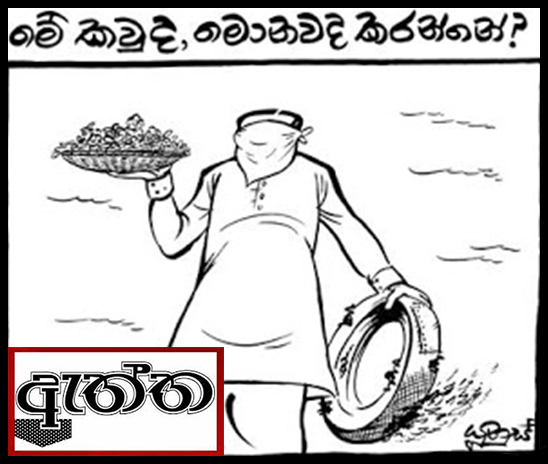 Soththi Upali cut the mouth of 'Eththa' cartoonist Yunoos residing at Gothami Road, Borella, because he drew satirical cartoons against the Premadasa regime.
Apart from political thuggery, Gonawala Sunil was accused of other crimes.  He was sentenced to 15 years imprisonment for raping Dr. Paul's daughter towards the end of the 1970s.  Sunil's appeal against the sentence was unsuccessful and the sentence was confirmed.  However before long he was released – not surprisingly – from prison under a Presidential pardon.Sunil was also involved illegally obtaining fuel oil through an underground pipeline from Sapugaskande to Kolonnawa.  But he was never charged in courts for this offence.  On the contrary he was appointed a JP all Island and Chairman of the Gramodaya Mandalaya of his area.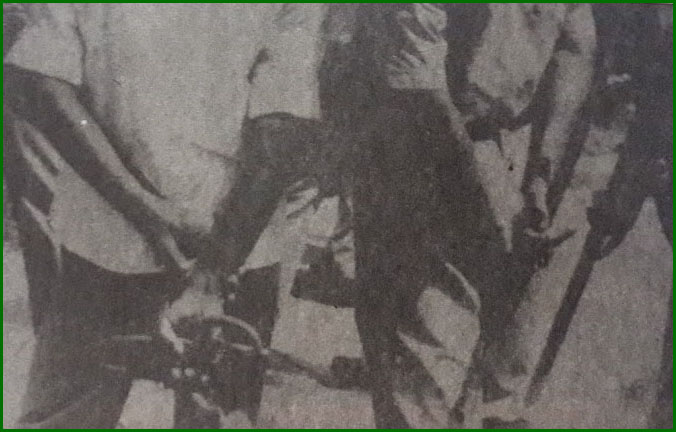 Underworld thugs armed with bicycle chains standing opposite the Colombo University together with the police in 1986 to suppress a student demonstration.
According to the Batalanda Commission Gonawala Sunil had the blessings of the then Government. His brother Shelton, married to Pushpa Ranjani, was his manager in the oil supply racket.  He was killed on July 26, 1989.  The previous year, on July 25, 1988 the JVP killed Gonawala Sunil and his wife with bullets fired from a T-56.  Sunil was the father of two children.  His daughter Kamila was nine years old when her father was killed. Her young brother Dinushka was just five months. At the time of Sunil's death he had given several lorries on hire under the name Kamila Transport Service.  He had also underaken contracts under the name of one of his brothers to construct Government buildings including the Delgoda Agrarian Services Centre.  It was Sunil who owned the Samanala Restaurant, Kiribathgoda.
The man who killed Sunil was Prasad, a former soldier who later joined JVP and became the leader of its armed wing in the Eastern Kandyan region. He gave weapons training to JVP cadres in the Bambarenda and Knuckles hills in the Central Province. It is said that he was later killed and the body dumped near the Katugastota bridge.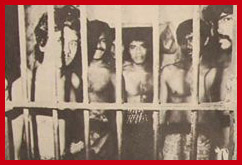 Youths inside a police cell after being arrested in connection with the JVP's second insurgency.
OIC Sapugaskanda Police Crime Branch, Rohitha Priyadarshana worked fearlessly to suppress underworld actvities in Kelaniya.  Born on November 30, 1964, he was a past pupil of Nalanda Vidyalaya. While on duty on February 20, 1990 at 8.30 a.m. he received a phone call from Keerthi Athapattu, OIC Sapugaskanda Police, asking him to come to Biyagama Village Hotel.  After reaching the hotel Priyadarshana dissappeared.  His body along with five other bodies were found floating in the Kelani River near the Peliyagoda Police Station on February 23, 1990.  The reason for killing Priyadarshana was that he arrested Tudor Perera,  a brother of Gonawala Sunil in connection with criminal activities, on February 8, 1990. Later Tudor dissappeared after a senior police officer – at the request of a powerful politician – abducted him while in police custody.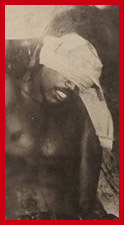 Arrested youth blindfolded and tortured.
During President Chandrika Kumaratunga's rule the underworld became stronger. One of its powerful leaders was Baddegane Sanjeewa of the Presidential Security Division (PSD). It was he who shot dead journalist Rohana Kumara, editor of the 'Satana' on September 7, 1999.  The supposed reason for the shooting was that he exposed the Channel 9 affair in his paper.It was on a contract given by the then ruling circles that actress Anoja Weerasinghe's house was set on fire, completely destroying it.  In the process, the irreplaceable awards she had received and other valuable items too were destroyed.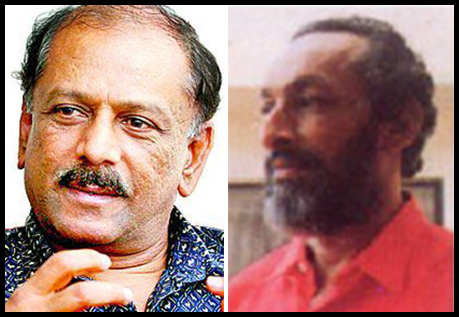 Opposition MPs Dinesh Gunawardena and Vasudeva Nanayakkara who protested strongly in Parliament against the suppression of young people by the UNP Government and underworld thugs conniving with the ruling party.
Baddegane Sanjeewa also led the forcible entry to the home of the popular singers Rookantha Gunatilake and his wife Chandralekha Perera at Mattegoda on January 27, 2000 and intimidating them by cutting Chandralekha's hair and pouring petrol on their bodies.The persons charged with this ofence were several PSD members. Over a year later Baddegane Sanjeewa was shot and killed on November 2, 2001 by one of his own close associates – Dhammika Perera – who too was  involved with Presidential Mafia. Dhammika Perera in turn was shot dead by other underworld gangsters inside the Colombo Magistrates Court on January 12, 2004.
Gonawala Sunil, Soththi Upali, Kaduwela Wasantha, Nawala Nihal, Noel Amarasinghe, Dhammika Amarasinghe, Vambotta, Chinthaka Amarasinghe, Baddegane Sanjeewa, Thunmulle Padme, Delu of Slave Island, Thoppi Chaminda, Bada Mahinda, Kalu Ajith, Olcott, Faji, Potta Nowfer, Anamalu Imitiyas, Moratu Saman, Dematagoda Kamal, Guna of Kimbula Ela, Thel Bala, Prins Column, Danushka, Navy Ruwan, Navy Asanka, Karate Dhammika, Ice Manju, Neluwe Priyantha, Army Roshan, Mama Asmi, Nadaraj and Usa Kumara among others reigned supreme until President Mahinda Rajapaksa succeeded in almost completely eliminated the underworld in 2014.  Some fled the country while others are spending their last years in jail.
Underworld crimes are a most virulent form of terrorism.  Suppressing it needs a special strategy. People have the right to live without fear of an underworld mafia.(The writer is a senior journalist who could be reached at [email protected])