Sri Lanka foreign reserves drop to US$6.466bn in August 2015
Posted on September 8th, 2015
ECONOMYNEXT – Sri Lanka's forex reserves had dropped 420 million US dollars to 6,466 million US dollars by end August 2015, down from 6,887.22 billion in July, amid continued sterilized forex sales, official data show.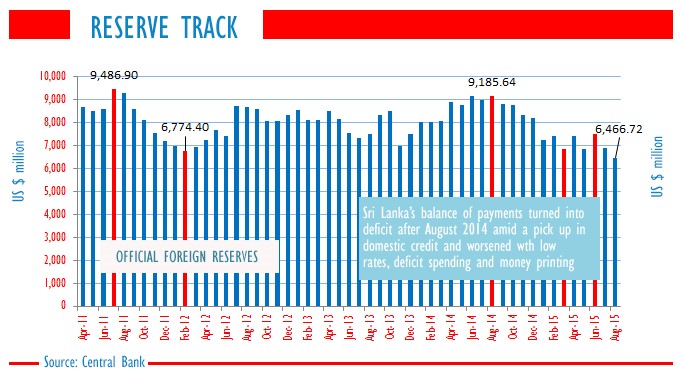 Without 400 million US dollar swap from the Reserve Bank of India, foreign reserves are down 34 percent from a peak of 9,185 million US dollar in August 2014.
Last week Sri Lanka got another 1.1 billion US dollars from the Reserve Bank of India, which would could help boost reserves closed to 7.0 billion US dollars or above.
Sri Lanka's foreign reserves dropped to 8.05 billion rupees in February 2012, after the Central Bank printed money to accommodate credit for oil subsidies and sterilize forex sales and keep interest rates down.
The current balance of payments crisis was generated by printing hundreds of billions of rupees to finance a budget deficit and sterilize foreign exchange sales to keep interest rates down.
Economists have pointed out that Sri Lanka's central bank's targeting of dual internal and external anchors are fundamentally flawed and needs urgent reform.
On Friday the rupee was interventions were reduced to try to abandon the external anchor, but analysts have warned that a rake hike is needed to correct domestic credit growth.
In the last monetary policy statement the Central Bank admitted that it was 'concerned' about credit growth pointing fingers at some sectors, though analysts say interest rates incompatible with the budget deficit in particular and credit generally is the key problem.
Sri Lanka failed to reform its Central Bank after the collapse of the similarly flawed neo-Mercantilist Bretton Woods system in the 1970s.
Swaps however are borrowings, which have to be repaid. (Colombo/Sept07/2015)
Sri Lanka bank borrowings by the state soar up to June, CB credit up 30-pct, SOEs up 38-pct
Sep 07, 2015 09:08 AM GMT+0530 | 0 Comment(s)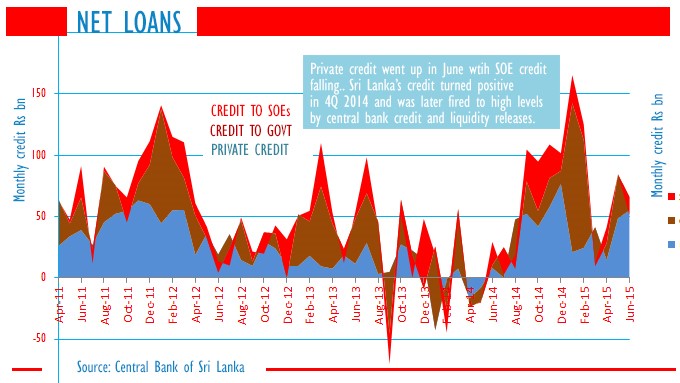 ECONOMYNEXT – Sri Lanka's state brrowings from the banking system rose to 1,673 billion rupees in June 2015, up 21.5 percent from a year earlier, with central bank credit soaring 30 percent to 186.7 billion rupees, official data show.
Credit to state enterprises were up 38.2 percent to 482 billion rupees, from a year earlier.
The state started borrowing heavily from the banking system after a budget deficit expanded with state salary hikes and deceptive subsidies in January 2015, which was not followed up with a rate hike.
Rates were kept down with printed money or Central Bank credit. Sri Lanka has a policy rate corridor, where overnight rates should go to 7.5 percent when excess liquidity runs out, but market interest rate rises were blocked with liquidity release and later outright Treasury bill purchases.
Central Bank credit, or printed money soaring 30.8 percent to 186.7 billion rupees in June from a year earlier.
Printed money the most dangerous type of credit, which causes imbalances in the credit system and triggers a balance of payments crises and inflation.
Analysts say Central Bank credit to the banking system is understated during the current balance of payments crises, due to accounting conventions.
Though large volumes of liquidity, partially sterilized with borrowed securities under term repurchase deals were released to the banking system, they do not turn up as central bank credit to the state in the same way deals involving outright transactions of government securities appear.
Credit to the private sector was also up 20.1 percent to 2,722 billion rupees in June from a year earlier. Credit to private sector was up 51 billion rupees from a month earlier.
Though analysts have been warning about rising private credit, though private borrowers cannot cause any real damage as they are net savers. The damage comes from credit to state and SOEs, who are net spenders.
In the month of June itself, state borrowings from the domestic banking system eased somewhat with a 650 million dollars sovereign bond.
With oil prices falling and good rains, analysts say energy SOE's should not be very cash negative. Cashflows of key energy SOE's were generally positive in 2014. In June SOE's paid back 14.3 billion rupees. (Colombo/Sept07/2015 – Update II 0-corrected opening para . Sri Lanka's state borrowings from the banking system rose to 1,673 billion rupees in June 2015, up 21.5 percent from a year earlier, with central bank credit soaring 30 percent to 186.7 billion rupees, official data show.)