Day of the Jackal of Sri Lankan Political Zoo
Posted on September 17th, 2015
by Ravi Prasad Herath Courtesy The Daily Mirror
Today is J. R. Jayewardene's 109th birth anniversary My Friends called me old Fox" – J. R. Jayewardene  By name, the Resplendent Isle or the pearl of the Indian Ocean as Sri Lanka was known, it was the foreigners who carried away, or exported our precious gems. The Kings, merchants and the Elite, amongst the Ceylonese, processed gems and jewellery; however the henchmen were engaged servitude and carried favour to the masters.  Thus in this manner the citizen either failed to understand or appreciate, the national economy or this factor was not relevant for him. The foreigners realized the worth and valour of the country and its heritage. This foreign scourge and trend was much in evidence in various religious sectors.
The Sri Lankans could be easily manipulated via various strategies and elements. This was the undisputed fact as understood by foreign nationalists, as well as diverse religious leaders of the time. The father of the nation, the late D.S. Senanayake taking the dilemma into focus decided to resettle the Sinhalese in agricultural colonies such as Bakamuna, Elahara, Kagama, Galoya and brought about a Government which stabilized the Sinhala settlements in these regions. Since the national living index was not comparable to that of the Asian Countries, and especially to those bordering the Indian ocean, the local government and governance was no solution, and was not conducive to international politics. Thus, the country/nation veered towards youth uprisings, political upheavals, demonstrations and conspiracies towards the seventies.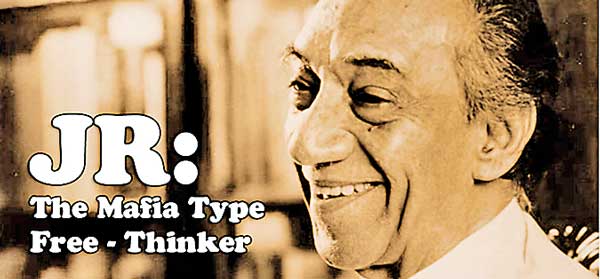 Due to flaws of an extreme fascism of egoistic Felix R. Dias Bandaranaika; the Samagi Peramuna conceded defeat in 1977 and J.R. Jayewardene ascended the Throne and the way forward was an enigma to him. Gamini Dissanayaka and his Mahaweli Project, Lalith Athulathmudali and his Mahapola Project, R. Premadasa and his Gam Udhawa Project were up in arms. And the presentation of  Swarna bhoomi deeds (a Malaysian concept) and village reawakening project (Gam Udawa) were mega projects. Subsequently, Ronnie de Mel, another former UNP MP, initiated a new mega project in1977 and the national living index was 7%. This could be attributed to foreign investment as well as local commercial investment. The Governor of the Central Bank realized that the economic development should not trickle down in view of national interest. Even though the Central Bank was responsible for E.P.F/E.T.F deductions, these monetary transactions were carried out in a most unjust manner and the entries in the ledgers were questionable. And the employee remained deaf and blind to these unjust manipulations.
By 1977, the computer became a mega apparatus and  was used in special fields of agro-economics. The computations were affected by paper. A prominent UNP politician who too was ambitious like his other counterparts  ordered the issue of passbooks to all the employees. Thus Letchumi" from Punduluoya could come to Colombo to affect her E.P.F. transactions. This was an idea of the Central Bank to give them liberty and the responsibility to act independently and evade their responsibilities. In 1984, the Banks had an inquiry and investigation. There was no evidence to show a decline or downward trend in the economic development. No State Banks give loans to small-time businessmen or farmers due to the step-motherly treatment meted out to the minor employees. JR Jayewardene, N.G.P. Panditharatna, W. Rasaputhram (former Governor of the Central Bank) decided to seek alternate means without alienating themselves from the citizenry.  In 1981, Rasaputhram and other representatives of the Banks decided to focus their attention on I.D.A.D (Rome) – International Development for Agricultural Development. In order to meet the challenges and enable the citizen to access financial assistance, a one-day workshop was held in Colombo.
This gave an opportunity to all participants to voice their views and discuss their visions. The Director Yunus, who represented the Bangladesh Grameen Bank too participated. Even though R. Premadasa was given 20 minutes to talk on poverty alleviation, he spoke at length, on village reawakening (Gam Udawa). Thus Finance Ministers, discourse was limited to 20 minutes. Ronnie de Mel, whose objective was to introduce his own N.P.L (Non-Performing Loans) project, could not achieve his objective. He realized that R. Premadasa, as well as Upali Wijeyawardene were strong competitors on the financial field. Premadasa vexed eloquent on extension development eradication of poverty and I.F.A.D UNP Chairman N.G.P. Panditharatne decided to call Transparency International to have an office in Sri Lanka. He has been insistent on this since  1980 .
Ronnie de Mel's mega Project was R.R.D.B. (Regional Rural Development Bank). This was an Indian model. By then the appointment of all Bank Managers was the responsibility of  the Central Bank (Monetary Board). Ronnie de Mel took  his power and purview over RRDB for the appointment of all Bank Managers. This was a move to fortify his power in all corners of Sri Lanka. On this move JR and his wife Elina  remained silent, and non committal due to their third sense.  Meanwhile, Premadasa    had stabilized the village reawakening scene under a new name 'Janasaviya'. A year prior to this scenario, the Central  Bank operated Isuru Viyaparaya  project for Easy payment loans, until the year 2000. Rural Development was not feasible from Central Government. Thus, the DDS (District Development System) was born as a result . In spite of this blessing, the State Banks  were not warm enough to  grant loans to peasants. All State Banks were attached to their political henchmen and their corrupt methods, as usual and natural to Sri Lanka even  today. Due to these negative factors, India requested permission to set-up two of their Banks –Indian Overseas Bank (IOB), State Bank of India (SBI) in Sri Lanka. JR Jayewardene decided that the first Bank should be inaugurated at Anuradhapura and Matara.
The Central Bank was faced with a dilemma, under the new banking trend whether these banks be governed at district level or provincial level. The committee was represented by the Chairman of the I.O.B , who reiterated that the North and East should be considered as one district or province and the Central Government should be in Trincomalee. The Chairman of Gem and Jewellery Authority T.G.Punchiappuhami stressed the importance of districts administration. Making use of this instant trump card, JR decided to implement the district administration on all banking bodies, as against the provincial administration, so saying he left in a hurry. (he made a quick get away) Indian Banks closed up by degrees and the RRDB Banks which were set-up under the DDC framework operated first at Bullathsinhala, Kalutara, Anuradhapura and Kurunegala. Under Premadasa's Janasaviya programme, Rs. 600 million were deposited in the NSB from the depositors. This was a sore point and has been a focal point of picketing and demonstrations by the public.  What happened to the Rs. 600million deposit at National Savings Bank?" After the1987 bomb blast at the Central Bank, all such plans were turned to ashes, and records and documents had been destroyed by the fatal blast. The State loans, EPF contributions and non-payable loans which were computerized went in flames. Before the explosion, the private and confidential reports stored at the Central Bank were removed and stored in an unknown location on the 29th. On 31st the Bank was blasted! (Confidential information). Adapted from the book JR : The Mafia Type Free Thinker by Ravi Prasad Herath –
See more at: http://www.dailymirror.lk/87607/day-of-the-jackal-of-sri-lankan-political-zoo#sthash.uRuq0uob.dpuf