US SECRETARY OF STATE JOHN KERRY CALLS ON PRESIDENT MAITHRIPALA SIRISENA
Posted on September 28th, 2015
Embassy of Sri Lanka Washington DC
United States Secretary of State John Kerry called on President Maithripala Sirisena in New York yesterday evening, 27 September.
President Sirisena recalled the historic visit of Secretary Kerry to Sri Lanka in May and expressed the view that following Parliamentary elections in August and the formation of a National Unity Government, the time has now come to follow up on several agreed initiatives to promote US-Sri Lanka relations.
Secretary Kerry congratulated President Sirisena for the success at the Parliamentary election on August 17th and expressed appreciation for the clear vision articulated by the President, Prime Minister and Government of Sri Lanka for transformative initiatives taken by the Government for the benefit of all communities in Sri Lanka.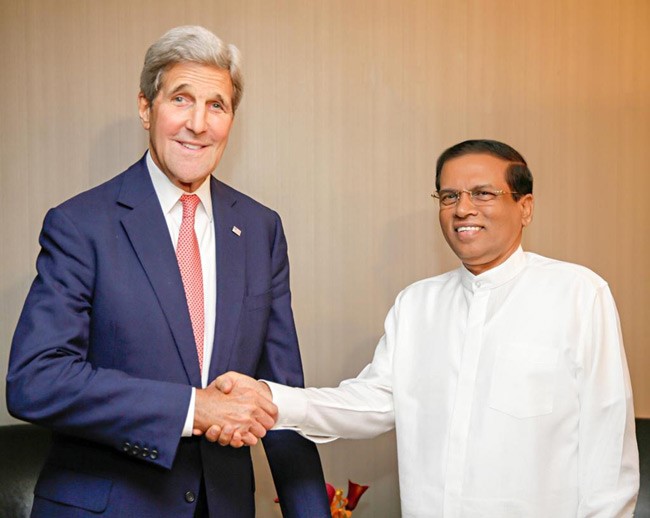 President Sirisena briefed Secretary Kerry and his delegation on efforts being taken by the Government in development of the country and in the reconciliation process and expressed appreciation for the support extended by the United States recently in the Human Rights Council in Geneva for the programme of action voluntarily undertaken by authorities in Sri Lanka to address issues of truth, justice and reconciliation.
Secretary Kerry responded that the United States was happy to join the others in the world in supporting Sri Lanka. Stating that the US will remain helpful in economic and social advancement spheres as well, Secretary Kerry stated that Sri Lanka resuming its traditional position in the international community is appreciated and is an example to the world.
Secretary Kerry was accompanied by US Permanent Representative to the UN Ambassador Samantha Power and senior officials of the US State Department and the White House. President Sirisena was accompanied by the Ministers of Foreign Affairs, Skills Development and Vocational Training, Justice and Buddha Sasana, Resettlement, Reconstruction and Hindu Religious Affairs, the Governors of the Northern and Eastern Provinces, Ambassador of Sri Lanka to the United States, Permanent Representative to the UN and officials of the Ministry of Foreign Affairs.
New York
28 September 2015