PRESIDENT AND PM  DISREGARDED VEN THERO'S LAST WISH!-IS IT A SMOKE SCREEN?
Posted on November 12th, 2015
By M D P DISSANAYAKE
Late Ven Sobhitha Thero's last wish can now be found in the public domain.  We produce below  the written statement and live video  of the Thero: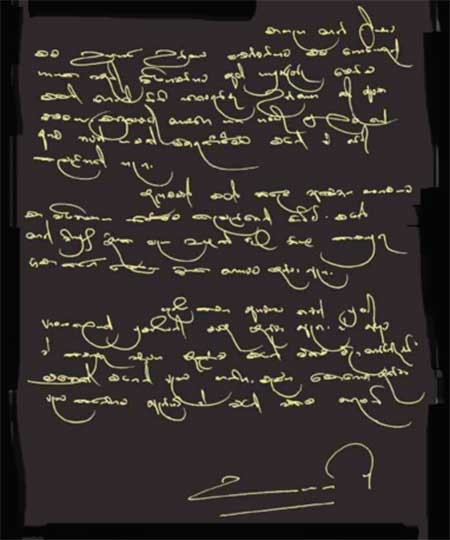 (By courtesy Sri Lanka C News)
In essence, the key requests are:
" I have instructed the Committee that in the event of my death all arrangements must be completed within 24 hours of my death, including the cremation;
2.Do not spent hundreds of thousands of rupees to buy a coffin instead buy a cheap coffin, cremation ceremony not needed, processions are not needed, do not keep children in the hot sun to attend funeral, do not disturb the villagers;
3.Do no spend thousands of rupees for pavada, decorations, spray sand on the road,
2.No Eulogies are needed, just a Pansakulaya is sufficient;"
To watch live video of the Thero, please  press Control, Click together on the following hyperlink:
https://www.youtube.com/watch?v=JtqSZXnkEIw
The  government of President  Sirisena and Prime Minister Ranil  have clearly violated the late Bhikku's last wishes.
A Businesswoman Mrs Soma Edirisinghe passed away few day ago, she made a similar request to complete the final funeral arrangements within 24 hours of death, the Edirisinghe family complied with the request. How unfortunate was  Ven Sobhitha Thero in the hands of political crooks?
What were the reasons for disregarding the last wish of a dead person?  Late Thero pioneered to bring MS and RW into power. He provided  a positive image for the scoundrels to win two elections.  The scoundrels  in return had broken the promises given to the Thero and finally on his death, totally humiliated the dead Thero by violating his last wishes.
We remember great buddhist monks in Sri Lanka in last few decades.   There were not many, but very few, amongst them: Ven. Walpola Rahula Thero, Kotagama Vachisssara Thero, Kotikawatte Saddhatissa Thero (killed by JVP) and Ven Maduluwawe Sobitha Thero.   These monks were freedom fighters of the Nationalist Movement of Sri Lanka and fought against the United National Party.  Present and past Malwatte Mahanayaka's are well known as anti-nationalists, lacking respect of Buddhists.
Sending Ven Sobhitha Thero overseas for medical treatment was a suspicious and a  risky travel arrangement.  If the government had something to "cover up" leading upto the death of the Thero, then a massive funeral procession  and several euologies can be regarded as "smoke screen" even if it results in gross violation of "last wishes" of the Thero.
Will  the CID  of the so called "Good Governance" government of Sri Lanka conduct an impartial investigation into the death, examining any reasons for culpable homicide not amounting to murder?
If there are unselfish buddhist monks in Sri Lanka, there are several lessons to be learned from these episodes.