First LTTE Suicide Mission in Six Years – Beginning of LTTE Suicide Attacks
Posted on November 27th, 2015
Beginning of LTTE Suicide Attacks- Courtesy Sinhalenet
A 18-year-old man from Kokkuvil Hindu College, Senthuran Rajeswaran, born on 18th September 1997, widely believe as a very close associates of the LTTE Tamil terrorists and pro-separatist diaspora student leader from Koappaay North, went ahead with suicide mission of his life Thursday morning by jumping in front of a speeding train at Kokkuvil junction for the sake LTTE terrorists and Tamil terrorism.
His body was found torn into pieces in school uniform and police and Army intelligence officers are investigating his association of re-activation of LTTE Tamil terrorism again in Sri Lanka.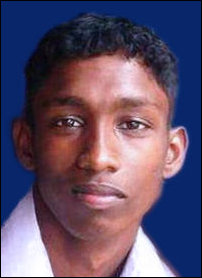 Pro-LTTE Tamil terrorists' students at the University of Jaffna launched violence demonstration soon after the suicide mission completed by Senthuran Rajeswaran as to looks like a pre-planned mission.
It is common culture in the Tamil communities to perform a suicide mission for every pretty things like dead of a film stars, politicians and even for popular a sportspersons.