LAST STAGES OF NANDIKADAL BATTLE
Posted on December 26th, 2015
By Tilak S. Fernando Courtesy The Ceylon Today
Pushpavalli Pradeepa in the photograph is missing up to now from April 1996, and her parents are not aware of what fate had become of her to date. She was just 18 years old when a LTTE squad, during their rule and monopoly in Mullaitivu, came and dragged her by force from her parents. His brother, Pudu Mathalan, had also been abducted in a similar fashion by the terrorists prior to this incident, but the boy managed to escape from the guerrilla grip, had taken to his heels and had been hiding in the jungle in fear of any reprisals from the LTTE terrorists until 14 April 2009, finally when the Sri Lankan Security Forces rescued him amidst 300,000 to 330,000 other innocent Tamil civilians who had been used by the LTTE as a strategic human buffer during their last struggle to survive.
Antecedents
Alagaratnam Subramaniam's great grandmother was Bisomanike from Hingurakgoda. The family had lived there for a long time until his father, after suffering from a cancer in the stomach died. Subramaniam's mother later decided to come and settle down at Milevahanpuram in Mullaitivu. Subsequently he got married to Pushpavathi in Milevahanapuram, and the couple produced five children, namely Prakesh, Pradeep, Pradeepa (Pushpavalli), Kajal and Kabifen. The Road Development Authority (RDA) has employed Subramaniam for the past 12 years.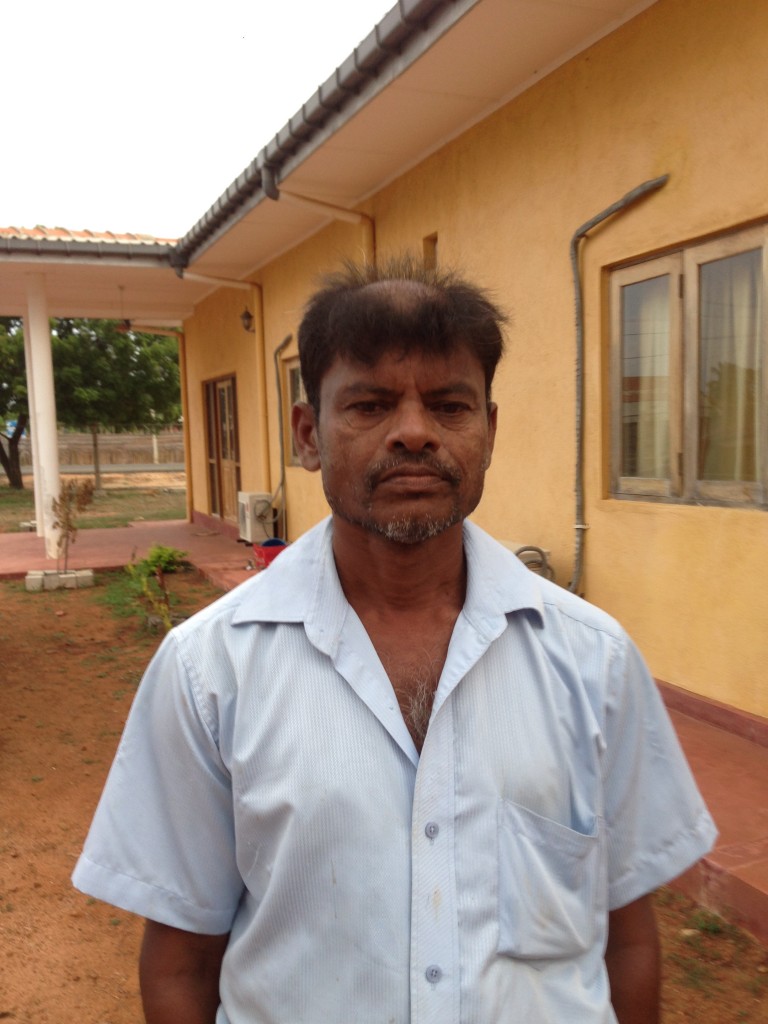 The writer was able to meet Alagaratnam Subramaniam, who continues to work at the RDA, presently as watcher/housekeeper of RDA circuit bungalows in Mullaitivu, at the end of October 2015. The true to life story related by Subramaniam to the writer about the last stages of the LTTE terrorist activities is certainly an eye opener to many a critic who have chosen to point a finger at the Sri Lanka Army.
Living Under Threat
According to Subramaniam there was a period where all Tamils in the area had to live under the LTTE rule and their lives were completely controlled according to the whims and fancies of the terrorist group. He, along with other Tamil civilians, had been compelled to work 10 (ten) days a month compulsorily for the LTTE, without any pay of course, in digging bunkers, ditches, as reinforcements etc. The RDA on the strict orders and commands from the LTTE deprived all those, including Foremen, who did not abide by such terrorist directives, of their dues.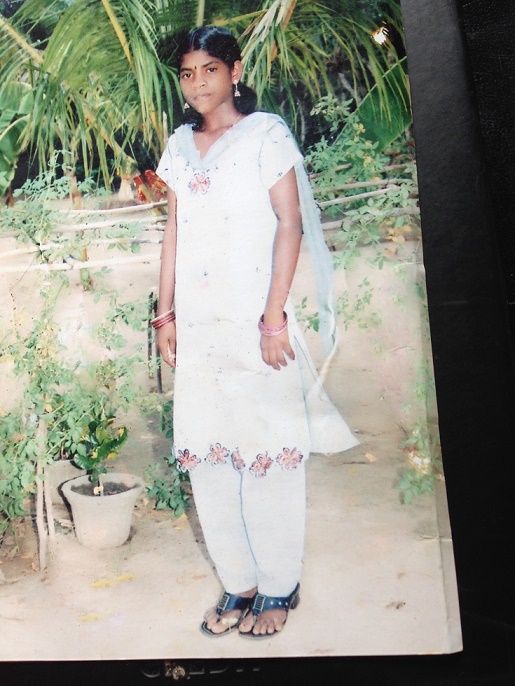 Pushpavalli Predeepa still missing
According to Subramaniam, the LTTE police did house to house visits and demanded to have two children from each family. He recollected how frightened they were on the day when the ' LTTE police' suddenly appeared at his doorstep and demanded to have two children from his family as well. It had been a tense moment filled with horror and anxiety, yet his son Pudu Mathalan was dragged out by the terrorists by force right in front of his family members. However, the boy had managed to escape from the terrorist grip after five months of his captivity and had taken to his heels and ended up hiding in the jungles in fear of his recapture and reprisals by the brutal LTTE 'soldiers'.
Final Operation
"The LTTE cadres surrounded all the neighbouring villages and scattered themselves around. They were in control, they dug bunkers amidst the civilian population but no one was allowed to escape! It was a blood curdling ordeal what the Tamil civilians had to undergo by reluctantly becoming captives of the LTTE at final stages of the war," Subramaniam described
Such statements coincided with the 179 page Paranagama Commission Report which was tabled in Parliament by Prime Minister Ranil Wickremesinghe not so long ago concerning the current pet topic of Human Rights (HR) violations where it was revealed how 'the LTTE had used the Tamil civilians as a strategic human buffer for their defence to suit their military aspirations'.
During the final and crucial stages of fierce fighting by both sides at the Nandikadal Lagoon (between Mullaitivu-Pudukudiyiruppu Road) the LTTE terrorists had been shooting at civilians who attempted to abandon them and run for their lives; to prevent such atrocities the Security Forces had been firing shells by air. Subramaniam said, in such a chaotic and confused state of a fierce war it was natural and acceptable that a few innocent people too may have become victims, which could not have been avoided, but he pointed an accusing finger at the Terrorist group for such an event.
Subramaniam is an eye witness to explain how the LTTE used civilian hostages to dig trenches and build fortifications, forced great number of children and innocent men into the front line which obviously led to a large number of civilian deaths when terrorists used such merciless methods of shielding themselves by using civilian hostages as a buffer while the innocent villagers attempted to escape from such an incarceration.
According to Subramaniam, on 13 April 2009 at 1500 hrs, the LTTE 'police' arrived and about 400,000 civilians in the area were asked to dig bunkers for the terrorist fighters to provide shelter, while on the ground they intermingled with the civilian population to take cover. No one knew who came and went as all the LTTE vehicles had tinted shutters in order to prevent any outsider observing who travelled inside their vehicles.
On the 21 April 2009 the real battle had commenced between the Sri Lankan Security Forces and the LTTE terrorists where both sides started firing RPG mortars at each other; especially the LTTE aimed their fire at the fleeing escapees while the Army had to fire shells at the LTTE terrorists to counteract such genocide caused by the terrorists to innocent civilians. It's natural, he said, in such adverse conditions of cross fire innocent parties too may have had to pay a high price in their desperate attempt in running for their dear lives.
There were no roads to cross but the only way to escape, during such fierce crossfire, was to wade across the canal. The water level in the canal was up to chest level and many Tamils (the villagers as well as some of the LTTE cadres who wanted to save their lives) had no option but to leave the place with only the clothes they were wearing at the time and grabbing whatever important possessions they could carry, such as their ID papers and a few vital documents which they carried on their head.
It took four days for them to escape without being killed by the terrorists; when wading through the water across the canal Subramaniam had carried two of his children on his shoulders and guiding his son in front while wading across the water; their only precious documents such as IDs, birth certificates and so on, were safely kept wrapped between his turban and the head. The rescued people were safely removed from the ' war zone' and taken to Ramanathan camp on Menik Farm, Vauniya where the welfare of hundreds of thousand refugees had been taken care of by the Sri Lankan forces, especially soldiers supplying them with food such as rice, flour, water, vegetables etc. and medicine.
Subramaniam said each refugee received Rs 25,000 initially before they were allowed to go to their homes, but once Subramaniam and his family returned to their village at Milevahanapuram, Piramandanar, there were no houses left to be seen except a pile of rubble and ashes as the LTTE had set fire to all the homes in their village at the final hour. Subramaniam further confirmed that the government later gave them Rs 500,000 to rebuild their house, where the family has settled down and he continues to work as a Caretaker attached to the UDA Mullative Office up to now.
From Alagaratnam Subramaniam's own account it confirms the fact that the Sri Lankan Security Forces assisted thousands of marooned helpless Tamil civilians who were forced and kept as captives by the LTTE and finally managed to save their lives thanks especially to the Army's sympathetic and humanitarian efforts.
He was personally happy that it was after so long that he found a way to express his gratitude to the Sri Lankan soldiers who saved him and his family and being able to give a graphic account of what took place during the last stages of the terrorist war which should bear witness as a true account of a victim who heard, saw and experienced the trauma and drama during the final rescue operations of innocent civilians from the LTTE terrorist grip.