Eisenhower camps that killed 1million German soldiers: Prince Zeid, why are White West crimes never punished?
Posted on February 7th, 2016
Shenali D Waduge
The West has very little to say about its crimes and they are many and the victims run into millions. The West that is responsible for horrendous crimes across all the continents of the world escape justice and are never taken to the dock but the nations that have suffered because of the West are now being earmarked for further punishment using the apparatus of the United Nations. Just one of the crimes against humanity committed by the West has been the 1million German soldiers who surrendered to the Americans AFTER the war ended. These soldiers were put into camps under orders of American General Eisenhower and starved to death in 1945. Two million German POWs and 5.7 million German civilians were killed after the war ended? The UN was formed on 24 October 1945. Why have the war crimes committed by the Allies never been investigated?
How many Americans or Europeans know of these crimes?
One hundred and fifty German cities was bombed between 1940 and 1945 (reference book by historian Jorg Freidrich) – cities included Kassel, Paderborn, Aachen, Swinemunde, and of course Dresden. Cities like Cologn and Essen experienced more than 250 raids each with British bombers turning ruins into ruins! Hamburg experienced the first firebomb which killed 45,000 people.
A staggering 87 per cent of all bombs dropped by American planes missed" their targets and left thousands of German civilians dead.
The strategy was to depopulate one-third the German population. German bombing of UK caused deaths to 60,595 British.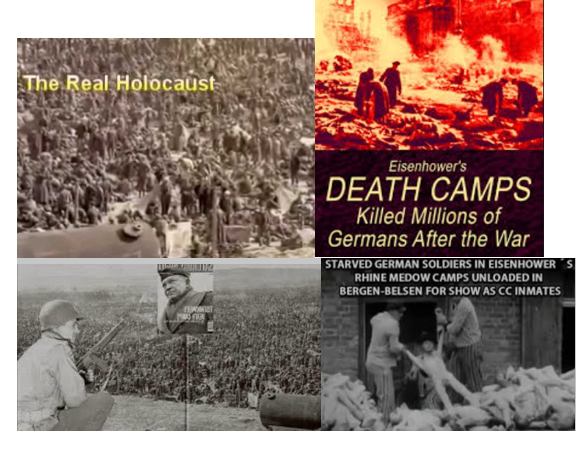 War Criminal Eisenower
On May 8, 1945 the German army surrendered to General Eisenhower. He refused to shake hands with the German General as is customary.
1million German soldiers who surrendered after the war was over were starved. Gen Eisenower's orders were that no water or food be provided. They were put into a death camp specifically to be killed. The bodies were left in the field to decay. Makes any to wonder why the Nazi's did not resort to such a cheap method without spending on gas chambers/ovens etc.
https://www.youtube.com/watch?v=hbp61fOVFaE
Eisenhower's Rhine Meadows Death Camps – a policy of extermination of surrendered German soldiers after the war ended.
https://www.youtube.com/watch?v=_7VpLDLZYeY
Gen Eisenhower signed an order on Disarmed Enemy Forces for the German Prisoners of War who surrendered to the Americans.
This order violated the Geneva Convention because Eisenhower disregarded the rules of treating Prisoners of War. Eisenhower starved these German soldiers, he denied them the right to receive or send letters, he forbid Red Cross to enter,
https://www.youtube.com/watch?v=meK5RgEEwYo
https://www.youtube.com/watch?v=MXlKwuYp__0
These are shocking crimes. The media does not give coverage or even make reference to the crimes because global media is owned and manipulated by the West and local media are happy to be their obedient servants, whilst human rights organizations are mostly funded by western governments so too are the missionary NGOs – all of whom together are working in partnership to shield the crimes of the West (past and present)
What present day readers and observers must realize and ask themselves is why is there such hypocrisy in a world body that is meant to be giving justice equally and without bias.
When others drop bombs they are uncivilized killers. When the West bombs, they are upholding civilized values. When others kill they are terrorists when the West kills, they are striking against terror. This is the logic that is being used which is covered by the UN.
We think this charade must stop.
If the UN is to exist at all it must stop covering the West's crimes and the Non-Aligned Nations need to come forward and make their voice heard. If the West can form a bloc with their limited population, why is the non-Western nations not coming together to stand up for each other against the lies the West concocts and a UN that is like a poodle serving its Western masters.
Further reading