Is there a threat to the life of former President Mahinda Rajapakse?
Posted on April 6th, 2016
Shenali D Waduge
If there is any person whose life is under threat it is that of the former President, not Chandrika Bandaranaike but Mahinda Rajapakse. If there is another person under similar threat it is Gotabaya Rajapakse. The public have every right to be concerned. LTTE ruled throughout presidencies of 4 Presidents and it was only the 5th who went against the odds and international threats to militarily defeat the world's most notorious terrorist organization taking a decision as President of the Nation and as Senadhinayaka, commanding the armed forces. When caches of arms, ammunition, suicide kits together with the release of un-rehabilitated LTTE cadres and the recent announcement of the former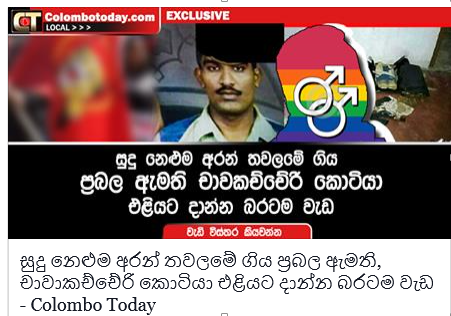 President's security being suddenly trimmed down and removed all these added, the citizens smell serious trouble looming. The citizens of the country are grateful to the former President who together with the Armed Forces, Police and Civil Defense Force and the Defense Secretary ended 30 years of brutal terrorist rule. No one can deny that we today enjoy peace because of them. We can empathize with other nations now suffering from that same terror we once went through though they chose not to help us defeat terror. All those that played a pivotal role must be protected by the State.  Most are now worried and concerned about the former President's and the former defense secretary's safety. The world must take note of these concerns.  For ending terrorism neither of the Rajapakse's need to have scores settled by the enemy and no one should facilitate this either for personal or political gain.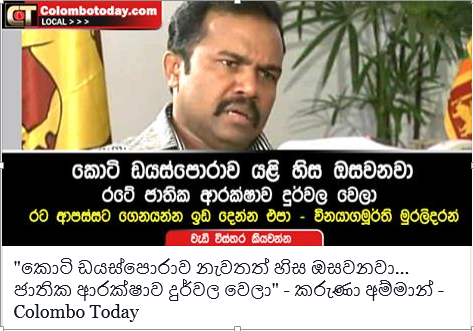 Let's review the situation.
Calls for demilitarization have resulted in the closure of key military installations, confining of soldiers to barracks, allocating lands in high security zones to supposed IDPs who never owned a plot of land or ever had title deeds to lands, the increase in illegal fishing by Tamil Nadu comes with the realization that these same fishermen were part of LTTE's fleet to smuggle arms, ammunition, narcotics and other logistics requirements. India's involvement in creating LTTE and 35 other militant groups in the 1970s needs to also be mentioned. That LTTE was also under Indian intelligence tutelage combined with India's aggressive inroads into Sri Lanka's internal affairs leave little to the imagination. Add all this up and even a kindergarten goer can make sense of the situation.
It is remarkable how organizations that were listed using UNSC Resolution 1373 as LTTE fronts are now determining policy in Sri Lanka and have even been listed without no one so much as asking on what grounds they have been deproscribed without even investigating them. It is also unbelievable that the ministry that handles foreign affairs is virtually being run by the enemy neighbour!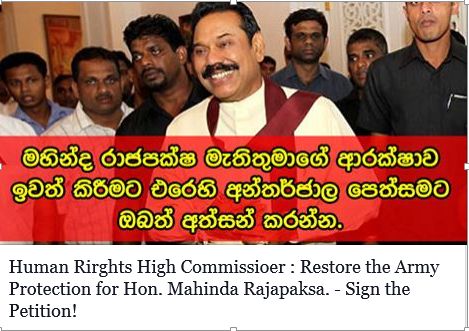 It is in this context that we find ourselves being choked into signing another by-force agreement named ETCA no different to what took place exactly 30years ago when India forced Sri Lanka to sign the Indo-Lanka Agreement in 1987 and even change our constitution. Are we not seeing an encore!
In terms of life threats, Chandrika Bandaranaike Kumaratunga lost an eye from an LTTE attack but she did not mind calling her assailant 'Mr. Prabarakan', the present President was also injured by LTTE, Gotabaya Rajapakse as defense secretary escaped an assassination bid. Scores of UNP prospective leaders were conveniently bumped off by the LTTE. Ranil Wickremasinghe our Prime Minister surprisingly has never had a LTTE threat to his life or an attempt on his life.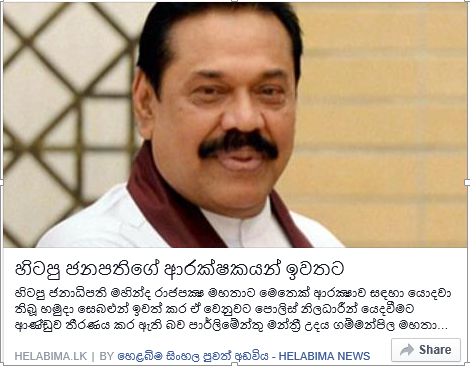 CBK and Ranil have made numerous offerings to the LTTE. CBK offered Prabakaran to govern the North for 10 years as well as PTOMs while Ranil offered the Cease Fire Agreement ceding territory to terrorists. Together both offered an ISGA mechanism which is being repackaged under numerous other names and is being now pushed by those linked to drafting a new constitution.
We fought terrorists not Tamils.
We suffered terrorism not an ethnic conflict.
Unless this is cleared we are bringing solutions to the wrong problems and are likely to create further problems or new problems.
That LTTE lasted despite a global war on terror since 2001 showcases that LTTE has been used as a political toy for geopolitics and it had nothing to do with any concern for Tamils or their grievances. If post-LTTE defeat the same players are now out to remove those that eliminated their 'toy' it is good that we identify clearly who those global players are in order to take counter measures.
The joint opposition should be mindful that as citizens themselves their concern should be to highlight the dangers instead of feeling jubilant at the faux pas being made by the present government for it affords them a better opportunity to return to power. Will they have a nation to ever govern is what they should seriously now wondering.
Be that as it may there is no reason to prune President Rajapakse's security suddenly and replace trained military security with that of ordinary policemen who would be clueless to act in the event of a terror attack thus compromising the life of the former President.
It only resonates what the public is now beginning to feel that the present government has been only taking political vengeance and revenge since coming to power in January 2015. This is not a healthy way to govern a country by those that came into power promising better uncorrupt transparent good governance. This is certainly what we the public were looking forward to and were expecting. At every turn people are now beginning to question the u-turns being made into the promises pledged.
The most recent assassination was that of Muammar Gaddafi of Libya in 2011 eliminated in the most brutal and heinous way with full consent of the West who were responsible for training and arming the men that were sent to dislodge Gaddafi as leader of Libya. Libyans today find themselves not liberated but dying because of the liberators!
Sri Lanka's regime change was to oust Rajapakse as leader. With that objective achieved we can but wonder what the next objective is given that his popularity keeps climbing even without any effort on his part. The gun has become the easiest and the most cowardly way to eliminate opposition. Sense must prevail and the law of karma is such that what goes round always returns.
Shenali D Waduge