POWER SYSTEMS – KNOWLEDGE VACUUM IN SRILANKA
Posted on April 9th, 2016
By Kanthar Balanathan
DipEE (UK), GradCert (Rel Eng.-Monash), DipBus&Admin (Finance-Massey), CEng. MIEE, MIE (Aust), CPEng (Ret)
Former Director and Specialist Power Systems Engineer (Australia)
In the month of March 2016, two transformer explosions struck at Biyagama and Kotugoda CEB Grid sub-stations. Media reports state that the German specialists, after investigations revealed the explosion was in the diverter switch, which is the On Load Tap Changer (OLTC). The load throw off (LTO) of the capacity of this Biyagama transformer also cause stability issues and tripped the generators at the Lakvijaya (Norocholai, Puttalam) power plant. Capacity of the generators at Lakvijaya Power Station (LPS) is 3 x 300MW. Transformer at Biyagama is rated for 220/132/33kV. Media information state that feeder lines tripped after the transformer caught fire at Biyagama.
A report by Maheesha Mudugamuwa in the island state that the power station trip was caused by a lightning strike. http://www.island.lk/index.php?page_cat=article-details&page=article-details&code_title=141040.
This statement cannot be true. May be the first incident of trip. During the period when this disaster occurred at about 2.15 p.m. there was no lightning or rain. The environment too was normal.  Indeed, there was no rain at all in the region. Ref: http://lankaenews.com/news/1203/en
Another transformer explosion at Kotugoda caught fire similar to the explosion at the Biyagama Grid Sub-station. Both transformers are similar single phase auto-transformers. It could be a Type Fault" on these type of transformers. Type: Takaoka Autotransformer (1983) 132//33kV (secondary), 200/3, 250/3, 60/3 MVA, YNa0d1, ONAN/ONAF with 13 taps on both. There are three of this type one on each of the phase. Are these transformers made in Germany or Japan?
Possible cause: Diverter switch may have contained excessive amount of combustible gases.
The contacts of the tap changer may have been pitted causing generation of sparks while moving from one tap to the other.
Oil may have had exceeded levels of moisture.
Oil condition may have been as sludge, brown oil.
May be a Type Fault".
What about the Buchholz relay in the diverter switch. Did it operate to trip?
What about the Buchholz relay for the Transformer? Did it operate?
Analysis should be carried out on identifying what relays tripped.
Root cause of failure therefore, has to be generation of sparks in the diverter switch, subject to excessive level of combustible gases. Primary cause of failure is nothing other than, lack of condition monitoring, and maintenance practice. Speculating about sabotage in the media, is an irresponsible statement, and kind of pass the monkey in a way.
Tripping of feeders:
It was observed from photographs, smokes were released in high volumes, due to the explosion.
It is possible that the smoke clouds, if concentrated under the power lines could ionise and trip on earth fault. Reason being dielectric breakdown of the air as a result of Carbon soots/ionisation. This could be verified from the operated relays. If E/F relays has operated on lines then it should be investigated. (Take note, the air was dry and no rainfall at the time of line trip)
The author of this paper has experience on 132kV lines trip due to lack of wayleaves clearance, and bush fire.
[An example of an explosion of the 6.6 kV terminal box of a 20 MVA transformer.
The bolt holes of the lug is self-explanatory. The engineer who approved the connection had not thought of the risk of the connection. This was prior to me joining the 6 x 280 MW thermal station. The terminals were tightened without locknuts. When 6.6 kV, 900 HP Pulveriser SC motor was started, this explosion ripped open the terminal cover, cut the oil line and caught fire. Cause: The terminals have become loose, and the starting current of the motor caused the cables to move and initiate sparks, ionise the chamber, flashover, and explode (L-E, L-L, 3 phase short). Root cause of failure: Improper lug connection becoming loose with time.  The survey cycle was placed at 6 years for major and 3 years for minor. Transformer survived but had to replace the cables. Relays tripped: E/F, Diff, O/C. Author carried out the investigation and the committee accepted the analysis and conclusion.]
g. a 275 MVA transformer failed and caught fire as a result of partial discharges in the EHV bushings and was on fire for 3 days in New Zealand.
A 400 kV transformer on fire at ESKOM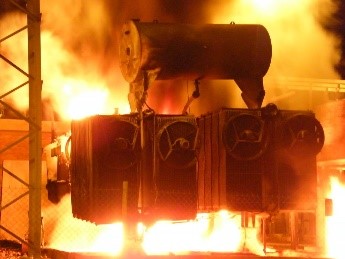 Chief Engineer of Biyagama Grid sub had already requested action sometimes back. Quote: The Chief Engineer, who was in charge of the transformer at the Biyagama Sub-Station, has reportedly informed the Ceylon Electricity Board (CEB) several times that it needed to be repaired, but no steps had been taken to heed his advice. It is also learnt that the government has decided to hold an inquiry into why the General Manager of the CEB had not taken any action regarding the transformer, though he was informed about the need to do so". Ref: http://lankalightnews.blogspot.com.au/2016/03/biyagama-ce-warned-ceb-often.html
It is beyond doubt that the transformers were beyond operable condition, and non-electrical people should refrain from making statements about the failures. The Chief Engineer is in a better position to give accounts of the failure and the pre-failure condition of the transformers.
This sought of act is not new to SriLanka: The boss is always right, and engineers and managers at every level are controlled by the politicians, who do not understand the difference between DC and AC. The Public Relations Officer, (PRO), if one available at the CEB, should release information on failure, subject to approval by the CEB management. The Chairman of CEB, Mr. Anura Wijepala, is a qualified competent electrical engineer, and it is sure that his hands may have been tight, controlled by the politicians and non-technical administrators.
There may be several transformers which may not have been condition monitored and maintained. Condition of the oil should be checked every 6 to 12 months. Colour and flashover voltage.
Diverter switch has to be checked and maintained regularly. Survey cycle should be fixed.
Contacts get pitted due to frequent operation. Pitted contacts have to be replaced.
Gas evolution such as Methane, Carbon Monoxide etc.
DGA analysis should be carried out yearly.
It is possible that the pitted contacts would have generated sparks in the diverter switch, and the contents of combustibe gases would have ignited, thus creating the explosion OR
Winding failure due to cellulose Degree of Polymerisation (DP) becoming too low.
However, as the German engineers have concluded that the failure was due to diverter switch failure, the author assumes that the diverter switch have become beyond operable condition. It is possible to check in the SCADA whether the OLTC operated at the time of the explosion. I.e. change taps.
Standards and Limits
IEC 60599:1999 stipulates the following values for sealed Instrument transformers.
| | | | | | | |
| --- | --- | --- | --- | --- | --- | --- |
| H2 | CO | CO2 | CH4 | C2H6 | C2H4 | C2H2 |
| 300 | 300 | 900 | 30 | 50 | 10 | 2 |
IEC 60599:1999 suggests the following causes for various levels of energy.
| | |
| --- | --- |
| Fault | Examples |
| Partial discharges | Incomplete impregnation results in discharges in cavities plus high humidity in paper, oil super saturation or cavitation. |
| Discharges of low energy | Sparking or arcing between bad connections, or shielding rings, adjacent disks or conductors of winding, broken brazing. |
| Discharges of high energy | Flashover, tracking or arcing of high energy or with power follow-through |
| Thermal fault  <300C | Overloading of transformers, restriction of oil flow |
| Thermal fault 300C< t <700C | Defective contacts between bolted connections, connections from cable and draw rod of bushings |
| Thermal fault > 700C | Large circulating currents in tank and core, Minor currents in tank walls created by high uncompensated magnetic field, shorting links in core laminations |
Determination of Breakdown Voltage
AS1767.2.11999 States the following method for determining the break down voltage:
Apply voltage to the electrodes and uniformly increase voltage from zero at the rate of 2.0 kV S-1 ±0.2 kV S-1 until breakdown occurs. The breakdown voltage is the maximum voltage reached at the time the circuit is opened either automatically or manually. Carry out six breakdowns on the same cell filling allowing a pause of at least 2 minutes after each breakdown before re-application of voltage. Check that no gas bubbles are present within the electrode gap"
A breakdown voltage of 30 kV (gap of 2.5mm, ±0.05mm) may be acceptable and normal value of Shell Diala M is >70kV.
Lakvijaya (Norocholai) Power Station
The power station has 3 x 300MW turbo-alternator units driven by steam turbine and fuelled by pulverised coal.
The generators should have been tested for 50%-100% Load Throw Off at the time of commissioning. Generally a resistor bank of 50 MW is installed at the step up station to be used for load throw checks. May be this was not tested.
Power System Stabiliser
Power systems stabiliser (PSS) is a control system that is installed with the AVR to improve stability of the generators. PSS is a supplementary excitation controller used to damp generator electro-mechanical oscillations in order to protect the shaft line and stabilise the grid.
The basic types of tests usually performed. Ref: http://www.geenergyconsulting.com/practice-area/global-power-projects/power-system-stabilizers
Step test in AVR reference (base load – without PSS).
2. Gain margin test to determine the PSS gain to be used.
3. Step test in AVR reference (base load – with PSS).
Optional additional testing for new design units or per customer requirements are:
AVR uncompensated transfer function.
2. PSS transfer function
Present day thermal units have digital AVR + PSS installed on large units to improve power systems stability.
About the author:
The author joined the then DGEU in December 1965 as a Foreman Apprentice, and on completion was posted to Inginiyagala power station as a shift officer. Resigned in Sept. 1967 and proceeded to UK to further studies, and returned with a job to work for Ceylon Cement at KKS, and rose to Works Engineer (Elect). Left SL in Feb 1977 and since then has worked on sub-transmission line construction and has over 30 years' experience in large turbogenerators, GT, CC plant, and heavy electrical equipment. Have worked in UK, Nigeria, Zimbabwe, NZ and Australia. Could reach on email: [email protected]. Retired after a position of Director/Specialist Power Systems Engineer with Power Engineering Solutions Pty Ltd. Currently a freelance journalist.