UNP MP Cyril Mathew Report to UNESCO: Proof Sinhalese were living in the North before Tamils
Posted on April 26th, 2016
Shenali D Waduge
In his capacity as President of the Congress of Buddhist Associations of State Corporations & President of the Foundation for the Restoration & Protection of Buddhist Shrines in Sri Lanka as well as being the Minister of Industries & Scientific Affairs under the UNP Government, Minister C Cyril Mathew sent an appeal to UNESCO to safeguard and preserve the cultural property in Sri Lanka endangered by racial prejudice, unlawful occupation or wilful destruction. It was sent on 20 July 1983. The Sinhala Buddhists owe gratitude to late Cyril Mathew for this report which clearly establishes that Sinhalese Buddhists were very much living in the North & East, Buddhist monasteries prevailed thousands of Buddhist stupas and architecture prevails and his report will reveal that if these remains are now missing the separatist elements among Tamils have purposely destroyed them and have built other structures on top of them in a cunning effort to nullify Sinhala Buddhist claims to North. However, these sites clearly invalidates any homeland claims by Tamils and should throw into the dustbin all notions being put forward that the North is the original homeland of the Tamils. Tamils have no historical right to claim a separate Tamil Homeland in the North.
 Sadly apart from Cyril Mathew we have yet to see present day politicians make an effort to nullify bogus notions that have been peddled over the years and accepted by the international public for lack of counter arguments. It is reports like these sent to proper authorities that can be used. We do not need political hysterics on stages anymore. We need the Sinhala Politicians to now stop their wailing which are only confined to the political stage for the next minute they are sipping tea with the very parties they had been shouting against.
 We also would like to see the historians, the academics who take salaries from the state come out to defend the nation by using their expert knowledge to refute and nullify the lies that are being used to establish a division of the country and a new constitution that would pave the way for a separate state. The ploy of asking for a little now and more later has worked well for the separatists for every year they have gained grounds riding on lies and well-funded campaigns while the Sinhalese leaders and parties that should come forward have kept silent.
 Looking at the photos taken in 1983 of the remains of ancient sites is sad that people have stooped so low to destroy ancient artefacts that present day engineers cannot even dream of constructing. These were built without any educational qualifications or PhDs. It should be made an indictable crime to destroy such and action must be taken against any religious party or organization that attempts to build their religious structures over these ancient remains as we see taking place even now.
 The report is also good for the Sinhalese amongst us who will be surprised to find evidence that Sinhalese Buddhists were in fact living in the North and would have been pushed southwards probably due to Tamil Nadu incursions and invasions and that was how Tamils have come to migrate and settle in Sri Lanka and why they were always known as Malabars until 1911 when they became referred to as Ceylon Tamils. This scenario also should make everyone worry that if ETCA is signed the arrival of Indians would leave the Sinhalese nowhere else to move to other than the sea (a prediction made by Srimath Anagarika Dharmapala)
 Prof. Kartigesu himself said that Tamil settlements in the North was established only after the middle of the 13th century.
 Selective picking of dates and time periods overlooking the fact that Sinhalese have more right to claim the North does not give any basis for TNA or its Chief Minister to make any demands whatsoever. The Sri Lankan Government and the International Community are doing injustice to the Sinhalese who built the nation by using lies to carve out or devolve powers with later intention to create a separate nation.
 Please note these are just a handful of examples to showcase that the Sinhalese were living in the North very much before Tamils arrived from South India. Sinhalese cannot colonize their own land!
 SINHALA BUDDHIST SETTLEMENTS IN NORTHERN PROVINCE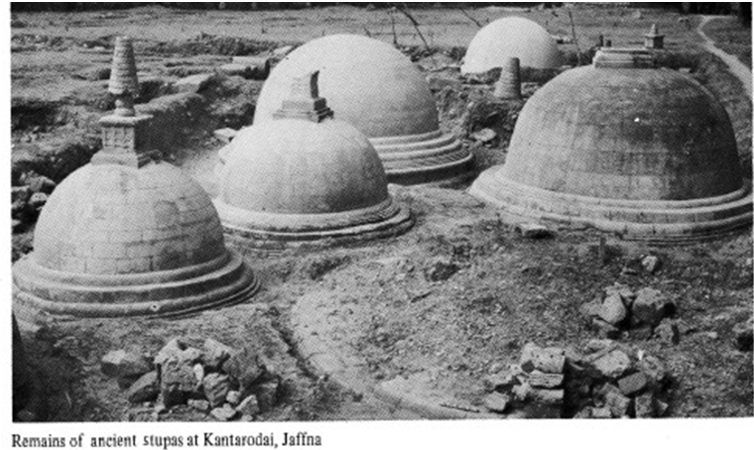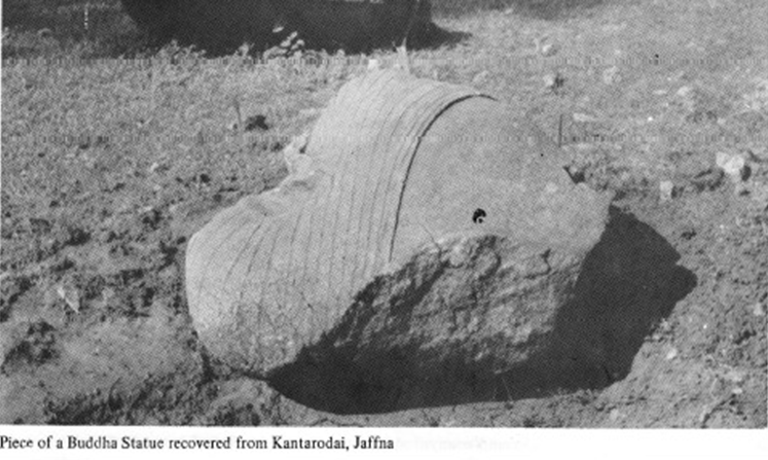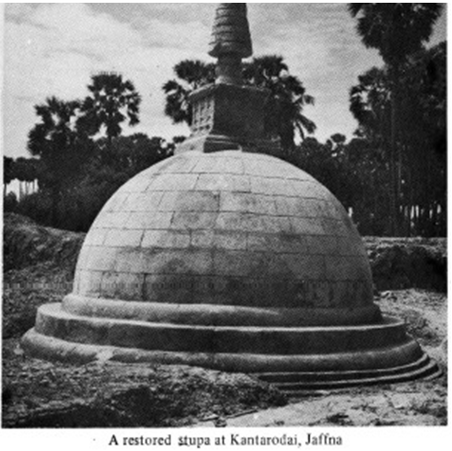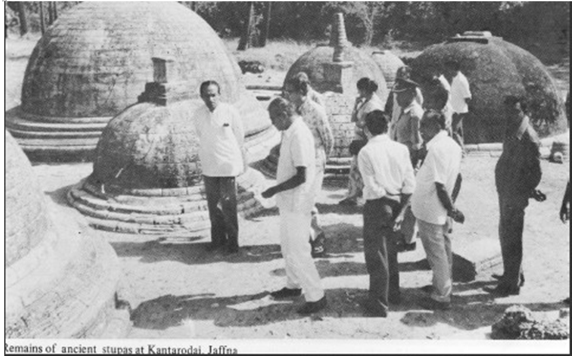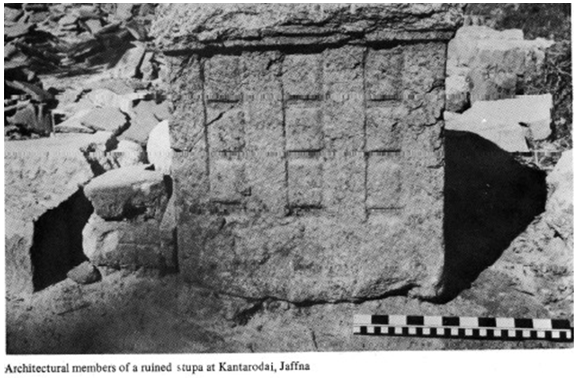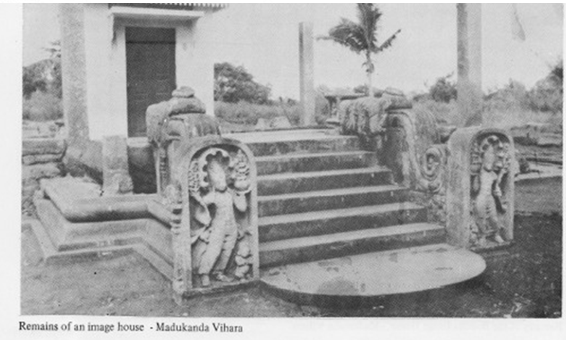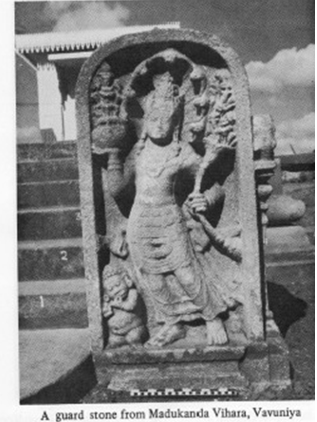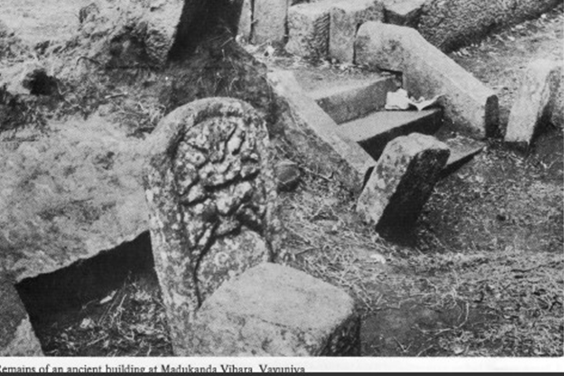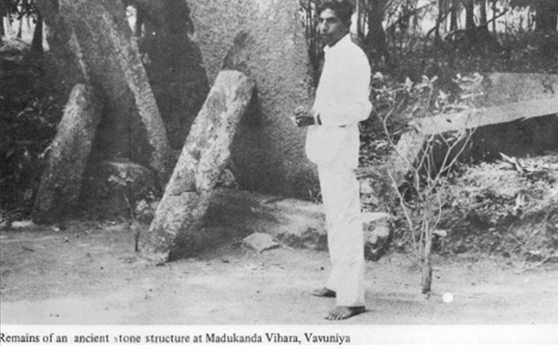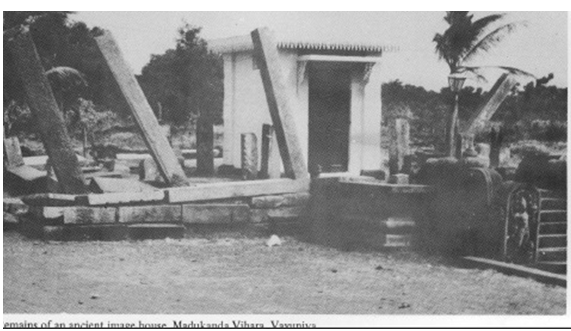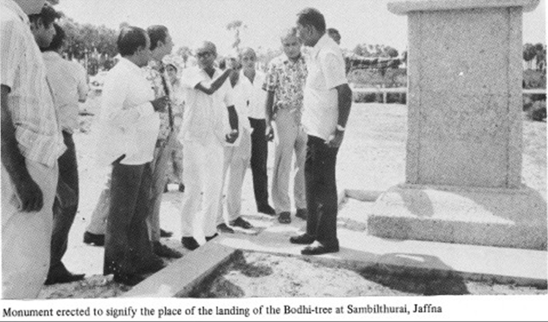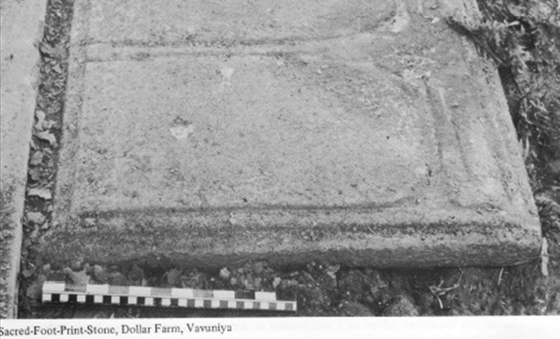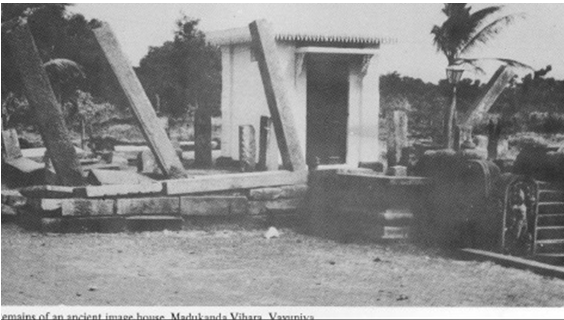 Kurundanmalai
·        Ancient site near Kurundankulama in Nedunkarni (District of Mullaitivu)
·        Remains of ancient stupas, ponds, monastic buildings, image houses and other architectural embellishments scattered in a large area on a hillock.
·        Kurundapasana vihara built by King Khallatanaga in 2nd century BC where Sinhalese commentary called 'Kurundi Atthakatha" was written.
·        The Kurundi vihara was 78 acres, covered 2 roods and 13 perches in extent.
·        It was declared an archaeological reservation by Gazette No. 7981 of 12th May 1933
·        The communal disturbances in August 1981, during state of emergency individuals had entere the archaeological reservation without permission & constructed a tiled roof on the remaining stone pillars of an ancient image house with the intent of converting it to a modern Hindu kovil. A section of the floor inside the image house was concreted and cemented and a trident planted.
·        The stone slab placed before the trident to light camphor was a sacred foot print stone of the Buddha.
·        Summit of the adjacent stupa mound had been levelled and cemented also to construct a Hindu kovil.
·        This constituted another violation of Buddhist sites in Sri Lanka's North that existed since 2nd century BC.
Samalankulam
·        Ancient site in village of Samalankulam in Vavuniya District containing remains of 2 stupa mounds and an image house belonging to Anuradhapura period.
·        Statue of Avalokitesvara Bodhisattva and a fragment of a Buddha Statue discovered during excavations and conservation of image house by Dept of Archaeology.
·        Excavations revealed constructions of 2 periods at the site.
·        However a modern Hindu kovil was being constructed at site.
·        Damage had been done to the site and archaeological work was done with much opposition.
·        Image house and stupa mounds have been conserved (don't know what the situation is after 1983)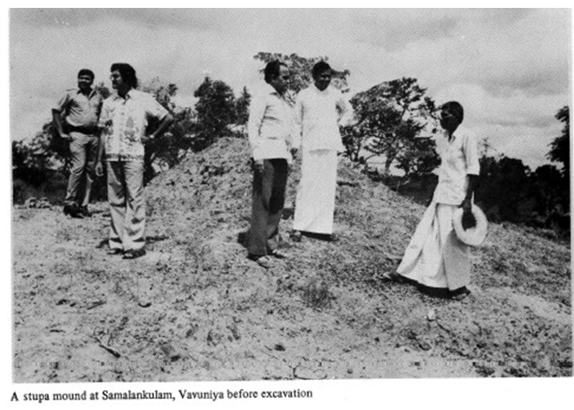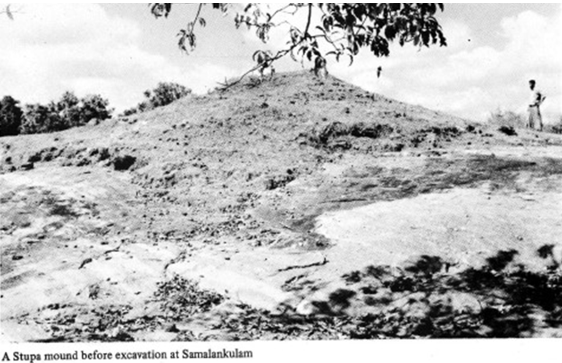 Nelukkulam
·        Stupa mound 30ft in height in Vavuniya was destroyed, levelled and cemented and trident put.
·        The stupa on a square platform belongs to Anuradhapura period – 3rd century BC-6th century AD
·        A few yards from the stupa are remains of a structure with standing stone pillars identified as monastic building of ancient Buddhist monks.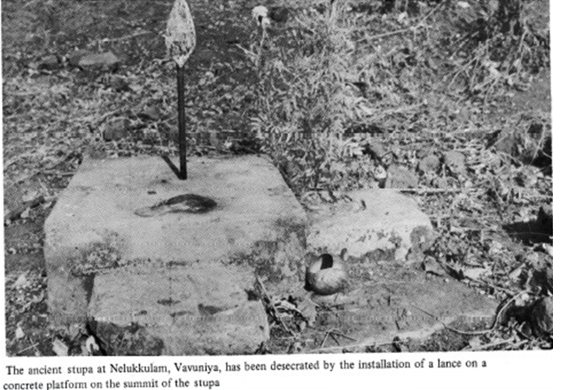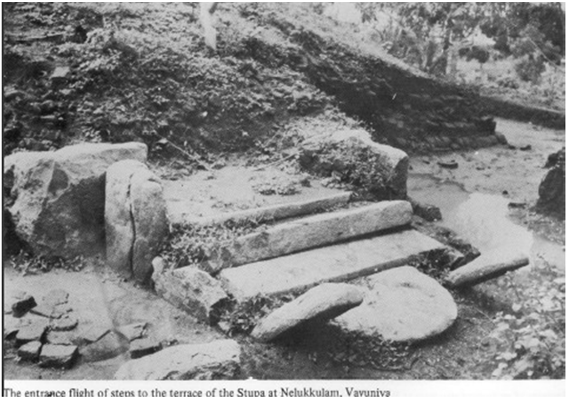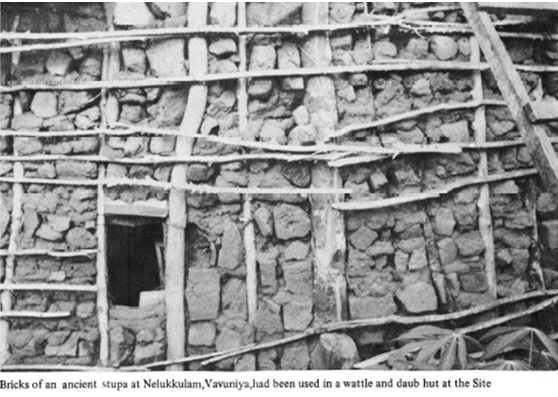 Nilaveri
·        Situated ¼ mile from Puttur in Jaffna district
·        Ancient well and foundations of an ancient structure next to an ancient Bodhi Tree
·        West of the Bodhi tree are pieces of sculpture, stone pillars and brickbats scattere.
·        Limestone Buddha statue recovered from site is exhibited in Jaffna archaeological museum (hope it is still there)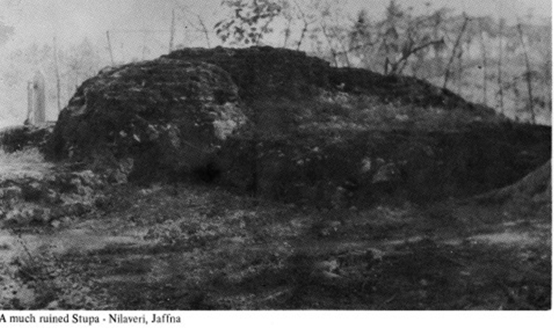 Nedunkerni     
·        Ancient Buddhist monastic site of Nedunkerni situate between 20-21 mile posts on road to Vavuniya from Mullaitivu. (a key LTTE strong-hold and where severe fighting between LTTE and SL Army took place)
·        Ruins of ancient stupa and extensive monastic establishment found at site
·        Ancient balustrades, guardstones scattered
·        4th century AD rock inscriptions at site registers donation to the monastery
·        Ruins belong to a period before the Anuradhapura period.
Mohantankulam     
·        Remains of several ancient stupa on site in Vavuniya
·        Entire area with ruins fenced and used as a cattle shed
·        A modern Hindu kovil constructed in front of site within the ancient vihara premises which still contains Bodhi tree and a foot print stone.
·        Sacred foot print stone indicates site was in active religious worship since beginning of the Christian era.
Tadikulam       
·        2 miles north towards Jaffna on Vavuniya-Jaffna road
·        Remains of ancient stupa, an image house, an inscription and other ruins has been turned into a private farm
·        Inscription belongs to 2nd century AD, recording a grant to an ancient monastery
·        Inscription has been removed to the residence of the GA Jaffna district (hope it is still there)
·        Remains belong to Anuradhapura period.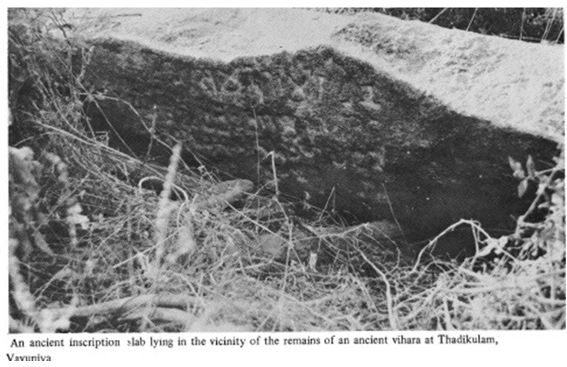 SINHALA BUDDHIST SETTLEMENTS IN EASTERN PROVINCE
The Sri Wardhana Bodhi Tree at Kiliveddi (Trincomalee District/Eastern Province)
·        Ancient Bo Tree near the ancient temple of Seruvila
·        Planted in 3rd century BC by King Devanampiyatissa.
·        According to Dhatuvamsa (Sinhalese text) of the 14th century the Bo Tree belonged to Mangala Maha Stupa of Seruvila erected by Kavantissa, father of King Dutugemunu as per wish of the Buddha.
·        However, the Sri Wardhana Bo Tree was actually planted before the erection of the Stupa by King Kavantissa in the 2nd century BC.
·        According to Bodhivamsa (Sinhalese text) which gives the history of the Great Bodhi Tree at Anuradhapura, the Sri Wardhana bo tree was one of the original saplings that grew out of the first five berries that appeared on the Bo Tree in Anuradhapura. This makes Sri Wardhana Bo Tree second to Great Bo Tree in Anuradhapura in terms of its sanctity and antiquity.
·        The Bo Tree was included as ancient monument under the Antiquities Ordinance No-9 of 1940 (Cap.188-Legislative Enactment of Ceylon)
·        On 4 Nov 1957 under the Village Committee Ordinance (Sec 40) the land on which the Sri Wardhana Bodhi Tree (Kiliveddi) of Seruvila stood was veste in Mallikativu Village Committee.
·        It was in 1970 on orders by a Federal Party (ITAK) MP that branches of this sacred Bo Tree was cut on the excuse to provide telephone line to the residence of Thangadorai, another ITAK MP. The Chief incumbent of the Seruvila Mangala Rajamaha Vihara & Chief High Priest of the Tamandaku East brought this to the attention of PM Sirimavo, GA Trincomalee, Commissioner of Archaeology but nothing was done.
·        The ACBC made a complaint to the Minister of Posts & Telecommunications Mr. Kumarasuriyar against the ITAK MP for Muttur Mr Thangadorai who got the workmen from the Telecommunications Dept to cut the branches. The Minister wrote to the ACBC on 23 Jan 1971 expressing his deep regret.
·        In 1971 M H Sirisom the Assistant Commissioner of Archaeology went with Hon. Min of Cultural Affairs to inspect site and reported there was no wall around the land on which the Bo Tree stood and that work was under way to erect a Kovil in the adjacent land.
·        Minister of Justice Dr. Nissanka Wijeratne visited the Kiliveddi Bo Tree in Seruvila with S S Kulatillaka Minister of Cultural Affairs and reported that he sensed a plan to destroy the Bo Tree by non-Buddhist vandals and that instructions were given to officers of the Archaeological Dept to guard the place.
·        The Government Agent of Trincomalee Mr. Eric J de Silva reported to the Superintended of Police, Trincomalee Mr Y D Senerat that he was notified of branches of the Bodhi Tree been cut on 2 August 1976 and the plan was to cut more branches with the intention to totally destroy it. A tense situation was arising among Sinhala Buddhists in the area.
·        The GA Mr. Eric de Silva had been told by Mr. Thangadorai over the telephone that 'if the Bodhi Tree stoon on the land of the Kovil what they do with it is the responsibility of the people to whom the Kovil belongs". 2 days later when the GA visited the site, there was only a 10ft stump of the sacred Bodhi Tree which had been venerated by Buddhists for thousands of years.
·        Given the explosive nature of the situation, the chief incumbent of the Seruvila Mangala Rajamaha Vihara lodged a complaint to the Headquarters Inspector of Muttur Police Mr. B M S B Basnayake. The Muttur Police filed action on 12 August 1976 charging not against the destruction of a place of worship but a land dispute. The case was put off due to the Non-Aligned Conference being held. The case was retaken on 1 April 1977 but the case was dismissed.
·        The GA visiting the Bodhi Tree site on 4 April 1977 found that even the main trunk had been destroyed. What is noteworthy is that while the case was filed and after its dismissal the entire Bo Tree had been eradicated.
·        The age venerable nayake thera of Seruvila struck with grief sent letters to the President, the PM, Minister of Cultural Affairs, IGP, GA, Commissioner of Archaeology and the Head Quarters Inspector of Muttur.
·        After change of government in July 1977, it emerged that an unlawful construction of a new Hindu Kovil had commence on the site where the historic Bodhi Tree stood (there were now 2 Hindu kovils). All evidence of the existence of the Bodhi Tree had been obliterated.
·        The premises of the Bodhi Tree containing ruins of stone pillars that came under the Village Committee of Mallikativu in 1957 had violated the statutory provision honoured since 1815.
·        Between 1970-77 a calculate scheme was executed to destroy the Bodhi Tree, obliterate the ruins of the Bodhighara and reduce the shrine to bare land. The Sirimavo Govt took no steps to safeguard it and failed to uphold the constitution which undertook to 'safeguard and protect Buddhism'.
·        A memorandum was submitted the President by the Seruvila Sacred City Development Society on 27 June 1979. A Presidential Order was given that the land on which the Sri Wardhana Kilivedda Bodhi Tree stood was to be taken over by the Dept of Archaeology on 29 Nov 1979 as an archaeological reserve.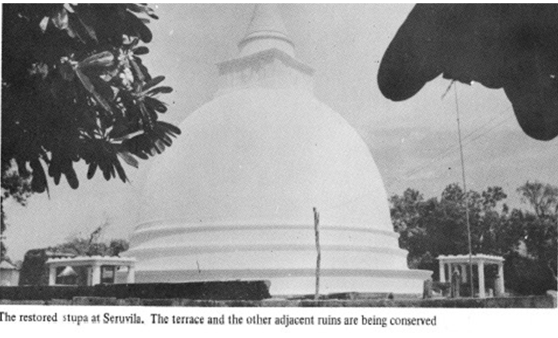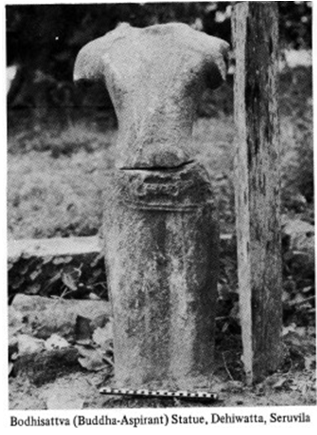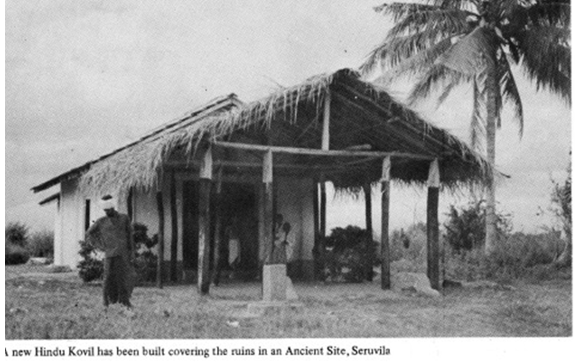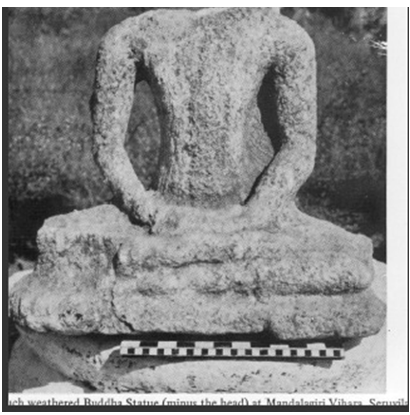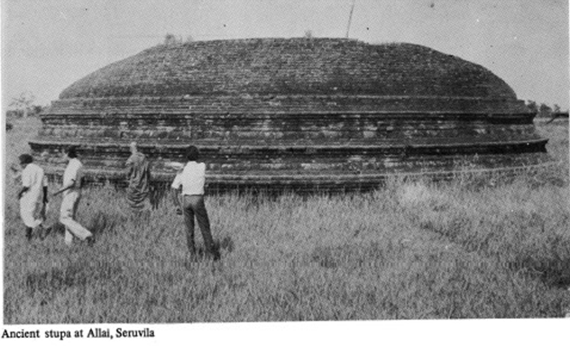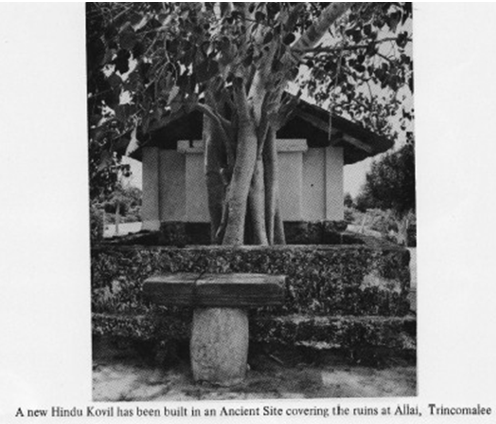 Kucceveli rock inscriptions
·        Small fishing village in Kaddukulam East, 21 miles to the North of Trincomalee
·        Dr. E Muller in his 'Ancient Inscriptions of Ceylon' writes this is a solitary rock close to the sea which bears a fragment of an inscription in the characters of the 7th century. The country is now inhabited almost exclusively by Tamils, but at that time it must have been Sinhalese as we can see not only from this inscription but also from the remains of a Buddhist temple found at Nattana Kovil about 3 miles west of Nilaveli (8 miles from Trincomalee) and close to the bund of Periyankulam tank".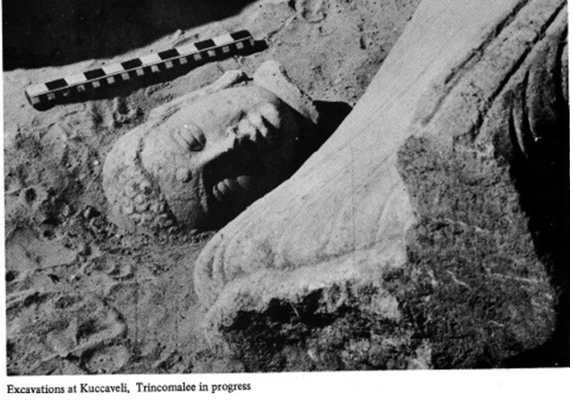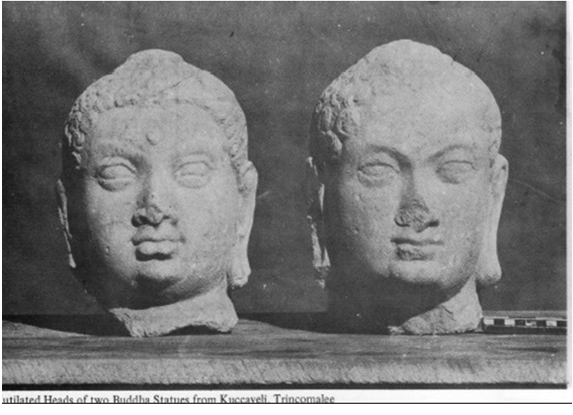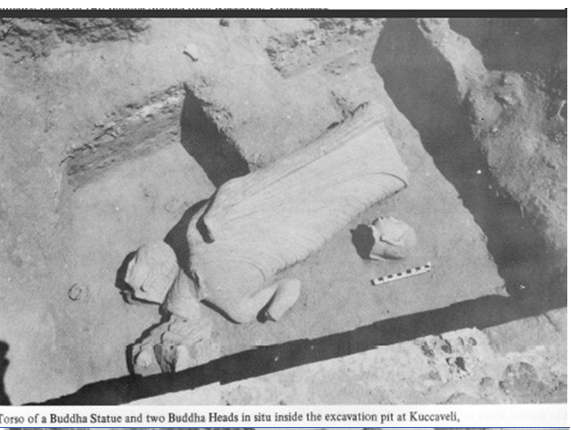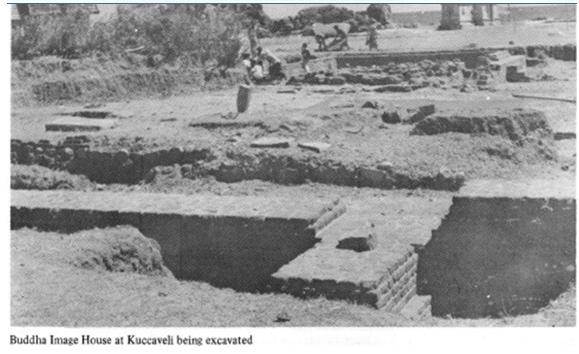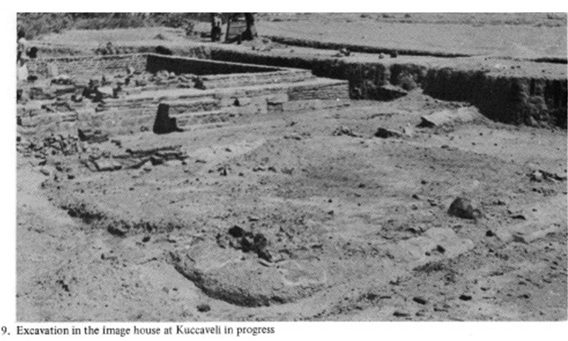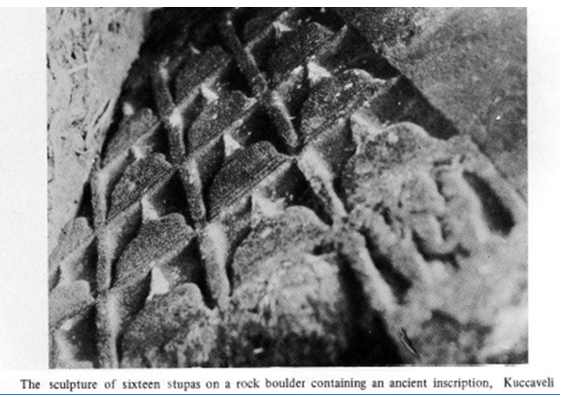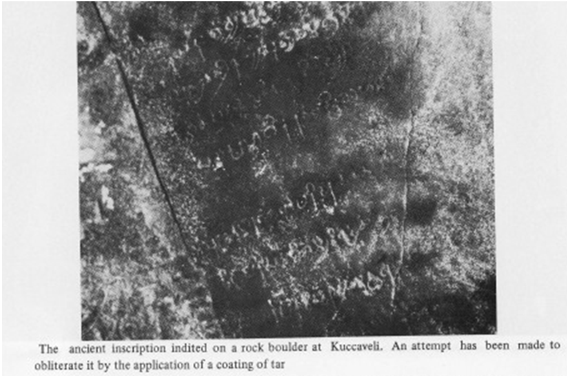 Sembimalai
·        Situated a few miles from Kuccaveli contains remains of extensive Buddhist monastic establishment dating to early Anuradhapura period.
·        Remains of large stupa mounds, sacred foot-print-stones, monastic buildings and Buddha images can be seen at site.
·        A large Buddha statue 8ft in height was seen in the beginning of Oct 1978 when the GA Trincomalee visited. It was missing when the District Revenue Officer of the area went to visit the site on 25th Oct 1978.
·        Indications revealed the statue had been dragged down the precipice prior to removal
·        The statue was subsequently recovered by Archaeological Officers 6miles away from Sembimalai near a modern Hindu kovil.
·        Excavation at the site exposed remains of 2 early stupas which are being conserved by the Archaeology Dept.
·        The ancient foundation of the vihara extends beyond the new Hindu kovil.
·        A 1st century AD rock inscription discovered at site gives the name vihara.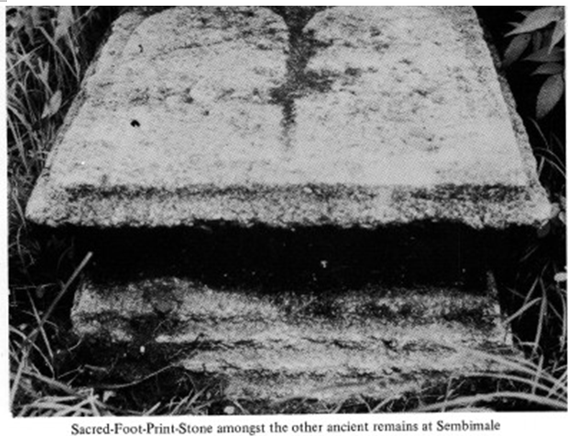 Vilankulam
·        Ancient monastery near Vilankulam tank bund on Trincomalee Kantalai Rd in district of Trincomalee
·        Site contains a stupa mound dated to Anuradhapura period.
·        Entire site is replete with ancient brick-bats and other ruins dated to 3rd century BC-6th century AD.
·        Site had been occupied by non-Sinhalese and occupants had converted site to a farm and a well had been dug cutting through the stupa to provide water.
·        Land containing the ruins are 10 acres and declared an archaeological reservation.
Pulukunawa
·        Pulukunawa is situated in the village of Pulukunawa in Eruvil Porathivu and Manmunai AGA's division in the district of Batticoloa.
·        Pulukunawa archaeological reserve is a large forested hill with large numbers of dripledged caves. These caves have inscriptions which record the donation of the caves of Buddhist monks.
·        The flat area below the hill are remains of ancient structures.
·        A Dagoba dug into by treasure hunters, pillared structures and a dried pond
·        A prakara (ancient boundary wall) also seen
·        Inscriptional evidence proves the site is pre-christian era. Other ruins dates to 6th, 7th, and 8th century AD
·        Site inspected on 15th Jan 1982 by Asst Commissioner of Archaeology – ruins on the hillock had been disturbed by unauthorized chena cultivation.
·        Stone pillars have been removed while attempts made to remove other pillars and spur stone.
Rahatgala / Santimalai
·        Site situated about 8miles beyond Pulunkunawa towards Batticoloa jungle.
·        25 acres remains of ancient buildings visible and
·        3 new Hindu kovils erected on top of 3 ancient image houses
·        The rocky area beyond pond can be seen 3 double-platform buildings and remains of several ancient structures belonging to 7th, 8th centuries AD.
Kanchikudichchiaru site
·        Proposed archaeological site in Tirukovil AGA's division in Amparai District
·        Site can be approached from Kanchankudi junction on Akkaraipattu Pottuvil road.
·        Site surveyed in 1974 and to be declared archaeological reserve and delay in handing over to Archaeological Dept because relevant files have gone missing from the Ampara Kachcheri.
·        Remains of 2 hillocks on either side of tank bund with ancient stupa mound 20ft in height.
·        A new Hindu kovil being constructed in area
·        11 excavated caves contain pre-christian Brahmi inscription recording gift of the cave and tank to Buddhist monks which means a forest monastery existed at the site.
Ettama-Pottuvil
·        Remains of a Buddhist vihara and a stupa
·        At present a modern Hindu kovil is found at site.
·        Bricks of stupa used to construct huts
·        Site has a beautiful footprint of Buddha carved on a rock boulder.
·        Number of ancient buildings at site denotes Buddhist monastic establishment.
Sangamankanda
·        3 miles from Pottuvil-Akkaraipattu main road is Sangamankanda are remains of a few ancient stupas and monastic buildings.
·        These ruins are remains of an early monastic establishment belonging to early Anuradhapura period.
·        Non-Buddhists occupying area pose a threat to existing ruins at site.
Kottadicolai
·        New hindu kovil called Tanton-isvara kovil in district of Batticaloa constructed over ruins of an ancient Buddhist vihara
·        Remains of the site are a Yupa stone of a stupa, ancient brickbats, stone pillars, stone seats and stupa mound
·        Yupa stone (stone pillar of the stupa) indicates stupa belongs to earliest phase of stupa construction in Sri Lanka.
Nelugala
·        Situated in Batticoloa district
·        Vast ancient monastic complex containing remains of several stupa mounds and image houses.
·        Ancient caves with dripledges which were monastic cells of Buddhist monks and natural water holes on the extensive rocky area bespeaks the antiquity of the place going back to the time Buddhism was introduced to Sri Lanka in the 3rd century BC.
·        Buddha statues and other objects of antiquity and religious worship are missing from site.
·        Inscription of 2nd century AD at site records grants to the monastery. (hope these also are available
Taravakulam
·        Ancient site situated on road to Vadamunai through Vakaneri in Batticoloa district
·        Stone pillars and remains of ancient buildings visible at site
·        Existing remains evidence of extensive monastery belonging to Anuradhapura period
Kavudagala
·        Situated in the vicinity of the tank called Omandiamadukulam on Trincomalee road from Valaichchenai in district of Batticoloa.
·        The stupa mound on one of the hillocks has been dug by treasure hunters
·        Site is replete with guard stones, stone pillars and other remains of ancient monastic buildings
·        Plain guard stones and moonstone at site has been removed and is now used as an alter stone at a modern Hindu kovil. Removal has caused guardstone and few steps to be broken and damaged.
·        Bricks of ancient stupa used for the construction of a modern house too.
Kirimetiaru
·        Situated 3 miles from Pottuvil in Amparai district.
·        Site contains a stupa mound used as a large cattle shed
·        By the side of the stupa mound are few stone pillars and ruins which extend to adjoining lands.
Samudragiri    
·        9 miles from Seruvila
·        Ancient sea-port called Lankapatuna are remains of an ancient stupa and image house.
·        A modern hindu kovil is being constructed at site
·        Place was sanctified by landing of Prince Kalinga who brought the sacred Tooth-Relic of Buddha to Sri Lanka in 3rd century AD.
·        Ancient port and port city at the place.
Sunethravewa
·        Situated in Kantalai in district of Trincomalee
·        Modern Hindu kovil constructed covering the Buddhist monuments at site
·        Architectural members of ancient Buddhist monuments scattered all over the place and have been used in the construction of the new kovil building
·        Moonstone slabs, lotus pedestal stones and other antiquities found in abundance at site.
Gokarnna Vihara
·        Ancient district of Gokarnna (Pali form is Gokanna mentioned in Chronicles of Mahavamsa and Culavamsa) and medieval inscriptions lies in area of Fort Fredrick
·        Several pre-christian Brahmi (ancient Sinhala) inscriptions and about 150 ancient sites with visible Buddhist remains discovered in the area is evidence that Sinhalese Buddhist settlements prevailed in Trincomalee at least since 2nd century BC if not from 5th century BC.
·        Sanskrit inscription written in Grantha characters of 13th century discovered within Fort Fredrick gives name of site as Gokarnna which is the ancient name of modern Trincomalee
·        The writings of Portuguese historian De Queroz mentions of Francis Xavier trying to convert a Buddhist monk who was chief incumbent of the Vihara built by King Mahasena. This proves that a Buddhist monastery existed continuously upto the 17th century till it was destroyed by the Portuguese to build the Fort at Trincomalee.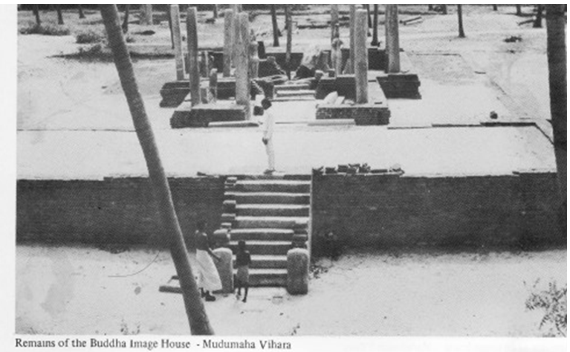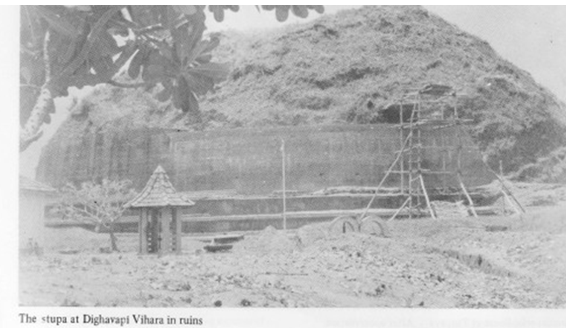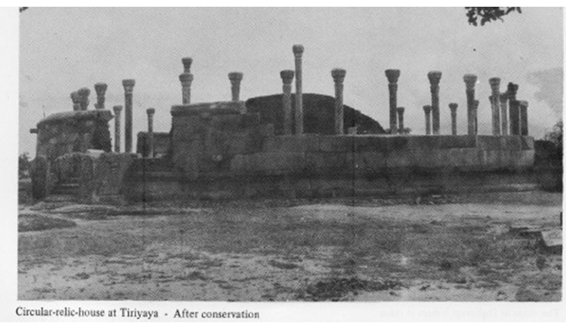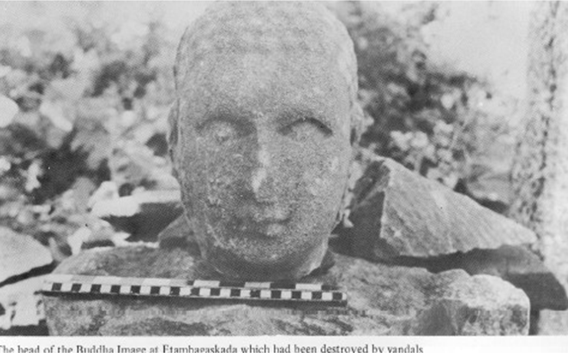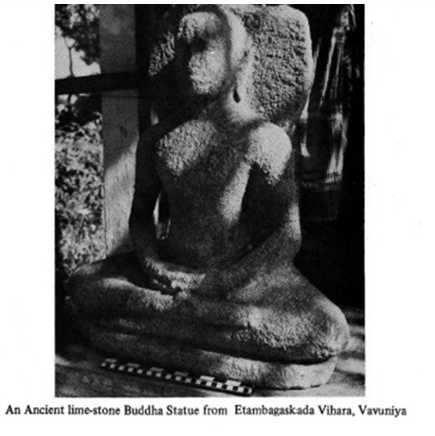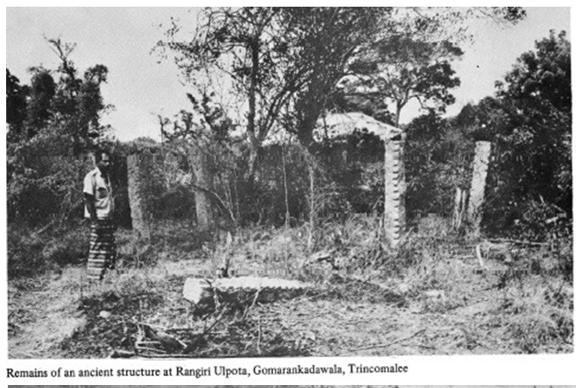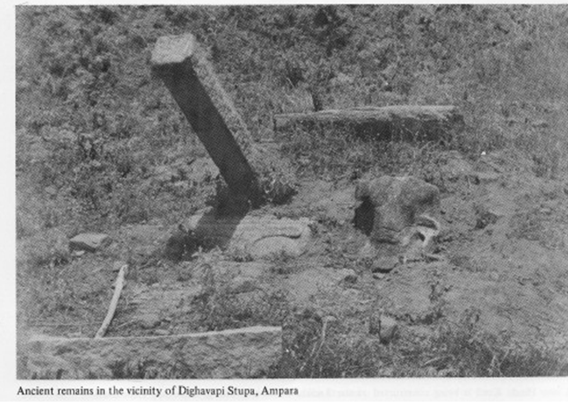 Shenali D Waduge
http://www.jaffnahistory.com/Cyril.pdf Late UNP MP Cyril Mathew's report to UNESCO