ACTIONS SPEAK LOUDER THAN WORDS.
Posted on June 25th, 2016
By Dr. Tilak S. Fernando
The internal conflict that lasted nearly three decades has disrupted the harmony and camaraderie that existed among the three major communities in Sri Lanka for many centuries.  Yet, even after seven years of obliterating the terrorist menace, the burning issue remains whether the authorities have been able to successfully bring the issue to a complete halt by repairing the impairment caused during the troubled period and reversing the distrust, conflicts and injustices that existed or imagined to have existed in the past, which are still festering inside the hearts and minds of some sections of the society.
The recipe for mutual understanding and to evoke better relations among the communities would not necessarily depend on providing material comforts or by 'building better-carpeted roads'.  The outcome of any reconciliation in the future would depend on peaceful and just relations with the sole aim of working towards eradicating bad feelings, mutual suspicions and tribulations that were created in the past by conflicts and injustices.
Appeasement
Reconciliation and social harmony is an arduous process that needs a genuine commitment and unselfish attitudes to reconstitute the mindset of the affected sections of the community. In this respect the incumbent President Maithripala Sirisena appears to be making every effort with his policy of  'Yahapalanaya' (good governance) of promoting peace and national reconciliation. Among other contributors to this national effort are several civil society groups that are sincerely committed to work towards this end, and one of which is The Association for Social Development (ASD), a voluntary non-profit organisation registered in Sri Lanka in 1995 comprising mostly of retired public servants, bankers, international civil servants and other professionals solely working on a voluntary basis for the social welfare of the vulnerable sections of the society.
These retired professionals, who received a free education and held responsible positions in the society, are beholden to their motherland for affording them such opportunities to enhance their lives, consider it as a bounden duty to pay back in the form of displaying their gratitude to the country. This noble sentiment has encouraged them to be more prominent by devoting their time and experience voluntarily and completely free of charge and by spending every cent out of their pockets, inclusive of transport, food and lodging, when they travel to distant destinations in the North, North Central and the East during project implementation processes.
The main objectives of the ASD are to work towards establishing Peace and Reconciliation in Sri Lanka amongst communities; empowerment of women and concentrating on unemployed youth by way of skill development programmes and education; upliftment of living standards of differently abled personnel; research studies on economic and social factors affecting welfare and development of people as much as protecting the environment particularly in conflict affected areas.
With this as a backdrop, ASD commenced a programme for school children at GCE 'O' and 'A' levels of education, using sports as a magnet to bring everyone together with the sole idea of promoting a healthier and improved understanding amongst students of Sinhala, Tamil and Muslim communities in Vauniya. This was done after perceiving how the three communities experienced difficulties of intermingling, inability to grasp each other's grievances and aspirations covering cultural and moral values due to the prolonged internal conflict the country faced over thirty years.
ASD has also been able to prepare the ground for this by holding issue related peace and reconciliation seminars with the participation of experts on the subject along with the help of two Northern and Eastern Province Governors. Since 2014 ASD is on record trying to achieve its objectives by conducting three such discussions in Colombo and two projects in the district of Vauniya.
Current Projections
ASD is currently exploring the possibility of developing a project to identify foci of the youth and to train them to divert their energies towards peace promotion and reconciliation.  The basic objective of this proposed project is to select a group of youths representing the three communities and mould them with leadership qualities and use them to serve as 'changing agents' or as catalysts to promote and expand the process. This is to be implemented with the Voluntary Association of the National Youth Services Council, particularly the provincial councils of the Anuradhapura and Vavuniya.
With this as a springboard, a team of ASD comprising Messrs. Edmond Jayasinghe (Chairman), Rear Admiral (retd) Lakshman Obeysinghe, Dr. Theekshana Suraweera, Jayantha Dolawatte, Maurice Jegarajasinham, with the participation of the writer, visited Anuradhapura and Vauniya Districts and spent three days (15-16 and 17th of May 2016) to discuss various aspects in setting up of a project to compliment the efforts of the Government to establish Peace and Reconciliation, in line with government laid down regulations.
Several fruitful meetings took place at the Divisional Secretariats with the Additional District Secretary, Anuradhapura (in the absence of the District Secretary who was busy on flood disaster matters), secretarial staff and the members of the National Youth Council in Anuradhapura as well as the Additional District Secretary of Vavuniya (again in the absence of the District Secretary who was involved in flood disaster matters), staff members of the Vauniya Secretariat and National Youth Council Members of the Vauniya District.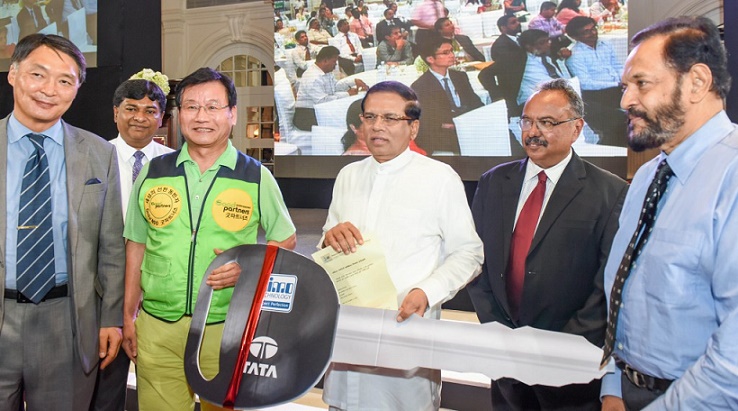 Productive and innovative suggestions were put forward during these cordial discussions from all sides which encouraged the ASD to finally contemplate on an Exchange of Youth Programme for one year to be set up initially incorporating workshops covering areas such as sports, language (language appears to be the biggest obstacle and the hurdle that needs to clear in such a prime objective), IT along with telephone usage etc.
It was suggested to commence the programme initially with 50 youths from each district – Anuradhapura and Vauniya – and expand up to 500 in number, the reason being the racial percentages among Sinhala, Tamil and Muslim communities are contrariwise.  The ASD's aim would be to instill leadership qualities during workshops and to appoint a leader in each group. Subsequently each leader to take an interest, encourage and to absorb new entrants to the future projects whereby at the end of the day the entire community to be saturated and made to think alike without any reservations or conflicting attitudes and to recognise Sri Lanka as one Nation. Having agreed upon the blue print of the project, ASD will be working on the modalities and finances such as how to raise funds etc., to implement this major project in the near future in conjunction and cooperation of the Provincial Offices of the National Youth Service Council.
Social Services
ASD has been able to undertake and executive Project Hope in Padavi Sripura, in Trincomalee District, which is one of the worst affected areas by CKD (Chronic Kidney Disease) regarded as the worst health and environmental hazard since the malaria episode in the last century, in a holistic manner with the generous assistance of the Korean NGO Good Partners introduced to ASD by the Head of KOICA, which is the Development Assistance Agency of the Korean Government.
The philanthropy of Good Partners of Korea (GPK), a global non-governmental organization registered in Sri Lanka, has been an immense help to the ASD over the past three years in ASD's attempts to help families affected by the CKD. By donating 18 domestic Reverse Osmosis (RO) systems and installing 5 industrial RO water filtering systems in nursery and public schools, hospitals, temples and community centers to provide safe drinking water at a cost of over Rs.10 million.
Hundred and twenty one scholarships each costing Rs. 15,000.00 annually have been awarded to students of CKD-affected families; extra tuition classes set up to assist students preparing for the GCE 'O' level examinations. The total annual expenditure of these activities is estimated to be around Rs.1.8 million. A computer and language training centre to accommodate 50 students per session too has been established to train the youth for employment.
Transport has been identified as a major difficulty faced by CKD patients in Padavi Sripura in travelling to distant hospitals for treatment. Taking this human factor into consideration the ASD has donated a brand new TATA bus, which could accommodate 54 (seater) passengers at a cost of Rs.5 million. The keys of this bus were symbolically handed over to President Maithripala Sirisena at a ceremony and the bus is presently managed by the Pradeshiya Saba of Padavi Sripura.
An essay and art competition, with a prize awarding ceremony, aided the ASD to assess the amount of knowledge on CKD among students. 25,000 tree planting project has also been launched to enrich the environment and cleanse the contaminated soil and water. Shoes and socks worth Rs.107,000 have been distributed among the scholarship beneficiaries and 24 defective water filters in the area have been repaired at a cost of Rs.547,535.00.
ASD has also been able to fulfill their social commitments by establishing a fully pledged computer centre at the Commando Regiment of the Sri Lanka Army at Ganemulla to train disabled soldiers to become computer literate. So far approx. 600 soldiers have completed the Certificate Course and are contributing their services to the Armed Forces. In addition 100 scholarships at a cost of Rs12,000 per annum to each child have been awarded to the children of the severely disabled and deceased soldiers of the Commando Unit at Ganemulla
The ASD has refurbished the library at Kegalu Vidyalaya, Kegalle and donated three computers to the school. A workshop concentrated on setting up of Small Business Ventures in collaboration with the Small Business Promotion Unit of the Ministry of Youth Affairs for those unsuccessful students at the GCE 'O' Level examination or those youths who were disinterested in vocational training plus the formulation of a project involving youth at Ihalakotte, Mahakehelwala and Walagoda villages of Mawanella Pradeshiya Sabha on Eco Tourism go to show to what extent and how far sighted ASD policies are.
Revised Schemes
In the ASD 'Revised Student Sponsorship Scheme' a decision has been taken to award Rs.6000.00 per annum to Grade 1- 4 students; Rs.9000.00 to Grade 5-8 students and Rs.12,000 per annum to Grade 9-13 students. This replaces their previous scheme of awarding Rs.15,000 annually across the board to all students without taking into consideration the school grades. The additional classes for the students sitting for the public examinations will continue under the revised scheme. In addition, once and for all schooling allowance for the students entering universities from Padavi Sripura schools too will be implemented.
The voluntary work undertaken and executed ethically by the ASD, to serve fellow human beings towards poverty alleviation, social justice and to bring about relief, particularly to the disadvantaged members of the society, appears to be a magnanimous and an altruistic service, which can only be interpreted as 'Actions speak louder than words.'
Anyone wishing to know more about the ASD activities and help the organization in its future activities could visit their official web portal on: www.asocdev.com