Name one word in Buddhist religious texts that spreads violence! Response to Bruno Marshall Shirley
Posted on July 8th, 2016
Shenali D Waduge
Bruno Marshall Shirley writing for the International Policy Digest on 'Buddhist-Muslim violence in South and South-East Asia: The Local becomes regional, or a clash of civilizations' and released by the UN has made some glaringly inaccurate statements which need to be corrected. Before Islam, Buddhism was the religion of almost the whole of Asia – From Bactria, Parthia, Afghanistan, Gandhar, Chinese Turkestan, Tibet, and Inner Mongolia, Malaysia. Islam destroyed and eliminated Buddhism from almost all these countries. Today, there are only 5 majority Buddhist nations desperately fighting to preserve their national history and heritage while inundated incursions by well-funded campaigns are taking place to usurp and expunge that history. The clash of civilizations is between Christianity & Islam and no other.
Shirley refers to the release of a UN report on the usual 'serious' human rights violations against Rohingya Muslims in Myanmar at the hands of the Buddhist majority' – Shirley conveniently omits to say that there is no record of Rohingyas in any colonial British occupied Myanmar census at any point of time. Rohingyas is not even an ethnic name, Dr. Francis Buchanan, a Scottish geographer working for the British East India Company described in 1801 that 'Rooingas'/ 'Rossawns' as Kala or Foreigners/Aliens who were NOT real natives of Arakan and who were not Arakanese. The kingdom of Arakan bordered present day Bangladesh and Burma. Arakan was always under the administration of British-Burma, although Burma too was under the umbrella of the British Indian Empire until 1937. Attempts had been made to Islamize Arakan (obviously another British divide and rule strategy) using Bengali Muslim settlers (who DID NOT call themselves Rohingyas!) The name Rohingya was invented as a political ploy by Bengali Muslim leader Abdul Gafar. The British colonized Rakhine State in 1826, at the end of the First Anglo-Burmese War. In 1869 the British brought large numbers of Bengali Muslims from Chittagong into the Rakhine region as agricultural workers. Censuses taken under the British colonial system, show no records of a people called "Rohingya". Rakhine communities and Bengali communities live on either side of the border but the Bengali groups living in Myanmar are being called 'Rohingya', and not the Bengali groups in Bangladesh. This is one reason why the Rakhine people will not accept the term Rohingya. Rohingya propaganda is nothing but a political slogan. http://www.sriexpress.com/articles/item/797-existential-fears-of-buddhists-in-embattled-burma-and-buddhist-nations.html
Another question that Shirley may like to answer if she can is why are Rohingyas carrying out an armed struggle, where do these arms come from, who is training them? Why are these Islamic incursions in other areas of Myanmar when the Rohingyas are supposed to be claiming only an 'area'? In 2002 Asia Times reported that Rohingyas were being trained by Jamaat-e-Islami in Bangladesh and Pakistan, Gulbuddin Hekmatyar's Hizb-e-Islami in Afghanistan, Hizb-ul-Mujahideen (HM) in Jammu and Kashmir, and Angkatan Belia Islam sa-Malaysia (ABIM) – the Islamic Youth Organization of Malaysia. Afghan instructors have been seen in some of the RSO camps along the Bangladesh-Burma border, while nearly 100 RSO rebels were reported to have undergone training in the Afghan province of Khost with Hizb-e-Islami Mujahideen.  According to intelligence sources, Rohingya recruits were paid 30,000 Bangladeshi taka (US$525) on joining and then 10,000 taka per month. The families of recruits killed in action were offered 100,000 taka.
Next Shirley makes reference to 'deadly' Aluthgama and Dharga Town riots. Shirley is portraying only one side and anyone reading the version that was blacked out of media would realize that actions result in reactions. http://www.onlanka.com/news/sinhala-muslim-riots-sri-lankan-local-media-blackout-on-version-of-ayagama-samitha-thero.html
Shirley makes reference to the Clash of Civilizations making a poor attempt to place a Dharmic compassionate religion against Abrahamic religions that have historically waged religious wars and used the sword to extend their empires. We challenge Shirley to produce one word in all the Buddhist texts that promotes violence or instils violence. It is the Christians and Islam that have been at each other's throats through history and it is the Buddhists that have become prey. Let us help Shirley come out of his amnesia and remind him about the brutal manner Islam and Christianity have preyed upon Buddhists.
The verses of hate in Quran http://worldmediamonitoring.com/list-quran-hate-quotes/ (there are 164 jihad verses) http://www.answering-islam.org/Quran/Themes/jihad_passages.html – it is not the context in which they are used, the fact that hate words are inside religious texts is what needs to be highlighted. Similarly the Bible has been quoted throughout history to attack and kill non-believers as seen from the Christian/Catholic colonial policies ordered by the Church. The Crusades, the horrific Inquisitions that continue still in the form of the UNHRC, the calls to Islamize nations are all testimony to this. The world's oldest Buddhist university of Nalanda was turned to cinders by Islamic warriors and even Buddhist monks were slain. https://www.youtube.com/watch?v=13dv1REq09o
In comparison there is not a single word in Buddhist texts that say to kill in the name of Buddhism. It is only the Buddhist teachings that promotes equality to all sentient beings including animals.
Have the Buddhists destroyed a single non-Buddhist religious site as Muslims & Christians have done in the name of their religion?
Buddhists disappeared from India under the sword of Islam – 50million Buddhists and Hindus were massacred by Islamists.
Are the Buddhists not justified to fear that their great pagodas like Great Shwe Dagon Pagoda will end up like Boro Buddha or the fate that fell the Bamiyan Buddhas which had been repeatedly attacked through centuries? It just takes a few maniacs with guns or suicide kits to walk into a sacred place of worship and completely wipe out thousands of years of history and what good is an apology thereafter? The job has been done and mission is complete! For what reason or on whose instructions we do not know but there is a clear pattern of late to rampage in museums and places where historical artefacts are kept to destroy them thus removing all traces of history that bind people to their past. We feel these attacks are well planned, well-orchestrated and with a planned motive and are not on the spur of the moment attacks. 
In Bangladesh: the one-sided media have never spoken for the Chakmas living in the Chittagong Hill Tracts of Bangladesh who were forced to flee from Islamic persecution in the early1990s. Muslims destroyed the Navajyoti Buddhist vihara at Lalyaghona village and there was not a single global voice on behalf of the Buddhists. Not even the UNHRC has taken up the issue of returning Buddhist lands confiscated through incursions backed and funded by the West.
In Thailand again Western-controlled Islamists are demanding a separate state in South Thailand and all that the media will cover is the brutalities that these jihadists groups have succeeded to do.
Indonesia was once Buddhist too and was known as Thiri-wizaya nation in the 7th century AD. Today Muslims are fighting for a separate state.
Malaysia was introduced to Buddhism from Sri Lanka in 309BC – the Buddhist heritage in Malaysia lays evidence to the history. In 15th century the sword of Islam brutally changed the status quo. If Shirley did some historical reading he would be shocked to learn that Afghanistan, Pakistan, Iraq, Iran, Syria, Jordan, Indonesia, Malaysia, Bangladesh, Kashmir were all once Buddhist nations. We are today down to just 5 majority Buddhist nations trying desperately to maintain our historical roots against the odds of course.
Numerous Buddhist sites have been attacked in Bangladesh, Myanmar, Thailand, Maldives and in Sri Lanka while incursions and proliferation of mosques and land encroachment of Buddhist sacred sites are taking place. There is even a mosque 60metres from Buddhagaya, why would Muslims want to build a mosque so close to where Buddhists meditate and prey if not to create dissent with time?
The pattern of both Christian and Islamic invaders were simple – they conquered lands, killed any who were not following their faith or forced them to convert, raped women and girls, destroyed all evidence of temples and other historical monuments because iconoclasm was what they believed in and on top of the destroyed temples built churches or mosques.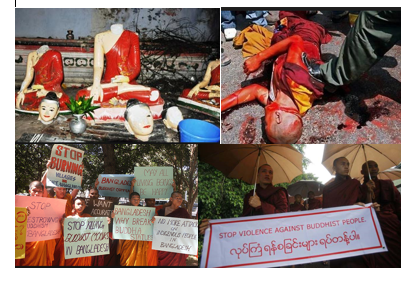 While the UNHRC is a continuation of the Christian imperialism the Wahhabi controlled network is doing the same though what needs to be explicitly understood is that Wahhabi Islam is very much controlled by the West and that is why non-Wahhabi Muslims are also at the receiving end and are equally attacked as the non-Muslims.
In Sri Lanka, in case Shirley is not aware land rights were given to Muslims only after 1815 before which all Muslims were treated as aliens. It is the Buddhist identity of the country which has been targeted to be destroyed which Buddhists are struggling to preserve.
The West has tapped the minorities and through them are making inroad to fulfil their incomplete task of removing the historical identity of Sri Lanka.
The task of both Islam and Christianity remains nothing but to expunge the history of non-Islamic/non-Christian nations and expand their empires. The Islamic takeover of Maldives resulted in the expunging of the Buddhist history of Maldives while the same has been done following the evangelizing of South Korea.
Currently using the power of money and the indoctrination of non-Islamic Wahhabi brainwashing all historical sacred citadels are becoming targets of mosque building with the explicit intent of surrounding sacred sites, incursions and thereafter demanding that their faith be given prominence playing the minority discrimination card.
Even the US state department has identified 4 Al Qaeda linked Jihad groups in Sri Lanka (Sri Lanka Jamthi Islam, Thauhid Jamath, Thableeq Jamath, Jamathi Muslim) and the US should know because Hillary Clinton said that the US created Al Qaeda. Moreover, it was only a few months back that a Muslim from Sri Lankan joined the ISIS and died in Syria. Vicky Nanjappa writing in February this year asked the question Is the ISIS threat catching up to Sri Lanka?" So we are well aware that the pivot to Asia plan entails the usage of Islamic groups to give a raison d'etre for the US to bring 'counter-terrorist' envoys and Western experts to make a permanent presence in countries where these 'jihadists' claim to be 'planted' (by them of course).
In Sri Lanka's case where the presence of both Christian and Islam external influences are equally strong it is a case of Sri Lanka one day turning into a South Korea or Maldives.
Islamic extremism is nothing but political Islam using Wahahbi fundamentalists who are not real Muslims. The Wahhabi faith it appears is a British colonial creation and Prof. Chousdavsky has clearly outlined who provides the men and who trains the Islamic groups causing terror all over the world. Unfortunately the real Muslims are still to wake up and realize the truth and as a result they are getting bombed by Western Christian nations. If at all the Clash of Civilizations is being re-enacted it is happening right now in the Middle East and parts of Africa and these maniacs are being transported now to rest of Asia to do the same bidding by the same masters in the West.
Denigration of Buddhists is nothing new and Shirley joins the bandwagon but she should read the public sentiments now emerging following the Brexit polls on why even the British are against immigration and the loss of their 'British' identity.
Shirley conveniently withholds that in UK more than half of the mosques were attacked, pigs heads were thrown, petrol bombs were thrown, Muslims were jeered in public transport and these incidents were not sporadic or countable numbers that Shirley picks and bloats taking one example from Sri Lanka. However, people are worried not because people do not like Muslims but because many are now realizing that the Wahhabi Islamic-West incursions are going to be the undoing of our country as well. It is this nexus that is funding the establishment of mosques and the wearing of weird tribal attire for both men and women and practices that are all not Islam. These changes are with purposeful intent – to create public sentiments against them and give enough reason to start a new wave of trouble. It is this realization that the true owners of Sri Lanka are aware of and want to stop before we land up in another foreign imported trouble to last another 30 years.
Shirley cannot quote a handful of incidents to showcase Buddhists in the same league as faiths that have quoted from their religious texts and used the sword to kill. Some examples that Shirley has purposely omitted to mention.
Firebombs and pigs heads thrown into mosques as anti-Muslim attacks increase after Paris shootings
Half of Britain's mosques have been attacked since 9/11
Burka ban comes into effect in Switzerland as Muslims ordered to obey or pay sterling pound 8000
Muslims in the UK are attacking mosques, does that make them Islamophobic?
France likely to close more than 160 mosques
Revenge attacks and retaliation begin: Mosques come under fire with guns and 'grenades' in France… and kebab shop near another Muslim temple is blown up
40% of Dutch mosques have been attacked, daubed with racist graffiti
Holland: mosques, Muslim school attacked
Muslims call for calm after Rochdale imam dies from head injury while walking home after evening prayer
Shocking moment hijab-wearing girl is attacked from behind and knocked to the floor unconscious as police reveal huge rise in hate crimes against Muslims
Muslims shot and brutally beaten outside mosques as they try to pray
Two Muslim teenagers beaten outside New York mosque, says rights group
http://www.alternet.org/news-amp-politics/shocking-list-anti-muslim-bigotry-and-hate-crimes-paris-attacks-one-month-ago
Bruno Shirley this list is NOWHERE NEAR the scale of attacks on Muslims in Christian West countries that preaches liberalism, freedoms, rights etc. Muslims are living in fear in these countries!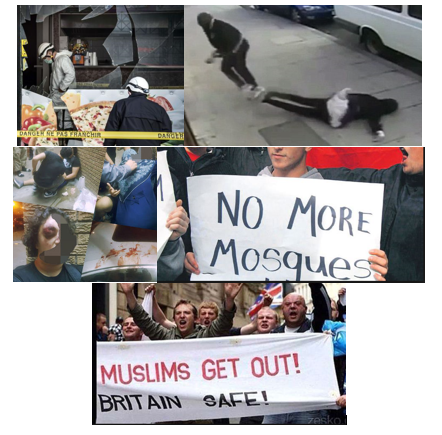 At the other end of the spectrum there are these slogans….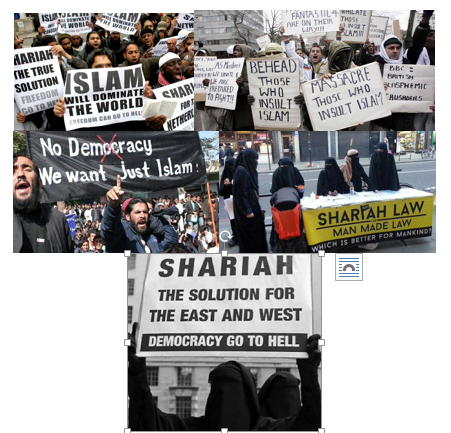 Before Shirley makes any more innuendos and foolishly tries to bring theories of clash of civilization he must read Prof. Michael Choussodovsky who connects all the Islamic groups to the West supplied by their Muslim satellite states http://www.globalresearch.ca/twenty-six-things-about-the-islamic-state-isil-that-obama-does-not-want-you-to-know-about/5414735
Before Bruno Shirley takes pen to write anything more against Buddhists attacking Muslims she must listen to Chris Hedges who says Saudi Wahhabism a Tool of U.S. Foreign Policy"  http://therealnews.com/t2/index.php?option=com_content&task=view&id=31&Itemid=74&jumival=16688 and thereafter understand why Sri Lanka needs to be worried http://www.lankaweb.com/news/items/2016/06/15/west-wahhabi-islamic-terror-does-sri-lanka-have-cause-to-worry/
In conclusion what needs to be said is anyone can write one's views but in doing so he/she must realize that the readers deserve to be given a fair and balanced view and not a one-sided notion to create a totally false opinion about people. We hope that Bruno Shirley will realize her mistake and in future writings desist from denigrating without facts. She may like to take the advice of Buddha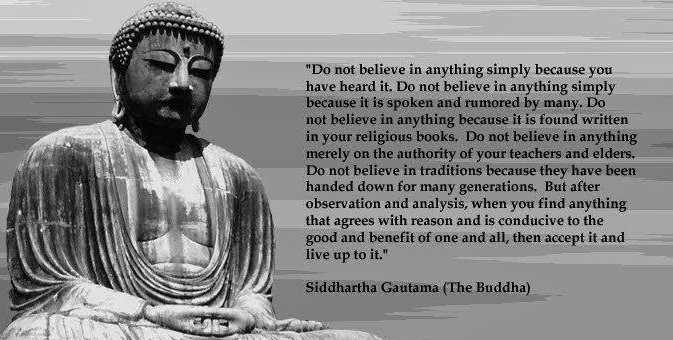 Shenali D Waduge