Do Sri Lankans wish to partner with India or China?
Posted on July 16th, 2016
Shenali D Waduge
Like it or not the Sri Lankan public will have to come to terms with some hard realities. Our political leaders have failed the nation since independence, their policies have been inconsistent and with the overall aim to only come into power and remain in power, our media have been serving as western lackeys, our rights activists and legal fraternity have not defended the nation and apart from a handful of people bringing out issues of vital concern to the future of the sovereignty even the general public have chosen to ignore their duties as citizens. In such a scenario we have become easy prey for numerous external agendas leaving the nation at a very critical juncture. Given that our leaders have shown little commitment or capacity to create a country-centric policy structure that doesn't change with every government, we continue to remain paupers begging to be rescued from one chaos after another invariably agreeing to compromise our sovereignty in exchange for bailout of the party in power and not the nation.
Two countries that have had ancient links with Sri Lanka are the topic of discussion. For the lack of true leaders to produce a vision for the nation without handing out every inch of land and resource to external powers, we have come to the juncture wherein our people have little choice but to ask themselves a question – which country should Sri Lankans prefer to partner to come out of the abyss.
India
Our historical links to India goes far. Buddha was not born in India as the area belongs to present day Nepal and India got its name only after the British landed. However it is where Bodh Gaya marking the location where the Buddha is said to have attained enlightenment and today declared a UNESCO heritage site. It is also where the Maha Bodhi Temple built by Emperor Ashoka stands. That's about all since Buddhism was never protected by India thereafter and is presently being used as a soft-political tool to link up with fellow Buddhist nations of Asia having no ideological value outside of that goal. The treatment of Buddhist pilgrims, Buddhist priests and even allowing a mosque to be built 60metres away from the Sacred Temple where Buddhists meditate clearly shows India's lack of concern for Buddhist sentiments.
India had either voted for the resolutions against Sri Lanka or had abstained in a conflict they first created. Most believe all of the resolutions before being presented had the nod of approval by the Indian leaders. The same was said of the 2002 cease fire agreement and numerous other agreements ventured into with the LTTE since the 1980s.
No historical links and ties can ever forgive or even forget that India actually devised to take unemployed Tamil youth and trained them as armed militants to destabalize Sri Lanka and begin a proxy war which would provide incremental leverage to India both politically, economically and even demographically. India remains the root cause of Sri Lanka's problems.
Tamils must realize that Indian Governments have no genuine concern for Tamils of Sri Lanka. Tamil Nadu Tamils know too well how North Indians hate them. All of India's manoeuvrings fit well into India's Arthashastra policy of annexing Sri Lanka as an Indian colony. The aspiration to appendage Sri Lanka to India remains an unfulfilled dream.
Historically too there is evidence. Indians Sena and Guttika defeated king Suratissa and reigned together for twenty two years. Elara ruled until he was defeated by Dutugemunu in 161 BC. 17 attempts had been made by South Indian Dravidian Tamil speaking invaders since 230BCE to invade Sri Lanka. Tamil intrusions from South India have all been marked by violence and mercenary activity and as such make any to wonder whether these genes are a factor that has contributed to the divides that prevail.
We are wrongly made to feel that India's Centre is pressurized by the Tamil Nadu State but the reality is that the Indian Centre is very much in control and uses the Tamil Nadu state to increase India's leverage over Sri Lanka. Thus the poaching issue by Indian fishermen, the bottom-trawlers are all part of a bigger plan to make horse deals and compromise where no compromise is needed. Endless trips back and forth are being wasted when the fundamental solution is India must stop Indian fishermen poaching and stealing fish that belong to Sri Lanka and cease destroying Sri Lanka's marine bed using thousands of internationally-banned bottom-trawlers. The Katchchitivu issue is also a side-plate to deter people and create media hype around the notion that there is a problem to solve, when clearly the problems are being created by India.
In line with India's annexation objective is the need to use TAMILS as scapegoat. India deems it right to interfere in the internal affairs of Sri Lanka hoisting the Tamil Grievance concern. The Tamils unfortunately want to play the game by becoming willing-guinea pigs without realizing the damage they are knowingly doing to the nation. Thus, the calls for the removal of the military are stage managed with US-backed groups creating reports of rapes, doctoring evidence and creating the environment to demand the removal of the military.
India is next using the economic crisis engulfing the nation to creep into all key strategic sectors and grip control over them with the long term intent of using these as strategic bargaining tools no different to the economic blockade created against Nepal for refusing to include key provisions India wanted included into Nepals new constitution. When Sri Lankans have ample evidence of the bullying tactics used by India against its neighbour's should Sri Lankans be giving India any more than what they have deviously secured. The land, road and rail links to India are all with intent to demographically change Sri Lanka and with time the Sinhalese will move from an endangered race to an extinct race altogether. Is this what Sinhalese want?
India's bilateral agreements are under flak including the CEPA. India's housing scheme has come under flak for the type of material being used to build the houses as being unsuited for Sri Lankan weather. The coal power plant in Sampoor most believe was just to use as a watch tower over Foul Point on Trincomalee. Cairn Lanka hasn't done much since starting operations. The new rail link is with the ulterior motive of making access for India to Trincomalee closer than from Colombo to Trincomalee. How far Sri Lanka's leaders or policy makers know of this or are concerned about this is another matter.
The Sunday Times reveal there are close to 100 Indian companies that have invested $400 million or Rs. 45,600 million but has Sri Lankans benefited from any of them is a good question. Those that complain of Chinese labor in Sri Lanka forget that one Chinese labourer does work of 3 Sri Lankan workers while those pointing fingers do not make any attempts to bring to light the scores of Indians presently working & living illegally.
What has Sri Lanka got from India and the unanimous reply would be – 30 years of LTTE terrorism, the headache of Tamil-LTTE diaspora, interference into internal affairs of Sri Lanka with no shame, diplomatic faux pas like the infamous parippu drop, the threats of Indian naval and air attacks, Indian envoys behaving as viceroys, tweaking Sri Lanka's constitution via the 13th amendment, bogus historical lies included into Indo-Lanka Accord, diplomatic-arm twisting, enticing weak politicians and the list goes on. The only balancing act would be the Bollywood films and the songs & dances that Sri Lankans are captured by.
While India has wanted to use political, economic, social, friendship ties and whatever ploys it can think of to establish its foothold into Sri Lanka, have any of these become of any worthwhile use to the general public? Have the profits trickled down to the masses or have they been siphoned off.
How many illegal Indians arrive on a daily basis, how many illegal activities are Indians involved in, how many Indians manipulate the open visa system given only to Indians? Even the LTTE declared that 35% of its cadres were from Tamil Nadu. If so should we not make guestimates as to how many Indians from South India may be living like Sri Lankan Tamils over 30 years?
Of the many Indian projects that India has demanded in sensitive strategic areas have any of these been completed or were they just an excuse to place Indians there? Sri Lankans need to start asking themselves more questions.
That India knowingly planned and executed armed militancy in Sri Lanka and its intelligence operatives are very much working on ground and have even steered regime change must surely look at India's every act of diplomacy, friendship and even business solutions with a whiff of doubt.
It's always better to be safe than sorry. We should know – 30 years is a long time and calculate the loss at every dimension. With all this knowledge why are even intellectuals pushing for the signing of the ETCA with India knowing that the inclusion of service sector with provisions for Indians, their families to do business, settle down and buy land would once calculated into years automatically make Sri Lanka another state of India? Have people thought seriously about these ramifications.
A nation that has over a billion people, a nation in poverty, a nation that has cheap labor, a nation that has new rich, qualified graduates who are jobless and willing to do any work will soon take over Sri Lankan jobs and will we have leaders and people to ask them to return and will they? Are we not saddled with the Indian laborers brought by the colonial nations to work on plantations decades after the British left? It is one thing to do business ventures with India but when the present business ventures are tilted in favour of India, statistically proven too we must now ask what are the matchmakers proposing the ETCA getting out of the deal personally for there is nothing that will merit the country by allowing a flood of Indians to enter Sri Lanka when already we don't even know how many are illegally living here.
Today, India is unsafe even for Indians. Even a child is unsafe to be left alone. Rape is rising. The streets are unsafe even for Indians. India's influence is such that we are signing a MOU to promote the mythological significance of Ramayana.
China
Relations between China and Sri Lanka are long. Relations between the two countries date back to 206 BC when a mission from China arrived in Sri Lanka. According to Raja Rata University Vice Chancellor Prof. W.I. Siriweera, 13 missions had been sent to China by the kings of Anuradhapura between 131 AD and 989 AD. In 428 AD, King Mahanama sent a replica of the Sacred Tooth Relic Shrine to the Chinese emperor. 411-12 AD. During the Ming Dynasty, Admiral Cheng-Ho visited Sri Lanka. Both countries exchanged missions throughout 1416-1459 AD. The exchanges and relations extended long years thereafter.
Despite the first post-independent Sri Lankan government being pro-Western and anti-communist diplomatic relations with China commenced in 1950 though ties were not expanded. However when US refused to give a loan of $50 million requested by Sri Lanka, the island had little choice but to strike the famous Rubber-Rice Pact in 1952 with China. The price Sri Lanka had to pay for dealing with China is a lesson we have all forgotten. The US government invoked the Battle Act putting to an end giving aid to countries selling strategic materials that included rubber to communist countries. US cut off aid to Sri Lanka and stopped selling sulphur which Sri Lanka needed for its rubber plantations.
The same threats and sanctions continue still when Sri Lanka's leaders do not comply with West-Indian orders. Should we then continue the risk of walking the plank of uncertainty associated with India & the West?
India has chosen to be the outsider of Asia, preferring to now partner US and West's agenda joining Japan and South Korea.
China's monumental gifts to Sri Lanka have been many and Sri Lankans proudly can show off scores of tokens of friendship gestures – the Bandaranaike Memorial International Conference Hall, the Supreme Court Complex, Central Mail Exchange, re-development of Lady Ridgeway Children's hospital, Mattala Airport, Hambantota Port, Katunayaka Expressway Project, Nooraichcholai Coal Power plant, Kotte Sewerage System, NPK Compound Fertilizer Project, first fisheries harbour project in Panadura and there are many more.
China has given over US $1million as humanitarian aid for internally displaced persons and technical assistance for de-mining operations in Northern and Eastern provinces. People have also forgotten that the project to make Hambantota Port had first been offered to both India and US and since both did not have the finances to fund it China took on the project.
There is nothing adverse to be mentioned of Chinese government doing any wrong to Sri Lanka as a policy or through any of China's ventures with Sri Lanka. China has never interfered into the internal affairs of Sri Lanka or exerted any pressure. No demarches have been sent by the Chinese. Despite China's super power status, China has accorded fullest respect to Sri Lanka in all of its dealings. There have been plenty of individual Indian and Chinese committing various offences but then there are also plenty of Sri Lankans committing the same offence.
What differentiates India from China in its relationship with Sri Lanka is the crucial factor of demographic change. Dealing with one nation means the dangers of the future of the Sinhala race. China will never populate Sri Lanka with Chinese, India has been populating Sri Lanka with South Indians.
While the likelihood of Sri Lanka becoming a colony under undue Indian influence remains, with China it will be a partnership based on a win-win situation. China's policy has been to give & take not to take and take and take until Sri Lanka has nothing to give.
India's dealings with Sri Lanka have historical attempts to treat Sri Lanka as inferior and to be ruled over, such treatment has not been seen by China. If we lack leaders and advisors to make demands and diplomatically deal with bullying tactics of others it is not the fault of anyone but our own.
The scenarios are now placed before the readers. Our people are literate but poor analysts. We have changed governments for the promise of reducing bread, we have fallen for well-funded regime change campaigns. We have compromised our nation but there has to be a Brexit-like moment for Sri Lanka to put the country first. The answer is very simple.
In 1978, both countries had similar living standards.
China's change began between 1978-1989 with Deng Xiaoping's fang-shou ('letting go' and 'tightening up') efforts. India's reforms began more than a decade later in 1991.
 
INDIA
CHINA
Administrative divisions
29 states and 7 union territories
23 provinces, 5 autonomous regions and 4 municipalities
Population (2015)
1,251,695,584
1,367,485,388
Population below poverty line
29.8% (2010 est.)
6.1%  
Area
total: 3,287,263 sq km
land: 2,973,193 sq km
water: 314,070 sq km
total: 9,596,960 sq km
land: 9,326,410 sq km
water: 270,550 sq km
Literacy
62.8%
95.1%
Manpower available
616,000,000
750,000,000
Reserves Foreign Exchange/Gold
$370,700,000,000
$3,217,000,,000,000
Labor Force
492,400,000
804,200,000
Children under the age of 5 years underweight
43.5% (2006)
3.4% (2010)
Health expenditures
3.9% of GDP (2011)
5.2% of GDP (2011)
GDP (purchasing power parity) 2013
$4.99 trillion (2013 est.)
$4.833 trillion (2012 est.)
$4.63 trillion (2011 est.)
$13.39 trillion (2013 est.)
$12.43 trillion (2012 est.)
$11.54 trillion (2011 est.)
Annual defense budget (USD)
$40,000,000,000
$155,600,000,000
Active military personnel
1,325,000
2,335,000
Aircraft (all types)
2086
2942
Merchant marine strength
340
2030
Major Ports/Terminals
7
15
Fleet strength
295
714
Submarines
14
68
Telephones – main lines in use
31.08 million (2012)
278.86 million (2012)
Internet users
61.338 million (2009)
389 million (2009)
Doing business with (world bank)
Ranked 130
Ranked 81
Infrastructure (World Economic Forum)
Ranked 81
Ranked 39
Education (UN Human Development report)
medium" development category ranked 130
high" development category ranked 90
Global Importance McKinsey & Company globalization report
Global connectedness score of 8.5
Global connectedness score of 34.2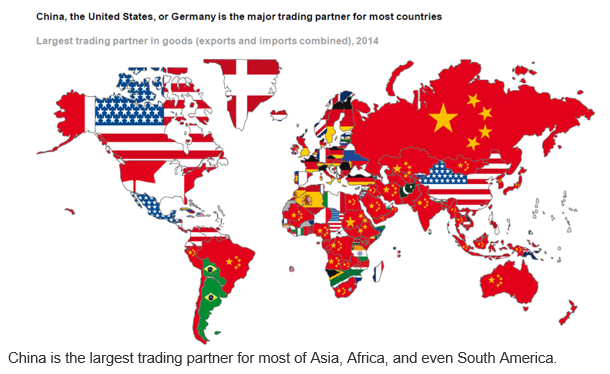 Sources: CIA world factbook, wikipedia, public domain, media sources and country data
Shenali D Waduge