This is how SWRD 'gave the country back to its people'
Posted on August 30th, 2016
 By  Ranga Jayasuriya Courtesy The Daily Mirror
Former President Chandrika Bandaranaike Kumaratunga says her father the late Prime Minister SWRD Bandaranaike brought the Sinhala Only Act to 'give the country back to its people' after centuries of colonial rule. She should sincerely be believing so, so do a sizeable portion of the Sinhalese majority who think the late prime minister was genuine. Ms. Kumaratunga vouches that her father's move was not racist, though she now wishes that both languages should have been made official languages. That was achieved under the 13th Amendment, though some constitutional experts prefer to pick on the semantics of the wording, which states that the official language of Sri Lanka is Sinhala" and Tamil shall also be an official language." However, making Tamil an official language could not satisfy Tamil political demands nor could that end a brutal terrorist campaign. Perhaps it was too little too late, or that the Tamil political campaign, in addition to real grievances, also lives on a host of imaginative and inflated grievances.
Back to late Prime Minister SWRD Bandaranaike; he could have been genuine or perhaps not in his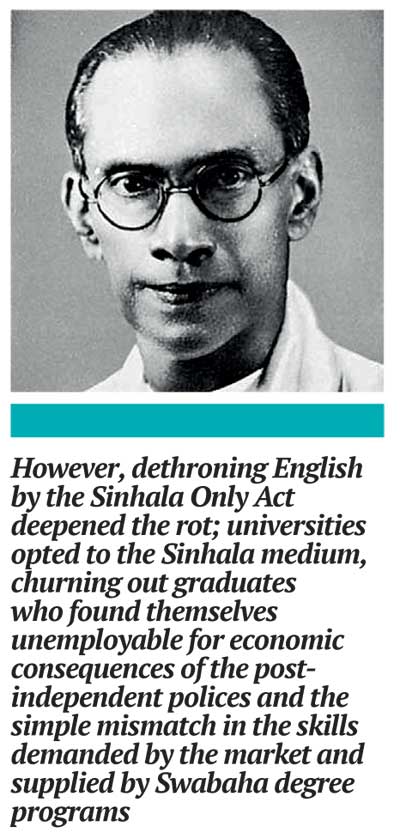 i
ntentions. However, what matters is not so much the intentions, but the outcome. He aimed for the high heavens and produced a veritable hell for the generations to come. Much has been written about the ethnic dimension of his decision, and how it ignited the flames of a ruinous ethnic conflict that consumed this country for three decades. However, there is another element in his decision, which for generations had devastating consequences — the economic dimension which not only deprived the competitive advantage Sri Lanka (then Ceylon) had vis a vis the other countries, repercussions of which served to multiply a host of other grievances that enveloped this country in the latter decades.
To have an objective analysis of SWRD Bandaranaike's legacy, one should look into not only the social economic dynamics at the time, but also, how they compared with the countries in the region and afar; that is our relative position vis a vis other states at the time.
At the time of our independence, and even when SWRD won the elections in 1956, we were doing fairly well. Per Capita income at $80 US in 1948, we were only behind Japan, which was a pre-war industrial power and Malaysia, which was still then a British colony with a strong commodity economy. However, per capita income comparison would not alone do justice to us for our social economic indicators were far above the others. Those achievements were a product of the welfare legacy that predated the independence. We had an impressive school system, comprising prestigious city schools and a network of thriving Madya Maha Vidyalayas which conducted classes in the English medium. Our students fared well above their counterparts in the British Commonwealth in competitive exams; we had a flourishing new university, which was then world class and an efficient civil service.
Of course, as most of us who were not born with a silver spoon in the mouth have learned it through hard way, a child's familial economic and social environment mattered a greater deal in his or her educational, and later economic and social achievements. Thus those with different social backgrounds had to put different levels of effort to reach certain levels of achievements. It was so then, and it is the same now. And it is not unique to us. (Ox-Bridge universities still admit a disproportionately larger share of their annual student intake from British fee-levying public schools). The solution to those disparities is to increase opportunities for the kids from disadvantaged groups: Madya Maha Vidyalayas (Central Colleges) were indeed meant to take English medium education to the villages. Thus our relative strength at the time of independence and the projected glory (Opposition leader Sampanthan reminded in a recent interview that we were destined to be a Switzerland in Asia) were founded on the British legacy — its institutions, social welfare and above all, pragmatism.
Mr. Bandaranaike was himself a product of that legacy. He went to Oxford, ran for the Oxford Union and served as its treasurer. Instead of fostering the strength of that inheritance and making it accessible to the others, he chose to bring the whole edifice down. That, in some people's eyes, would make him a hypocrite. Still to assume that he had sincere intentions; then, one could not ignore the other fallacy of his decision. He who brought down the entire institutional structure miscalculated with devastating consequences to the country's ability to build an alternative structure which was equally efficient and upward mobile. SWRD alone cannot be singled out for that miscalculation for the compulsory Swabasha education was hatched by the father of free education, C.W.W. Kannangara, when he introduced the free education bill.
However, dethroning English by the Sinhala Only Act deepened the rot; universities opted to the Sinhala medium, churning out graduates who found themselves unemployable for economic consequences of the post- independent polices and the simple mismatch in the skills demanded by the market and supplied by Swabaha degree programs. Those grievances exploded with deadly consequences in three youth uprisings during the subsequent decades.
The Sinhala Only Act did not give back to people. Rather, it took back from the people, their chance to aim high. It deprived the children of average folks to give a real shot at the higher echelons of academic, professional and corporate sector. Today, Sinhala is the official language , but the corporate sector hires its executives on the merit of English rather than Sinhala or Tamil. In other areas, his policy saw the quality plummeted to rock bottom. See the mediocre performance of universities which hire Sinhala medium graduates as academics, whose promise for genuine excellence was robbed by the independent leaders even before the former was born.
There are ingrained constraints in native languages which multiply when the world moves forward. SWRD knew that. That was why he sent his children to English schools and later to London and Sciences Po. But, his polices deprived millions of other children to seek excellence and the country at large to build on the successes of the colonial legacy. That was a terrible mistake, for which we are still paying. See the contrast in the countries such as Singapore that chose to build on the colonial inheritance.
At the end, it was President Chandrika Kumaratunga who put in genuine effort to address some of the disparities created by the old folly. Her administration relaunched English medium education in some schools. Her government was fighting a ruthless terrorism at home, thus the resources were limited. However, her successors did not build on her initiative for they thought it was not politically advantageous. The real problem in this country at present is that the average folks, who know they are disadvantaged, are still confused as to what places them at the receiving end. One of the most determining factors is English language. A drop out from an international school is more likely to land in a corporate job than a Sinhala medium graduate from a local university. What the government should do is to channel an adequate share of the education budget (which it has pledged to increase to a 6 per cent of the GDP) to foster the initiative that Mrs Kumaratunga launched some fifteen years back –and to set a target that at least all Central Colleges within a set time frame would be able to conduct English medium classes. That is the only way to address an historical mistake. Lamenting over spilled milk would not help.
Follow Ranga Jayasuriya @Ranga Jayasuriya
– See more at: http://www.dailymirror.lk/114925/This-is-how-SWRD-gave-the-country-back-to-its-people-#sthash.fPSb72d3.dpuf