Message for C V Wigneswaran from Sinhala Youth
Posted on September 12th, 2016
Shenali D Waduge
C V Wigneswaran Chief Minister of Northern Provincial Council, one of 9 provincial councils in Sri Lanka has written 'My Request to Sinhala Youth'. It is a pity he never chose to write anything to the Tamil youth who were taking up arms to kill innocent civilians or the LTTE who were training Tamil children to become child combatants instead of studying to educate themselves to become somebody's in life just as how C V Wigneswaran studied at a Sinhala school, lived all his life in Colombo, went on to become a judge in the Supreme Court.
The message from the Sinhala youth to Chief Justice Wigneswaran
Please admit that it was the political issues and activities of the Tamil vellala high caste political leaders together with the LTTE who made life precarious for the people of the North and no other.
Please admit that the Tamil youth did not revolt, they were taken secretly to India under the Indira Gandhi government and trained in numerous camps in Tamil Nadu. These are detailed in the Jain Commission report. Therefore any 'revolt' came only after training and when these armed militants were sent back to Sri Lanka by India.
The Tamil Mayor of Jaffna Alfred Duraiappah was killed in 1975 the same year Prabakaran changed his militant group's name from New Tamil Tigers (formed in 1972) to LTTE (1975). When LTTE leader did not even study beyond grade 8 is it the fault of the Sinhalese? When Prabakaran did not do a job his entire life is it the fault of the Sinhalese?
The rest of the world believing the lies of the separatists need to remember that separatism started in 1949 with the forming of ITAK by Chelvanayagam (translate its tamil meaning and it is separate state – the English name Federal Party was just to hoodwink the people), where was the discrimination in 1949 barely months after independence? The first victim of LTTE was a Tamil mayor, the 2nd victim of LTTE were Tamil policemen on duty…so how can the Chief Minister refer to discriminations! These are all nothing but lies spun over the years and believed by naïve people and manipulated by people for their own agendas.
LTTE and Tamil separatism arose not because of Sinhalese but because of their own inclinations and aspirations. The Sinhalese became an easy political scapegoat. If the Tamils are angered by riots were these riots not instigated by the UNP governments? Why do the Tamils continuously vote for the UNP yet complain about the riots?
It is the country that has one identity combining the history and heritage of those who toiled to build the country. No provincial or district identity can become the country's identity and come above that of the country's identity. It is the island-nations identity that has to be incorporated into the Constitution not one province only.
The whole reconciliation game is a hoax and a means to fool people into abdicating their history and heritage in the false premise that they are bridging bridges. Sri Lanka's Army fought against terrorists and terrorism not against Tamils. No country reconciles with terrorists without punishing them for destroying people and property. Sections of the Tamil political leadership cannot ride on the reconciliation bogey by trying to steal power upon themselves to fulfil their insidious agendas.
We would like to ask why the Tamil politicians objected to the 1957 Social Disabilities Act and even went to the extent of writing to the Colonial British office to plead with them to stop the act. This Act gave to Tamil low caste and poor youth the opportunity to attend school and study. The Tamil leaders today bragging about 'our community' and 'our rights' have conveniently forgotten that they objected to their own people studying and attending school and when these poor children were admitted to schools they high caste/class children and teachers forced them to sit on the floor and study. Please don't preach forgetting facts!
We are also well aware that the whole 'military control' is just another Tamil propaganda stunt taking people on a guilt trip and projecting as if the military are evil and wicked people. When Justice Wigneswaran did not raise a single word to the LTTE in fear of their dear lives, it was the Sinhala soldiers who saved close to 300,000 Tamils from being shot at by the LTTE when fleeing. We have enough of the lies, distortions and fabrications by groups who are now netting themselves in their own lies because one lie leads to another bigger lie to conceal the first. C V Wigneswaran your 70 plus years life was spent mostly in Colombo amongst the Sinhalese and after living just 4 years in the North you have hardly any right to make any comments! Did you raise one objection with Prabakaran when he was forcibly taking Tamil adults and children? You did not, and if you did not you can hardly talk now! The Sinhalese people opposed the JVP when they went on a killing spree and so they have every right to have their say…. The Tamil leaders did nothing against the LTTE and the TNA manifestos have openly advocated LTTE militancy (refer 2004 and 2010 TNA manifestos)
There is no such 'traditional homelands of the Tamil people' – there is nothing to even prove with historical evidence that the Tamil race evolved in Sri Lanka, Upto 1911 all Tamils were referred to as Malabar Tamils by the colonials. Every aspect of Tamils – language, religion, behaviors etc are all rooted to Tamil Nadu.
The standardization is another battering ram used often to fool gullible people. This system enabled people from rural areas to gain admission to university for higher education. Prior to that the high caste Tamils were privy to the best of missionary education, jobs and well secured life. This ended with the standardization which allowed poor Tamil people to gain admission as well. What is wrong with that? Without admitting this the propagandists went on a guilt trip and the authorities are faulted for not correcting the story with statistics and facts. C V Wigneswaran says that youth took up arms because of standardization in 1974 but why kill Alfred Duraiappah in 1975? Does it mean that anyone going against Tamil leaders have to get killed?
Good question by C V Wigneswaran 'how could the unfortunate parents who had lost their dear ones accept them as incidents of the past' – please explain to the parents of every man, woman, child the LTTE killed since 1980s… this includes the many unarmed soldiers and others killed by LTTE and 5000 missing soldiers whom their brothers, sisters, mothers, fathers, children mourn every day….the CM and the TNA are dutibound to explain given that they supported the LTTE and were part of the LTTE. What is the relief to these innocent people that the LTTE used by killing them to instil fear to the country and the world? Yes 'those who have lost their loved ones have a right to expect justice and fair play' – the people who were killed by LTTE must deserve justice before those who killed LTTE terrorists can be brought to any trial. And certainly 'these are questions that loom large among' ALL PEOPLE who are not supporters of LTTE or separatism.
We have some questions about treatment of the people of the South … why are you and TNA calling for the destruction of all Buddhist temples in the North, why are you forbidding Tamils to marry Sinhalese when your own sons are married to Sinhalese politically connected people too? Why have you allowed your people to destroy a Buddha statue and disfigure Buddha's head, what is the message you are trying to convey from these vandalism? Why have buses taking pilgrims to Nagadipa been stoned, such incidents never took place before 2015 and after 2009?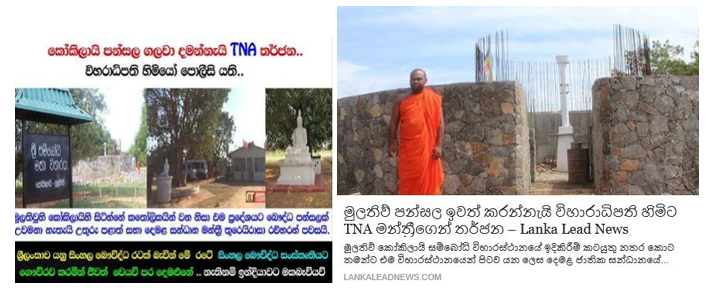 All these calls for independence are coming Tamil politicians who had been living in the South amongst the Sinhalese and parachuted to the North like CV Wigneswaran and other Tamils living overseas holding foreign passports and coming to Sri Lanka only on holidays. We do not hear anything from the Tamil ordinary people calling for independence. What we cannot understand is how for over 70 years C V Wigneswaran lived without speaking a word on self-determination and no sooner he goes to live in North in 2012 all that he vomits is self-determination and homelands!
The reference to 'united' are oft used in confederacy which is a step towards separatism. The US gave up confederacy because it was too vulnerable to hold a country together. We should not make the same mistake.
In reference to foreign leaders coming and TNA sharing their dreams with them… we can say that we know the drill pretty well. That was how Kosovo and South Sudan were created and then the same leaders dumped the newly independent countries and now they are worse off and their dreams have turned into nightmares. We will not allow our island nation to be divided to face the same fate wherein the rest of us will have to end up dressing the wounds while the Tamil leaders who plotted all the destruction would quickly depart for foreign destinations. The same has happened in all of the newly created countries. We will not fall for these 'right to self-determination within a united Sri Lanka' recently Tamil youth themselves came out to say they do not want to divide the country and instead they want homes and jobs. What have you done about this? http://www.lankaweb.com/news/items/2016/05/02/attention-international-community-we-want-homes-not-merging-of-north-east-says-tamils/
The reference to South Africa Truth and Reconciliation Commission is good – what has it achieved, have the blacks got back their lands from the white occupiers. South Africa cannot be compared to Sri Lanka, South Africas case was one of apartheid where the people of South Africa were discriminated by foreigners who took over their lands and natural resources. Sri Lankas case was a non-international armed conflict with LTTE using terrorism. All the communities were targets and TNA at that time were dead scared to utter a word against the LTTE for fear of ending up like Amirthalingam and a host of other Tamil leaders.
If youth are the backbone of our country, why did the Tamil leaders including Justice Wigneswaran keep silent while LTTE were denying the fundamental rights of children and even their parents, kidnapping them and turning them into killers, handing them not books but cyanide capsules and ordering them to commit suicide if caught. Why did Wigneswaran and Tamil leaders as well as the Tamil Diaspora now quoting human rights books not tell LTTE to leave their children alone, these children never enjoyed their youth or their teenage? The only sports they did were digging underground bunkers, marshalling their way through dirty and muddy waters to escape their enemy, staying up guarding their leaders who were sleeping while they were getting bitten by mosquitos,
Was it not the Sri Lanka Army who rehabilitated these cadres and allowed them to study and pursue their goals – some of these child soldiers are today film stars and some are singers and having their own business ventures. All these facilitates were not given by LTTE, TNA, the UN or foreign governments or even Tamil Diaspora but the Sri Lankan Government and the Sri Lankan Army.
Why is the Chief Minister silent on IPKF war crimes – did the LTTE not say that 3000 Tamil women were raped by the IPKF who were garlanded by the Tamils as being their savior? Did these Indian soldiers not end up killing innocent Tamils and LTTE had to turn their guns on them when Prabakaran himself realized the foolishness of getting Indian involved and his anger was such that Prabakaran forgot the gratitude for Indira Gandhi for training him and others and assassinated her son Rajiv Gandhi in India and even the Indian intelligence failed to foil the plot! This too after Rajiv Gandhi had gifted his own bullet proof vest to Prabakaran – we can well understand why Tamil leaders like Sambanthan and even Wigneswaran would have lived in fear! They are lions now but when LTTE and Prabakaran were alive they were silent as mice!
Good that you have mentioned drugs and alcoholism – who are bringing drugs, where are they coming from – are these not coming from India and does LTTE not continue to have an illicit narcotic network running globally.
Chief Minister, the Sinhala youth do not need preaching's from you unless you are willing to admit and place facts out into the open. Why do you know address Tamil Nadu leaders and complain to them about poaching on Sri Lanka's waters and stealing profits that should come to Sri Lanka? Why don't you demand Indian fishermen stop stealing the livelihoods of the Sri Lankan Tamil populace, why don't you say a word against the Tamil Nadu fishermen who are destroying the marine bed of the coast belonging to Sri Lanka? You cannot be selective in your preachings! We view these Tamil Nadu incursions no different to the 17 times South India invaded our island nation and destroyed the many Buddhist temples and historical artefacts and killed many Sinhalese as well. Where is the accountability for these deaths and destructions? The ICC ruling has created cultural genocide as a war crime and all the destructions of ancient Buddhist sites by either LTTE or TNA will constitute a war crime. The late Cyril Mathew has documented these destructions well and has submitted to UNESCO in 1983.
The Sinhala Youth of Sri Lanka wish to tell the Tamil Youth to be aware of the enemies within them – the Tamil leaders who lived in the South, educated their children overseas, married their children overseas and happily stood silent while LTTE kidnapped children from remote villages where poor and low caste Tamils lived. Where are the children of Sambanthan and other bigwigs – all are living overseas! Let us also remind the Chief Minister that when the UN govt unleashed their thugs in 1983 it was the Sinhalese people who saved their Tamil friends and neighbors and this is why the Sinhalese will never accept any guilt trip to feel sorry for 1983 – the Sinhalese had nothing to do with the attacks and therefore should not be apologizing. The people who stole from Tamil homes included thugs and thieves from all communities who were happily removing items from households.
The Tamil leaders are eternally putting the reconciliation card and is asking what Sinhalese have given, we would like to in turn ask what has Tamils given to nation building prior to colonial rule and even after independence other than eternally moaning about what they have not been given.
The youth certainly have a role to play. Tamil youth must now identify the bogus politicians and other Tamil leaders living in Sri Lanka and abroad and completely shun them. Some of them need to now retire and allow the youth to take over – they have done enough damage to the country and people. The same applies to the Sinhala youth – they too must identify the bogus politicians and other Sinhala leaders who are continuing to fool the masses and completely shun them. Voters must cease voting them into power to fool the people once more.
There are smart and young leaders with vision. They must inspire others by coming forward. The system where money rules who leads and who comes to power must stop. Only people who has money to throw and buy over voters end up in Parliament. This is not a healthy democracy.  Elsewhere the same trend prevails and that is why all nations of the world are in peril. None of the leaders elected are listening to the people are leading in the interests of the people except to ensure they remain in power and after them their children are propped into power. We must end this system. We are not getting anywhere with such a system. Youth of the North and South should refuse to be misled once again by the same set of evil politicians who are manipulating media and propaganda just so that they can sit and enjoy power for eternity.
We need more youth to tell all politicians are Emperor's in clothes.
Shenali D Waduge
https://www.colombotelegraph.com/index.php/my-request-to-sinhala-youth/