Ban Polygamy in Sri Lanka
Posted on November 7th, 2016
Shenali D Waduge 
India's Supreme Court in February 2015 following the Government of India petitioning it has delivered its verdict completely banning polygamy in India. Although Muslim personal law permits men to have four wives, the Supreme Court of India has ruled that a Muslim's fundamental right to practice Islam did not include practicing polygamy. The Constitution will protect the Muslim faith but not practices when all Muslims do not practice it. India has 150million Muslim. Sri Lanka has 1.6million. A parallel justice, judicial system, parallel laws cannot prevail in a country where citizens have to be treated as equals and given equal rights.

The Indian Supreme Court judgement delivered by Justices T S Thakur and A K Goel gave these key messages
What was protected under Article 25 (right to practice and propagate any religion) was the religious faith and not a practice which may run counter to public order, health or morality. Polygamy was not integral part of religion and monogramy was a reform within the power of the State under Article 25)"
Equality as per India's constitution deems that these rights don't permit Muslims to have multiple wives.
It is nothing that anyone can raise objection to. As per 1961 Indian census only 5.78% Indian Muslims actually practiced polygamy.
At a moral level if a man cannot bear to see his wife with another man, the same should apply to a woman who wouldn't like to share her man with another woman.
At a financial level how can a man look after 4 women equally?

At a political level polygamy will result in major demographic change where the likelihood of Muslim minority becoming a Muslim majority by increasing population is an aspect that cannot be ignored.
The other argument is that non-Muslims have begun converting to Islam for the simple reason of keeping 4 women legally. Bollywood star Dharmendra marrying Hema Malini inspite of being married and then denying converting is a case in point.
Although the Indian Constitution allowed Muslims to regulate their own laws governing matters such as marriage, divorce, inheritance the decision taken by the GOI against polygamy has been on the grounds that polygamy and triple talaq impacts a woman's status and her right to live with confidence and dignity – arguments that no one can dispute.
The view held was that India professing to be a secular democracy cannot deny equal status and dignity by allowing polygamy. Moreover, the arguments also remind that even theocratic Muslim states were Islam is State religion have also undergone reforms. As such talaq is banned in more than 20 countries including Pakistan and Bangladesh.
What is noteworthy is that Muslim women in India too had petitioned the Supreme Court to ban triple talaq even going to say it was against Islamic law and was discriminatory. So we have a situation where even Muslims are not in agreement to these Islamic practices a handful are demanding.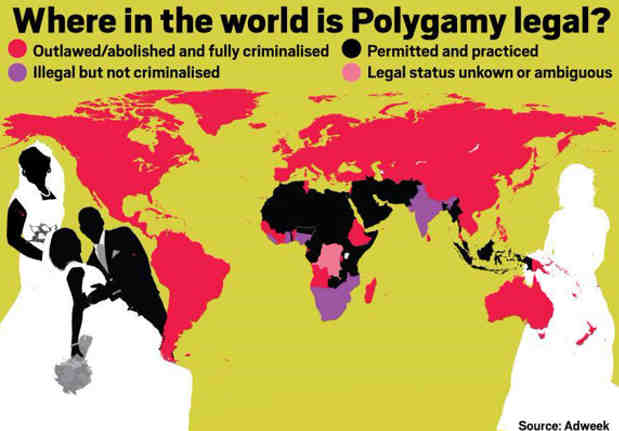 According to Bharatiya Muslim Mahila Aandolan, an organization defending Muslim womens rights, Muslim men have exercise triple talaq over phone, by email and even sms.
Another women's group Muslim Women's Quest for Equality filing an affidavit called for Sharia courts to be banned in India again citing inequality and violation of human rights. All slogans that the West cannot object to by siding with the Muslim demands just to score brownie points and create dissent!
The MWQE is even advocating to completely ban organizations like All India Muslim Personal Law Board to save the country and Indian Muslims from the clamp of fundamentalists/activists". This is the same dangerous scenario taking root in Sri Lanka.
The AIMPLB's argument is strange indeed. They claim that polygamy is a 'social need' and a 'blessing' and that a lawful second wife was better than a mistress!
If 150m Indian Muslims all married and had 4 wives each this would make the Muslim population jump to 600million! However we know all Muslims do not practice polygamy and that does not make them any less Muslim!
Interestingly the National Shoora Council of Sri Lanka is echoing the same arguments as the All India Muslim Personal Law Board.
Quoting its 4 November press release:
interfering with the freedom to practice one's religion which has been guaranteed by the Constitution"
The Muslim Personal Law has been a right enjoyed by the Muslims since pre-colonial times" (Muslims had no rights before or even during colonial rule as they were regarded as aliens with no land rights)
We strongly urge the yahapalana government not to ignore the pleas of the Muslim community who played a significant role in the transformation of 8th January 2015" (in other words 'since we helped form the government we cannot be ignored')
http://876r.blogspot.com/2016/11/sltj-minimum-age-for-marriage-not.html
When minorities demand rights they cannot demand exclusive rights for themselves. Especially when the 'rights' they demand directly raise other social issues – childrens rights to education being denied when forced to marry and bear children, complications at child birth, nutrition. Marrying more than one wife cannot become bigamy for one lot of people and for another small group it cannot become a 'right'. Violation of Children's Charter of the UN when small children become sexual toys of men old enough to be their fathers. Some cases of children dying from perverse sex is cited. No girl should be deprived of her childhood, her heath, her education, her aspirations.
Sri Lanka's penal code defines bigamy in Section 362B punished with imprisonment upto 7 years and liable to a fine.
http://www.ceylontoday.lk/print20160321CT20160630.php?id=2192
Annually 50million children below age of 15 are married off (UNICEF)
Unicef study from 2000 to 2008 found that more than 43 per cent of women in Afghanistan were married under age, some before puberty. In Nigeria nearly half of all girls are married before they turn 15. In Saudi girls as young as 13 years are married out to men more than 25 years their senior. In Yemen more than half of girls are married before they attain their puberty.
The 10 countries with the highest rates of child marriage are: Niger, 75 per cent; Chad and Central African Republic, 68 per cent; Bangladesh, 66 per cent; Guinea, 63 per cent; Mozambique, 56 per cent; Mali, 55 per cent; Burkina Faso and South Sudan, 52 per cent; and Malawi, 50 per cent.
None of these countries can claim high living standards. Literacy is low, productivity is low, poverty is high. Gender equality statistics are clearly visible – http://www.telegraph.co.uk/travel/maps-and-graphics/mapped-the-best-and-worst-countries-for-gender-equality/
http://www.girlsnotbrides.org/where-does-it-happen/
Sri Lanka should not enter such a category knowingly. Living in the 21st century to even advocate child marriage is a global shame.
http://www.israelvideonetwork.com/do-not-stop-sharing-this-until-every-person-who-cares-about-children-sees-it/
http://www.terrorscoop.com/child-rape-part-culture-says-islamic-preacher-denmark/ Child rape is part of our culture says Islamic preacher in Denmark.
The Indian Supreme Court verdict is an excellent foundation to argue Sri Lanka's case against polygamy.
While the arguments against child marriage is equally quite clear.
Neither polygamy or child marriage is part of Islamic faith. It is a practice no different to the burqa and the current attire Muslims are wearing. This was the argument used by the French authorities when the burqa was banned. Of France's 5million Muslims the police research revealed that only 1900 Muslims wore the burqa. https://www.theguardian.com/world/2014/jul/01/france-burqa-ban-upheld-human-rights-court It is advised that Sri Lanka carry out a similar research.
We are living in modern times not the cave age. Yet, countries still practice bizarre anti-women laws still. Sudanese Muslim women will get lashes if they wear trousers, the Council of Islamic Ideology in Pakistan has proposed a wife-beating bill, it is legal to sexually assault one's wife if she is over 14 in Bahamas and 13 in Singapore! In Lebanon a man can kidnap a woman and rape but if he marries her he is not prosecuted, in Egypt a man will get a lenient punishment for murder of a wife if he catches her in the act of adultery, in Cameron and Guinea men decide where their wives work, in Saudi Arabia women cannot drive – Sri Lanka should not want to belong into this category.
If anyone wants to practice such ancient and feudal acts it is best that they migrate to nations that are practicing them and not ride on minority religious rights to demand inappropriate practices to exist.

Sri Lanka must use the legal arguments that paved the way for the Indian Supreme Court to ban polygamy in India to also ban it in Sri Lanka and also ensure that child marriages are also banned. In the same manner the new Muslim attire that is not Islamic but a new cultural practice route via Saudi Wahhabi mosques and having Western imperial objectives linked to it must also be denounced and legal actions taken.
You cannot have parallel legal systems existing when the core theme is equality for all before the law. Judicial systems cannot change per religious practices though anyone wishing to live according to the strictest practices of Islam should and are welcome to live in majority Muslim states where these are state law (States which do not afford other religions the same rights).
The Government of Sri Lanka for political mileage and cheap votes cannot be unfair by the populace in dilly dallying with matters that will affect the demography and the cultural landscape of the country.
Polygamy must be banned – Child marriage must be banned and no new cultures can become religious rights.
Shenali D Waduge