Are tourism authorities wearing blinkers
Posted on March 28th, 2017
By Dr. Tilak S. Fernando
A British citizen (born to Sri Lankan parents) living in Switzerland spent three weeks in his paternal roots recently. His experience has been a mixture of attentiveness, excitement, and fascination and at times hilarious with a few repulsive, disturbing and irritating experiences.
At Zurich airport, Emirates Airlines did not permit him to board the plane, despite having a valid entry visa (obtained on line). The airline's refusal was based on the fact that his British passport's validity was five days short of six months!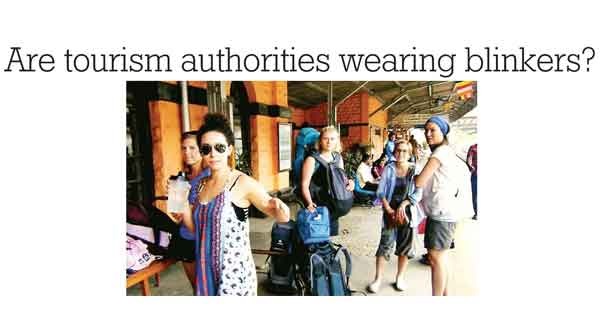 The problem compounded when the visitor arguing on the basis that he had paid and obtained a valid visa from Sri Lankan authorities. Airline desperately phoned the immigration authorities in Colombo, the first immigration official refused point blank to allow him to visit Sri Lanka. Further justifications by the passenger made Swiss officials to contact the Controller of Immigration direct, who authorized the passenger to embark the plane. This goes to show the hassle tourists have to undergo, having paid US$30 for the visa, due to some officials' incompetence.
Immigration counters
His second experience at immigration counters in Colombo was in a long queue that put him off when there were umpteen numbers of immigration counters but minus the officers on duty. He had to play 'musical chairs' by jumping from one queue to another in an attempt to get out fast! There were no pens for the convenience of tourists to complete their embarkation cards. Air passengers usually do not carry pens during flights to avoid ink leaking on to their clothes due to pressure in the cabin.
If Sri Lanka expects an exodus of tourist arrivals, there should be some orderly manner to deal with immigration activities without making the visitors inconvenienced and irritated as the airport authorities are fully aware of flight arrivals and, as a matter of fact, planes do not land every three minutes as in Western airports.
Glum expressions
The visitor detected the immigration officers' faces to be grouchy, which is a common complaint not only from foreigners but from locals as well. Do they have to give passengers the impression that they are confronting criminal investigation officers? This question was posed to the BIA General Manager and subsequently to the Deputy Director of Customs at the Airports during the 'Pethikada' programme on Sirasa TV programme. Both officials while acknowledging the complaint maintained that the immigration officers might be fatigued having to work 24/7. Surely flights from Katunayake airport do not land or take off every three minutes in Sri Lanka like at Heathrow airport in London. Where do we hear that anyone works 24/7 in an establishment in Sri Lanka continuously? Does it cost them anything at all to be polite to passengers?
This particular visitor found motorists in Sri Lanka taking a suicidal approach at every turn of their steering wheel. He was shocked, seeing people doing a tango in the middle of the Zebra crossings on roads to avoid flimsy frames of metal of three wheelers coming at speed and hitting pedestrians; Pedestrians give hand signals or plead for their dear lives, halfway through yellow crossings, for the mere fear for their lives.
Sri Lanka made quite a difference to him coming from clean Switzerland and was shocked to see the garbage menace as a health hazard and nauseating. Public transport was an area he voluntarily avoided. Apart from the dangerous aspect of travelling in tuk tucks, he was disgusted with the way taxi drivers swindle foreigners, despite meter operation. He detected three wheelers, even with meters, having a variation in meter readings for the same distance.
Cab service
Naturally, tourists will seek for a reliable cab service when they arrive in Sri Lanka and safety remains their first priority. The major problem here is the general tendency of taxi drivers to rip off 'foreign looking faces'. Most of the reputed taxi service providers offer a web booking system, which can be used to book a taxi and enjoy their stay in Sri Lanka. Such reputable cab companies are operating in Sri Lanka currently. He found at the end using one or two such companies, where he did not have to part with cash to the driver, instead all charges were debited to his credit card.
Although almost all the cab companies use GPS facilities, the worst problem he experienced was that majority of the drivers could not speak understandable English; so much so, his English to the drivers and drivers' Sinhala to him became Greek!
Another major disaster was that he found one of such reputed company drivers substituting a driver from Kandy as a replacement, who did not speak English or knew Colombo roads at all. This was immediately reported to the company as the visitor had to use his Google map to direct the driver to get to his destination in the dead of night.
Driver's credentials
The first priority of a foreigner to Sri Lanka remains his safety in hiring a cab. Foreigners generally do not like to hire taxis at streets, if they could help, without being sure of the driver's credentials and his driving skills. In such a scenario when a reputed company sends a driver, and if the driver plays havoc, then surely the company has to take the full responsibility.
He was taken by surprise when he visited Yala he had to cough out Rs 3,000 for an entrance ticket, despite having a Sinhala name, whilst his Sri Lankan "cousins" had to pay only Rs 60. Fair enough he thought, if the tourist industry needs money, but at least the payment should compensate with the facilities!. To his horror he found toilets to be disgusting and repulsive – no toilet paper, filthy and some of the sanitary ware were broken.
If there are separate and high charges for tourists he was under the impression that the authorities should have two types of toilets – similar to CGR suggestions at railway stations exclusively for the use of tourists. One could imagine the amount of publicity Sri Lanka can earn by word of mouth when tourists who experience such nastiness and when they return to their countries. All the experiences, made this Sri Lankan-British very sad about the image of Sri Lanka when the country is portraying to the visitors as a Paradise Island.
tilakfernando@gmail.com