Racism of Chief Minister Wigneswaran
Posted on April 4th, 2017
Shenali D Waduge
No one seems to have asked Chief Minister Wigneswaran how he came to study at the most prestigious school in Colombo, then went on to become a Supreme Court judge if there was discrimination against Tamils. Most people don't ask pertinent questions when racist leaders beat their chests with lies. No one has put the NPC Chief Minister on the spot with questions that could easily silence him. Had he been to the North when LTTE was on a killing spree, had he risen against the LTTE when they were kidnapping children and turning them into child soldiers, had he spoken against the LTTE for a wave of crimes perpetrated upon his 'own people'? Had he even made a single appeal to release the civilians that the LTTE were keeping as hostage or human shields? Had he even challenged the LTTE and Prabakaran though after the killer is dead, Wigneswaran goes on a tangent about the heroics of Prabakaran!  To all those that digest his racism and lies let it be said that the NPC Chief Minister was living in Colombo and went to live in the North after 2013, after Prabakaran and LTTE was defeated. If Prabakaran and LTTE prevailed, there would be no NPC, there would be no CM and Wigneswaran would be still living in Colombo as a retired Supreme Court judge. No wonder he is grateful to Prabakaran, what a lottery for him and without trying to do good especially when his own sons have married Sinhalese, he can only spit venom and hatred and that makes him a great Tamil leader.. how strange!
Against Sinhalese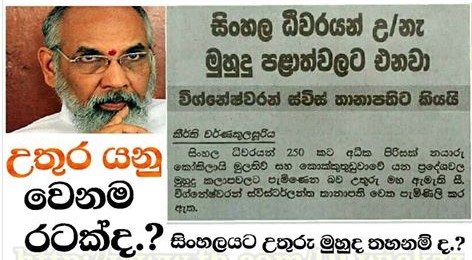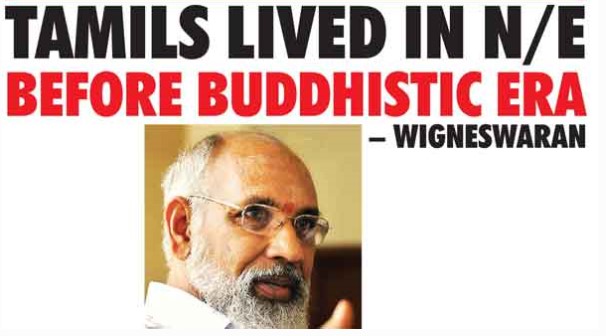 Against Sri Lankan Armed Forces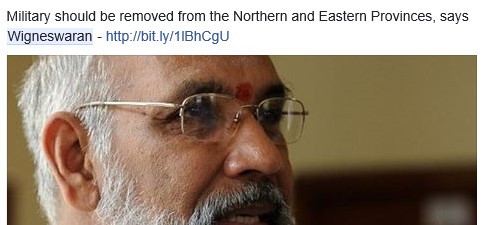 Calling for International Investigation / claims of genocide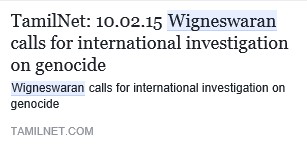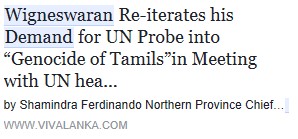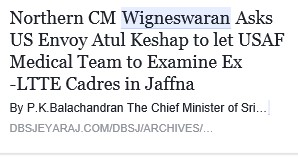 Bogus Homeland Myths & Separatism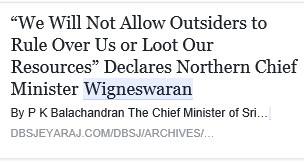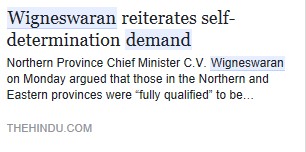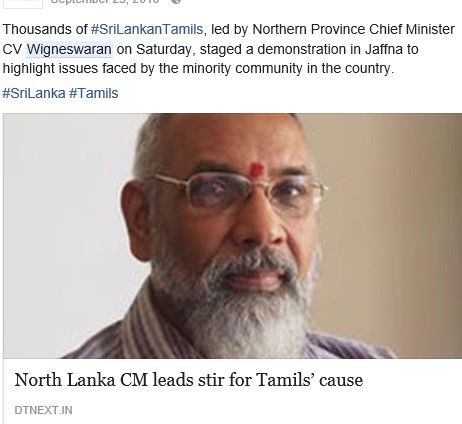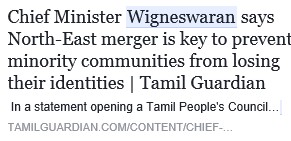 Prabhakaran was a freedom fighter. He may have been brutal, but so is the government," – See more at: http://www.ft.lk/article/192438/Wigneswaran-compares-Keppeitpola-to-Prabhakaran-#sthash.EgR0IGWx.dpuf
And there are plenty of Wigneswaran's amongst all of the Tamil leaders and that is why we will never see any peace.
Shenali D Waduge