PM reveals plans to develop Trinco tank farm with India
Posted on May 4th, 2017
Courtesy The Daily FT
Prime Minister Ranil Wickremesinghe yesterday disclosed in Parliament the recent decisions the Government took to develop the World War II-used tank farm in Trincomalee as a joint venture between the Ceylon Petroleum Corporation and Lanka IOC.
Tabling the Memorandum of Understanding (MoU) on cooperation in economic development projects signed between Sri Lanka and India during his recent Indian visit, the Premier said: Since 2003, the Government receives $ 100,000 per annum from Lanka IOC as lease rental. No issues came up in the past about these moneys.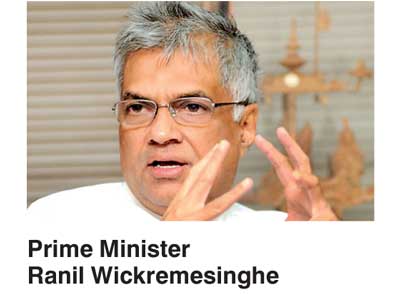 Now we have decided to lease the respective land to a joint venture, which will help the CPC to use the storage facility to enter into the Indian market. In the absence of a legal bond signed between the two parties we will consult all stakeholders prior to finalising it."
The MoU also includes a string of development plans including the proposals for a 500 MW LNG plant in Kerawalapitiya, a 50 MW solar power plant in Sampur, appointing a joint committee to develop the Trincomalee harbour, encouraging Indian investors to invest in special economic zones in Sri Lanka, the development of the northern road network and Lankan railway line, construction of a new container terminal at the Colombo Port also with Japan and CPC and the development of agriculture and livestock.
The private sector can make its own investments. Japan and India have expressed their willingness to invest. The operation of the port will be under the Sri Lankan Government. We should be able to deal with any country, attract their investments and develop our country. We are dealing with the companies of those countries and not the governments. We will be unable to pay our debts unless we double our exports. The LNG Terminal/ Floating Storage Regasification Unit in Kerawalapitiya is a project which Sri Lanka, India and Japan will work together. Minister Kabir Hashim proposed to include even Litro Gas Company in this project. Likewise, the concept can be developed through discussion. By any means, we will not let the security of the country be at stake. This has no connection with Mannar gas deposits. Mannar gas deposits belong to our country and it is up to us to decide how to use them commercially," he added. (AH) – See more at: http://www.ft.lk/article/613019/PM-reveals-plans-to-develop-Trinco-tank-farm-with-India#sthash.6qaOfuEc.dpuf