A big monkey perched on one of the few coconut palms within the Superior Courts
Posted on May 6th, 2017
Dr Sarath Obeysekera
A big monkey perched on one of the few coconut palms within the Superior Courts Complex premises was surrounded by a large number of crows yesterday.
Making a huge din, the birds ensured that everyone took notice of their protest against the intruder.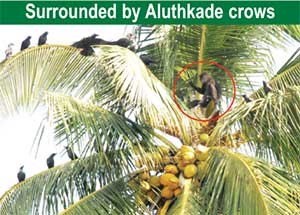 This picture appearing in the a daily paper where a large monkey perched on a coconut   tree and crows waiting to pounce on him .
It resembles real character of  Sri Lankan Judiciary  System
I reckon that Money represent the flawed Legal system  ( because many politicians play money  games with it  and get away ) and keep making loud noises.
Crows with thick black Coat represent all the lawyers who are   play with the Monkey ( games)
Coconuts hanging below are the colossal amount of money circulating in this process !
The tree itself is the whole legal frame-work on which judiciary is functioning .
Unless we chop the tree from the roots and plant a different tree, we have to live these moneys and crows .