An open letter to all Sinhala Politicians in this country. From a Sinhala Patriot
Posted on May 6th, 2017
Dr Sudath Gunasekara. President Mahanuwara Sinhala Bauddha Jesta  Purwesiyange Sanvidhanaya and EX: Perm Sec to Prime Minister Mrs Sirimavo Bandaranayaka 2017.5.4.
I request all our present day Unpatriotic Politicians to learn a bitter lesson at least from these two great World Leaders: Russian President Vladimir Putin and Australian Prime Minister John Howard
(The Statements of the Two Leaders are given at the end of this note)
Patriotism is a quality that should be in the blood of leaders of any country. Though we had such Kings and Leaders in ancient times, it is a tragedy and a pity too that we don't have any in modern times. But almost all other countries in the world do have such Great Leaders. Now starting from the far- East look at Japan, China, Burma, Singapore, India, Pakistan, Israel, Germany, England, France and USA to name a few only. All these people always put the country before self.  But our leaders and their teams from top to bottom put self before the country. The rating I would say is 100% self and the country almost nil. Whether one likes it or not that is the real truth. Truth, and nothing but the truth. There may be one or two exceptions.
How unfortunate we are not to have had any, in recent times except Mahinda Rajapaksa, with few of his ardent followers, though they also could not still get fully released from the Minority vote trap and hanging on to it, like the proverbial hungry fox that went after a Goat expecting its dangling testicle to fall, without realizing finally what really will happen to the fox. In that story only one fox got seriously kicked by the goat. But in our case a whole nation has got fatally kicked for 70 years for the follies of power hungry, avaricious and selfish politician and their lack of any vision of a vibrant and free Nation. In fact I have told this story to MR over the phone on 30th April last year and advised him not to go after Tamil and Muslim votes anymore and concentrate only on Sinhala votes (75%) but who do not have a leader. His home place being Magama, the birth place of Dutugemunu the epic hero of the Sinhala nation, he is the best man to give leadership to fill that coveted vacuum.
Sinhala people badly want a leader. They were looking for that historic leader even in early 1950s as the UNP government was not fulfilling the aspirations and great expectations of a free new and a resurgent nation. They were talking of Diyasena Kumaraya  in early 1950s to rescue the Sinhala nation. I do not know whether he got the point I was trying to drive at and the message to give. I hope he will at least now, try to understand what I saidand what the masses expect of him  in the light of the unprecedented crowed that poured in to the Gall face green.
I rated MR as a patriotic Leader for three reasons. First, for his undisputed chivalry and historic role in defeating the30 year LTTE terrorist war In 2009 May. Second his rejection of the request made by the West and India to stop the war at the last moment and the brave manner he faced that critical situation taking a big risk even on his life, and his reply to the British and French delegates. Third he is the only Leader who openly said that there are no minorities in this country. Had he also said that we have only one nation in this country and that is Sinhala the people of the Sinhale-the Land of the Sinhala people- that was handed over by a Convention to the British in 1815 that claimed an unbroken record of nearly 2500 years.
I do not want to comment on other fellows who are in leadership positions at the moment in different capacities. The issue here is the absence of a Sinhala Leader. Tamils and Muslims have enough leaders. Even buffaloes have Leaders, as Ellawala Medhananda Thera once said. But we Sinhalese, a nation once who had World class leaders like Dutugemunu, Parakramabahu, Wijayabahu and in recent times Keppetipola and Rajasinha.
Unfortunately today we don't have a single true national leader. All our present day so-called leaders who come to leadership positions are concerned only about their power, position and wealth.
Therefore I am addressing this note to all present day politicians and inviting them to read the following two great statements by two patriotic World Leaders and Learn from them as to how a true Leader of a country should rule his country. More particularly I am addressing this note to President Sirisena as the incumbent  President of this country as he has been voted in to power at least by about 4.7 Million Sinhala Buddhists in this country out of a total of 10.5 million Sinhala voters, of whom the balance 5.8 voted for MR.
If not for the 4.7 million Sinhala UNP votes he would never have been elected as the President, in spite of the Tamil and Muslim Communal block vote he polled to which he always says very grateful. Beside that he is the President of all people of whom 75 % constitute Sinhalese, the true sons of the soil, who are the real architects of the civilization of this country and who had sacrificed their sweat, blood and lives in millions against foreign invasion from south Indian  in ancient times and the Western Colonial powers from 1505 up 1948 in defense of their Motherland.
Sinhalese are the true Bbhoomiputras of this land. This is not negotiable at any forum and is inalienable in the name of his pet mantram national reconciliation he is desperately trying to impose on the Community of Mahasangha, the guardian gods of the Sinhala Nation and this countr.y
Historically the present day Tamils in the north are the descendants of slaves brought by the Portuguese, Dutch and British since 1505 to work on their projects like tobacco farms etc and left behind as destitute on someone else's soil. Some of them are the remnants of earlier invaders and some illicit immigrants Kallathonis who have come in search of greener pastures. The greed for this country Indians had in their minds is proved by the Malayalam saying 'Eelam Kandavar illan kanukka illei"( one who has seen Lanka will never come home). The Tamils on the central hills were the descendants of indentured labour slaves brought by the British to work on their Coffee and tea plantations and left behind as an ugly legacy of colonial rule. Just like what they did all over south Asia and Africa. This is one way how the colonial powers disrupted the socio economic cohesion of these countries and left behind an eternal headache.
Their importing these slaves had two main objectives. Firstly it was economic, cheap labour for plantations. Second, for destroying the age old unique Sinhala Buddhist civilization. That is why they introduced a separate law for these slaves called the Thesavalamei, which is defined in legal jargon as the law applicable to the Malabar inhabitants of the peninsular of Jaffna' which they extended it to other parts of the Island as well through their own judicial mechanisms. They did not stop at that. For Muslims they introduced the Muslim Law. But for the native they replaced the local legal system with English and Roman Dutch Laws. Meanwhile they also brought their religion Catholicism with its variances of Christianity ad Missionary activities were intensified  all over the country with State  patronage and large scale conversions were made. They also used these Missions to propagate western values and English education and Tamil Vellala people as a super social group like Ponnambalan Arunachalam Ramanathan to take over Sri Lanka in future with special privileges to Tamil area For example by 1845 out of a total of 103 for the whole Island 45 schools were given to Jaffna District with under the supervision of American Missions Their education programme also took care to destroy the country's native Pirivena system of education. Added to this and various other administrative military and judicial mechanisms they also sold arrack to villagers even using mobile bullock carts. Now you see how the well-designed long term conspiracy had been built up over the years by these colonial rascals to destroy the Sinhala Buddhist Civilization in this country and build up political and social instability.
Resistance was made by the natives .But they were brutally and mercilessly suppressed. The 1818 and 1848 suppressions were the highlights of such native uprisings.  This country was ruled by the gun. So until 1948 natives were powerless. Leaders who agitated were killed or imprisoned.
But my question is as to what our politicians did after independence.  Why didn't they assert in and after 1948. Why didn't they get at least the original name of the country 'Sinhale' restored in place of Ceylon. Why did they accept the suggestion made by Governor Lord Soulbury the name UNP for the political party that was started to take over the Dominion status. The word United National Party directly implied the presence of many nations that was cleverly introduced to the Constitution to create divisions within the Sri Lankan community. They also introduced the concept of minority for the first time in to the constitution under sec 29, adding fuel to the simmering communal fire in the country. Prior to 1815 there was only one nation Sinhala in this country. Why they didn't get that restored. Why didn't they ask the British to hand over vacant possession of our Motherland by taking Indian Tamil labour on estates back to either India or Britain as they were British citizens before 1948. We remember even Trincommallee Harbor and the air base at Ratmalana were not taken back in 1948. They were freed only 9 years later by Bandaranayaka in 1957. Why didn't they make Sinhala the Official Language of the country, that was the Official language here for over 2600 years as soon as they got Independents. I presume they should have got these conditions included in the declaration of 1947. I also wonder as to what politicians understood by freedom without any of these things. I think they were mesmerized by the term self- rule at that time like what has happened to the present day politicians who try to see the world through one word 'Reconciliation'. All these mediocre politicians at all times get the wood lost for the tree.
Next question is what have been done for 70 years by our politicians to make this country a free, Sovereign, Independent and vibrant nation. What are they doing even now? Divided in to opposing political camps armed with utterly irrelevant political ideologies like communism (JVP) Just look at the way things are happening at present in the country. Quarelling among themselves they are competing to sell the countries assets to China and India and foreign Multinational Companies. Look at the squabbles between the parties and intraparty disputes. The way politicians behave in Parliament and rob public assets with impunity. I can't comprehend as to how the Prime Minister of  a country appoints one of his friend, who is not even a citizen of this country a Tamil violating the Constitution of the country even against the wishes of the Executive President of the country with impunity and defend him to the hilt when he is caught red handed robbing over 15oo billion as ongoing inquiries have revealed.
In this backdrop I ask these simple questions any one can understand. Is there a President in this country at present, Is here a Prime minister. Is there a Parliament; a Speaker; a leader of Opposition. Whither Law and order had gone: Where is justice. Is there a Public Service or are there public servants anywhere in the Island. Where is the Government and where is the Governance though they talk of Good Governance. Isn't it total anarchy hat prevail all over the country today. I feel that Sirisena Government has already come to a total stand still now. If it has not very soon we will be able to witness it very soon I think.  I don't think he knows whether he stands on his head or feet the way he does things these days.
What are the reasons for this unfortunate situation. Partly it is the fault of the people who have put these useless fellows to power. But mainly the fault is with the Leaders. They only think about themselves and never about the country or the people. None of them I think know their responsibilities by the country or the people. Obviously none is patriotic and honest Most of our politicians are better suited to a human zoo rather than an August Assembly like the Parliament. Now just look at the way the President behave and act. People think he is only a puppet of Ranil and some unseen vicious forces. None of his orders other that orders to withdraw MRs security, are effective The speaker is only a UNP devotee. Even yesterday when Dinesh complained regarding the withdrawal of MR's security t what is the answer he gave. He said he will discuss with the President and PM and let the Parliament know. Is nt it responsibility to safeguard the interests of its. Specially the security of an ex-President like MR whose life is in real danger from various quarters like LTTE and political enemies both here and abroad. It could be even Raw or CIA. Who knows. One thing Mr Speaker I can assure you that this country will never have a leader of MR's caliber and leadership qualities for another 500 years President Sirisena and Ranil will do everything possible to destroy him  Because MR is their arc political rival and the only threat. His disappearance will certainly be the biggest blessing for both. As such it is your responsibility to look after his security as the Speaker of the House where is a n important member. As the Speaker you must look at him as a National asset to the country that should be protected at any cost. If something happen to him due to this security lapse please not that you along with the President and PM will have to be fully responsible to the country and the people
Please also note that I am not a political dependent or a henchman of MR. No have I got any personal benefit from him either. Like the present President he also has not listen to good advice people like has ever given either. But Still I value him and Gota and like them for their chivalry, patriotism and the way they handled the so-called invincible LTTE and the colonial and Indian LTTE proxies and the massive infrastructure network they have achieved in Colombo as well as all over the country particularly the network of highways ,bridges and harbos and Hambantota Airport.
This is why I want all of you people to read the following two statements and learn a lesson at least from them as to your responsibilities by the country and the people who have voted you to power I am making this special request to you as a man with a distinguished background to take care of MR as invaluable asset of this country and advice the PM and President as to how they should think and act.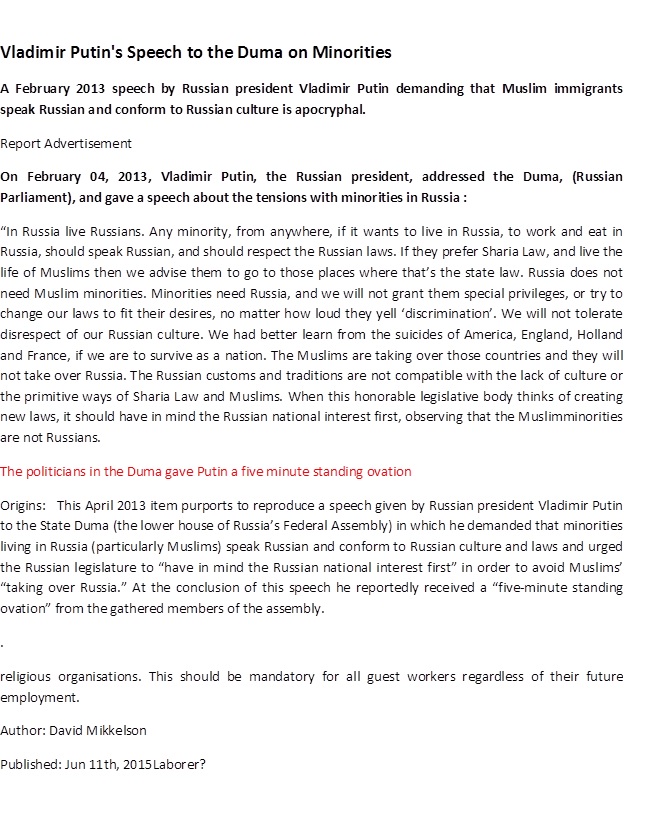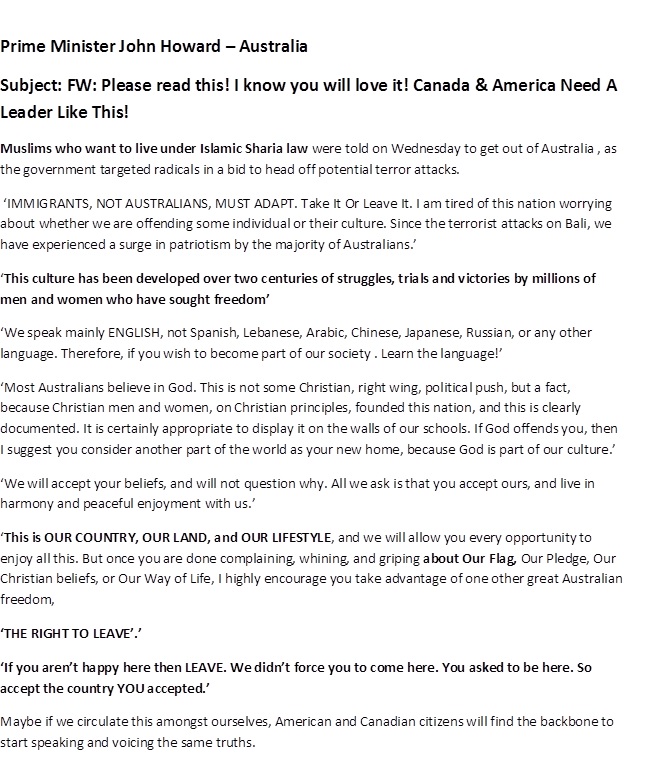 Conclusion
You have two options
Option 1
 To tell all Tamils and Muslims brothers to follow this advice and continue in politics with or without their blessings
Option 2
Not to do that, perish as an extinct tribe in course of time or quit politics and live as ordinary citizens leaving room for some patriotic Sinhala men and women to do the job. I have a strong feeling that someone will do it after reading this note.
Now I ask the final question from our Leaders and all Sinahala Politicians. Have you all read these two statements in between lines and understood fully what the message these two great Leaders have given to any minority anywhere in the world who are trying to create unnecessary problems and rob other people's countries.
So sit down and patiently and carefully and seriously too think as to how are you going to apply this principle to this country and how are you going to get rid of the Tamil and Muslim nuisance and bring back the ancient glory, unity and prosperity to Mother Lanka.  If you can't change your present attitude of going after the Tamil and Muslim goats for the hanging vote behind, then for heaven's sake please say good bye to politics for good and make room for some patriotic men and women to save the Sinhala nation, this paradise Island and the Sasanaya for the sake of posterity.
Why don't you also clearly and boldly tell this to Tamils and Muslims in Sri Lanka that this is our country, our culture and our law and asked them to adjust or go back to their countries if they can't adjust accordingly  to back to their heaven in Tamilnadu which is the traditional Homeland of Tamils all over the world without trying to rob our motherland and destroy the Sinhala Nation, country and the Sambuddha Sasana
Why don't you ask them to follow the footsteps of  present day so-called  Karave and salagama  Sinhala Buddhist community in the South Western Coastal belt of the Island who are definitely the best Sinhala Buddhists in this country who are supposed to be descendants of immigrants from South India, more particularly Kerala in the medieval times.
Mr President this is the best and the only solution to your pet reconciliation theory that will bring sustainable peace and prosperity to all in this country. The theory of so-called devolution, decentralization of power, under whatever system like a Federal or con federal or any other,  will never work. I can vouch for certain that it will lead to more problems and the remedy will be worse than the existing malady.
Siddhirastu !